A router is a wood working power tool used to cut out areas on the surface of a wooden item. This can be for decorating the edge or surface of the timber or for cutting out "chases" in hidden sides of the timber to hide cables, pipes etc.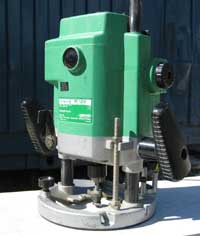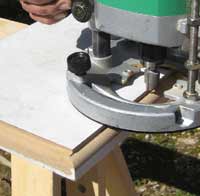 Originally used for decorative woodworking the router has probably become one of the most versatile wood machining tools available.
It can cut, groove, shape and also be used to create joins between two sections of wood especially in cabinet making, staircase construction, skirting board and architrave making.
Classifying Routers
There are two different types of router – fixed models and plunge models all varying in price.
400-600W light work
750-1200W medium work
1250w upwards heavy work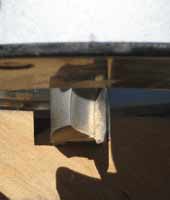 Router machining speed can range from 800-30000 rpm.
The router should have two handles one on each side for grip and control and a smooth base plate to allow the router to travel over the wood you are machining.
The plunge depth for cutting depth of blade, will vary on different routers and if using a plunge router only a little depth should be taken at each pass of the router. The motor will very soon burn out if too much is taken. Plunge routers can be locked to ensure the blade stays at the same depth for each pass.
The base plate will have one flat side for it to be run along a "fence" keeping the cut as straight as possible. The fence can be any straight edge which is clamped in place.
Router bits normally come in two forms, edge bits and non edge bits. A complete list or router bit shapes can be seen in our router bits project.
Using your Router
Safety is the main consideration when using a router as the tool cuts with an un-guarded, high speed rotating blade. Preparation before use is essential.
Always make sure the wood you are working on is securely fixed in place before you start routing. Unsecured items can move damaging your work and potentially being a danger to yourself.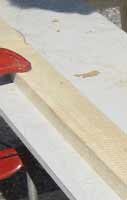 Always make sure your blades are sharp, this will make the finish quality of your product much superior and ease the cutting of the work you are doing. See our project on router bits and blades.
If you are routing a straight run, use a clamped fence to keep the router straight.
Once you have achieved a good level of practical skill with your router you will be able to undertake more adventurous free hand routing actions.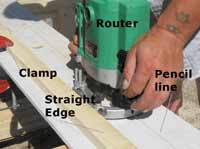 Some Important Points on How to Use a Router
When using a router always make sure you feed your router from left to right, this will make sure the blade of the cutter makes correct contact with the wood being machined. The blade will turn clock-wise, go with that action.
Never force the router through the timber, this will burn the wood as the blade turns very quickly.
Always make sure if you have been using the plunge lock, to release this as routing heads are very expensive to replace and any mark on the cutting blade will be transferred to the next piece you will be machining.
Always make sure when you have finished using your Router that you clean all dust and wood debris from the machine. Moving or sliding parts can soon become clogged and not allow the router to machine properly.
Most modern routers now come with dust extraction hoods. These are located around the cutter blade to remove dust and debris.
You might like to go to our video section on power tools to watch some videos on how to use a router.
As always at DIY Doctor we recommend the use of masks, gloves and eye protection when working with sharp bladed tools that produce dust and debris.