If you are fairly keen on carpentry and joinery, the router is one of the best power tools you can have in your tools arsenal as it can be used for a huge variety of jobs from cutting hinge recesses, mitering worktops, trimming and shaping edges to cutting a whole variety of timber joints.
Unlike performing any of these tasks using other tools such as planes or saws, a router with the correct bit will give a 100% accurate and clean cut when used correctly.
This project should be read in conjunction with our project on how to use a router found here.
What are the Different Parts of a Router Bit?
There are several different parts that make up a router bit and understanding each of these and what they do is integral to they're use. The main router bit parts to note are the shank, the body, the cutting edge and if it has one the bearing guide.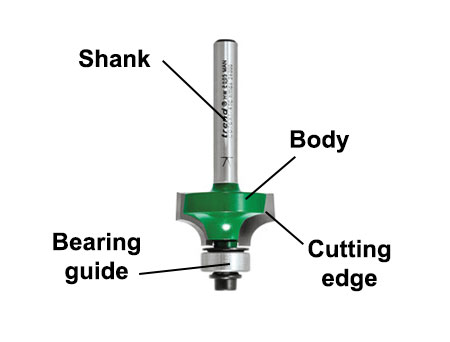 Essentially the shank is the part of the bit that your router collet grips on to so that when the motor is running it allows the bit to rotate and do its work. Generally, router bit shanks are available in two different sizes; 1/4 inch and 1/2 inch.
When looking to purchase router bits and even a router, if possible go down the 1/2 inch route. As the shanks and in turn the bits themselves are thicker they are much more stable and produce a much cleaner cut.
Most routers these days come with interchangeable 1/4 inch and 1/2 inch collets so you can swap between the different sizes if needed, however this isn't always the case with the smaller palm routers as most only take the 1/4 inch shanks.
When it comes to the business end of a router bit, the cutting edges or teeth, most bits these days should be made of at minimum high-speed steel (or HSS for short) but if you can always go with carbide-tipped bits.
Carbide bits are tougher than standard HSS bits so on the whole will last much longer and keep their sharpness for considerably longer, however they are brittle and can easily damage if dropped you need to take care of them!
The final main element of a router bit is the bearing guide that normally features at the base or tip of a bit but can sometimes appear at the top.
The purpose of the bearing is to allow you to easily guide your router bit along a piece of work so that your (normally) shaping or detailing work is kept straight and accurate.
Due to the nature of a bearing and it's very smooth rotation, this helps to avoid the router bit juddering or jumping around, keeping any cuts dead straight and accurate to the surface you are working on.
The majority of router bits that feature a bearing normally also include bearings of different sizes with the bit or in the kit. As the bearing follows the object your are working on, the size of bearing dictates the depth of the cut, so for a different depth of cut you can simply change the bearing for a different size.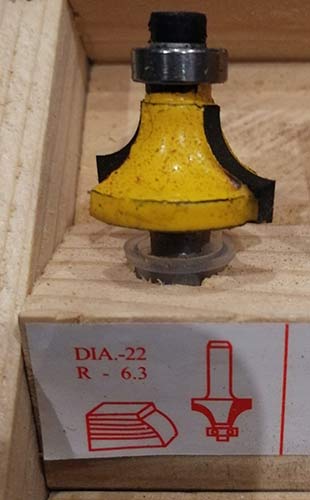 What Types of Router Bit Should I Buy?
If you are just starting off in the world of routing and finishing in carpentry then it's well worth getting yourself one of the cheaper starter sets from the likes of Silverline, Bluespot or the similar. They normally retail for around £25 to £35.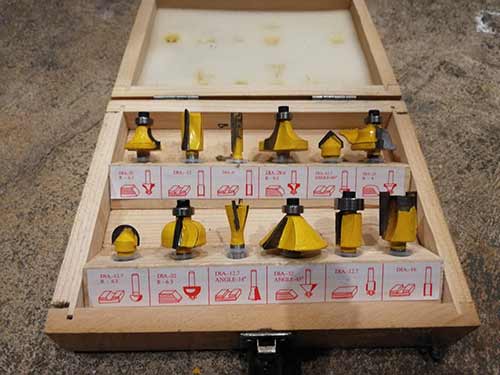 Sets such as these include all the essential router bits you will need for pretty much any carpentry project and although they may not give the most accurate of cuts or stay sharp for long, they will allow you to practice and hone your skills to the point that you can then justify spending a little more on some decent bits.
Router Bit Types
On its own, the router is useless, but coupled with the correct bit you can create a masterpiece! To these ends here is a run down of the most popular router bits and different shapes or mouldings they cut.
Straight Cut Router Bits
The straight cutting router bit is arguably the most commonly used type of router bit. As the name suggests it's used for cutting straight cuts with a flat base e.g. the channels at the side of drawers that the drawer bottom sits in and certain timber joints such as a lapped joint.
One other very handy cut the straight cut bit can make is a plunge cut. This is when the bit is lowered down on to the surface and then starts to cut down in to it.
Plunge cuts are particularly handy for cutting out things like mortise joints, hinge and striker plate recesses and also latch and bolt recesses for door locks.
Although all of the above cuts and joints can be achieved using other tools such as saws and chisels, using a router and straight cut bit will often be quicker and also give a much cleaner and more precise cut.
The one drawback that straight cut bits tend to have is that they are generally unguided meaning you have to use a guide of some kind to ensure a straight and accurate cut or have a very steady hand!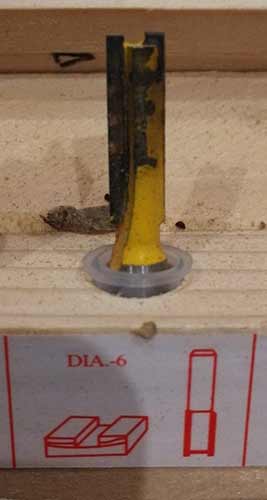 Flush Trimming Router Bits
Again, as the name implies, the flush trimming bit is specifically designed for cutting overhanging and unclean edges back so that they are flush with surrounding surfaces.
A great example of this is where laminate and wood veneer coverings are used. When a laminate or veneer is applied to a surface, quite often you will have overhanging edges that need to be trimmed back, especially if covering over and around shaped items.
To ensure the cutting bit stays flush with surface you are trimming back to, the bits are usually guided. This means that it will feature a bearing at either the top or bottom of the bit that is the same diameter as the cutting bit itself.
This ensures that you never trim back further than the surface the bearing is running against.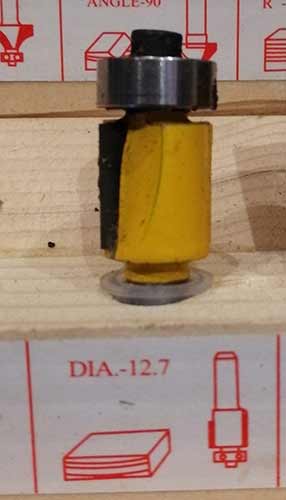 Rabbeting Router Bits
The rabbet cutting router bit is specifically designed for cutting rabbets, not the small cute furry ones found in most gardens but the rabbet joint or shoulder joint as it's also known (find out all bout rabbet or shoulder joints in our project here).
Rabbet or shoulder joints are a common type of joint used when making furniture, specifically for building drawers and joining together cabinet framework.
The depth of the cut is determined by the size of bearing fixed to the base of the bit and due to this, rabbet bits normally come with a selection of different sized bearings so that you can cut a range of different depth joints.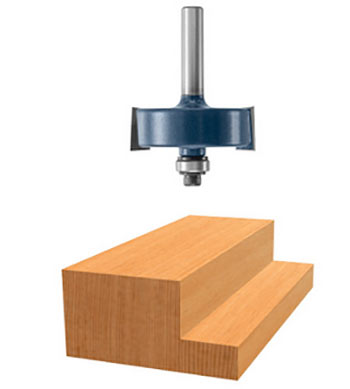 Edge Cutting Router Bits
The edge cutting bit is again commonly used in cabinet and furniture making for cutting and creating decorative edges, sometimes known as beads in cabinet and table tops, chair and table legs and many other different objects and surfaces.
The name edging bit or edge cutting bit is a bit of an umbrella term as there are several different types depending on eth shape of edge you want to create. Typically edging bits are available to cut the following shapes:
Rounding over bits: Cut a rounded edge profile with a set radius depending on the size of bit
Coving bits: Cuts a concave edge to the shape of a semi-circle
Bead cutting bits: Cuts a half or semi-circle shaped bead
Ogee cutting bits: As with Ogee skirting or architrave, these bits cut a wave or "S" shape
In order to keep any edge cuts as straight and accurate as possible, pretty much all edging bits regardless of the shape they cut feature a bearing guide normally at the base of the bit.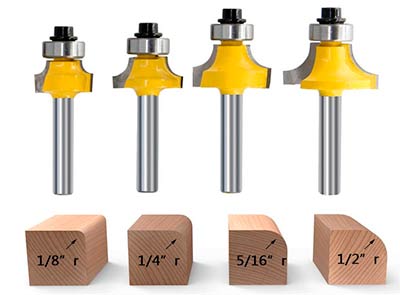 Chamfer Cutting Router Bits
The chamfer or bevel cutting bit is commonly used for shaping the edges of objects such as book shelves, work tops and table tops and any other object where a sharp 90° edge needs to be removed.
As they effectively cut a 45° bevel edge, they are also commonly used to 'bevel" the edges of two adjoining surfaces to create a mitre joint so that they meet to form a right angle.
Chamfer or bevel cutting bits are also available in a range of different cutting angles including 11.25°, 15°, 22.5° and 30° allowing you to create a range of different shaped objects.
Again as with other router bits that need to cut accurately, these bits also feature a pilot bearing guide fixed to the base of the bit.
Core Cutting Box Bit
As you may have guessed from the shape of the bit in the image below, the core cutting bit cuts channels and shapes with a concave bottom.
Not only is it used for cutting channels it can also be used for creating decorative effects in wooden panels such as doors, table edges and other similar objects.
As the bit is also non-guided e.g. it does not feature a bearing it can also be used to great effect for hollowing out objects.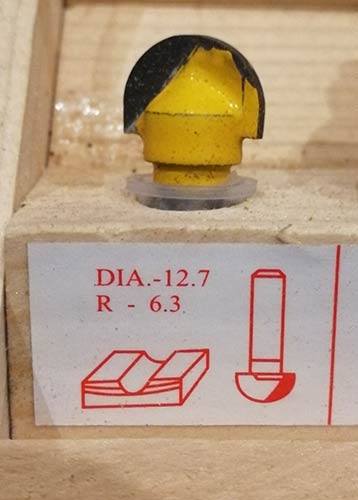 Cove Cutting Router Bit
The cove router bit is essentially the opposite of a rounding over bit. Where the routing over bit creates a nice rounded edge to an object, the cove bit does the opposite and cuts a concave profile into the object you are working on.
Due to this if the profiles are cut the same then essentially a rounded off joint will fit into a cove-cut joint.
However their main purpose is for creating decorative edges commonly used on tables, doors of various types, shelves and the similar.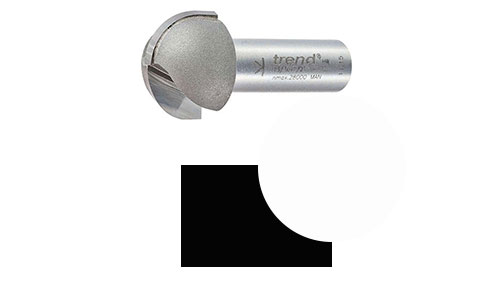 V-Groove Cutting Router Bit
The v-groove bit is very similar to the core cutting bit above but rather than leaving a rounded shape, the v-bit cuts a "V" shaped channel that runs down to a point.
Again it's generally used for forming decorative grooves in many different objects such as table tops, table and chair legs and various aspects of cabinet making and the similar.
V-bits as with most other decorative cutting bits come in a range of different shapes and angles that can be used to form everything from a deep thin channel to a wide shallow one.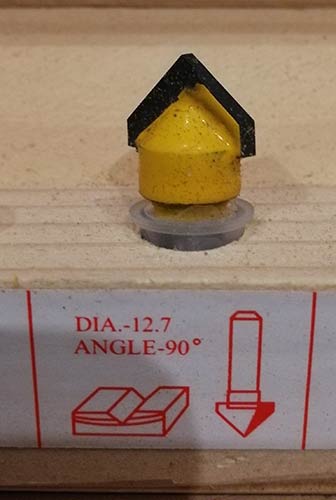 Rounding-Over Router Bit
Very similar to a chamfer cutting bit, the rounding over router bit is generally used to round off sharp and acute edges to leave a nice smooth and rounded one.
As with chamfer bits, it's generally used on the edges of shelves, tabletop and cabinet edges the arms of chairs and any other area that requires a smooth edge.
As with all other bits that produce accurate cuts, the rounding bit also includes a bearing guide at the base that is also used to control the depth of cut. Due to this rounding bits also normally include a range of different sized bearings that can be swapped out depending on the depth of cut required.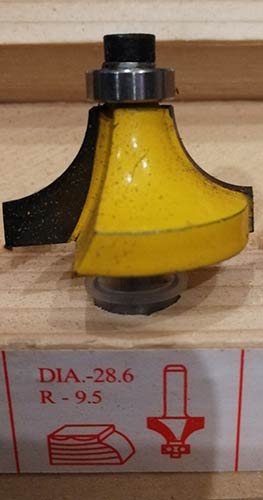 Specialist Router Bits
The above bits are fairly common in terms of use, most joinery workshops will have them, but there are some router bits that are only used for specific jobs, these are normally referred to as specialist bits.
More often than not, these are generally shaping or moulding bits that are used to create specialist moulding's and shapes, sometimes two in a single pass.
Specialist bits such as these tend to only be used in table or bench-mounted routers.
Another example of a specialist router bit is the biscuit cutting router bit used to cut biscuit joints in the absence of biscuit jointer. More info can be found on biscuit cutting router bits in our project here.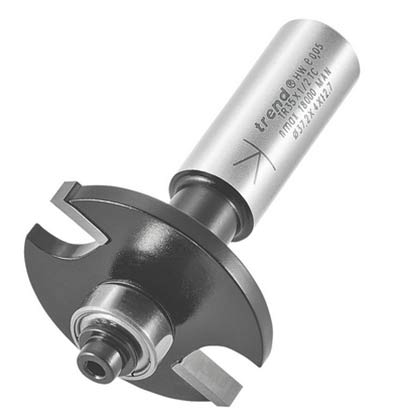 If you are keen on carpentry and joinery then a router and associated router bits are an absolute must for your workshop. Once you have practiced and developed the skills to use both properly you will be amazed at just how effective and versatile these tools can be.