A heat gun is a device that produces a stream or jet of heated air that is projected from the front opening and is then usually used for stripping paint, varnish and other similar jobs.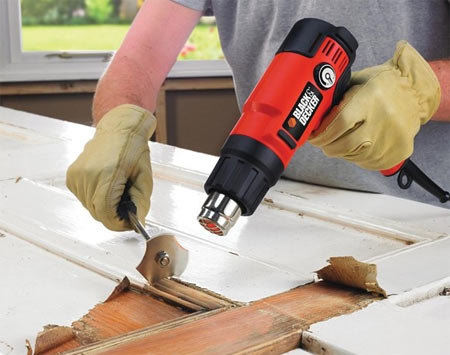 How a Heat Gun Works
The heat is produced by a fan drawing air in at the rear of the gun, passing the air over heated elements to create a stream of hot air.
One could say this power tool is a glorified hair dryer except it works at a much higher temperature so therefore needs to be treated with respect. (Working temperatures range from 100°C – 550°C). Do not attempt to dry your hair with a heat gun!
How to Use a Heat Gun Safely
Heat guns should be held at an angle of approximately 45 degrees from the work and never kept in one place for more than a few seconds. As the paint begins to bubble under the heat, move the gun and strip the paint with a scraper.
The paint bubbles and blisters as the moisture and air trapped under the paint expand and force the paint to bubble. Do not burn the paint. Simply warm it until the blistering appears. The heat from the heat gun will have warmed the paint so that it is soft. It can then be scrapped away relatively easily.
In terms of safety, always wear a thick pair of gloves such as some rigger gloves. As you are passing the heat gun over the paint and scraping it you can easily pass the gun over your hand risking burns if you are not concentrating so make sure they are protected.
Additionally heating paint can give off dangerous fumes so always strip paint using a heat gun in a well ventilated space and always use a suitable respirator face mask.
There will be some paint that will be difficult to remove as it has not been warmed sufficiently or is trapped between the grain. Don't risk burning or discolouring the wood by using the heat gun on these little bits. Simply sand down the wood to get a great finish, or use a paint stripper which will not damage the surface. See our project on other ways to strip paint.
Be Aware of Lead Paint on Older Doors, Fittings and Furniture
Lead was used in paint in the UK right up until 1992 although an agreement was reached in Europe in the 1960s to stop producing it. Many gallons of lead-based paint remained however and it was still legal to use it. As a general rule, if your home was painted up to 1970 there is a good chance that lead was used in the paint and stripping it with a heat gun could be dangerous.
There are tests you can do to discover if lead is present in your paint so for more information please visit the web site of The Lead Paint Safety Association or take a look at the Science Not Solvents Blog on lead paint safety.
To strip paint you are unsure of in a safe way you should use a non-solvent paint stripper called Home Strip. You can find out more about this in our stripper, in the section marked Home Strip and Lead Based paints.
Buying a Heat Gun
The higher the wattage of a heat gun, the more powerful (hot) it is and a gun of about 2000W is plenty for the majority of jobs you will need to do around the home.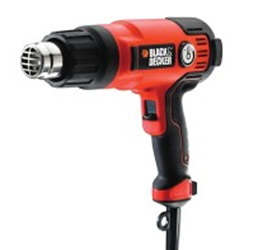 Using an Extension Lead With a Heat Gun
2000W is a lot of power and when this current is pulled through the cables of an extension lead they can get warm if the lead is left coiled on the drum. When using power tools of any kind always make sure the lead is completely unwound to avoid over-heating it.
Heat Gun Nozzles Explained
The heat gun should come with an assortment of nozzles for directing the flow of hot air to the working area. You can buy the nozzles separately also but you should make sure that you have the right nozzle for the type of work you are planning to do.
This is an Assortment of Heat Gun Nozzles for a Black & Decker Heat Gun. It includes (from left to right):
Fishtail or Flat Nozzle: to produce wider distribution of air stream
Cone or Reducer Nozzle: to focus air stream
Glass Protection Nozzle: for safer working near glass
Spoon Reflector Nozzle: to solder piping
You can use the main nozzle from the heat gun. This allows the heat to come directly from the heat gun without trying to direct it or funneling it. This provides a heat over a wide area, although this will still be concentrated enough to do strip effectively. This is suitable for most DIY applications, so there is often no need to get other nozzles.
The main types of heat gun nozzle are:
Reflector nozzle: This type of heat gun nozzle is used for heating copper pipe. It directs the heat around the pipe so that it is not necessary to move the heat gun all around the pipe to warm it. Most people wont use this as it is quite a skilled job and not commonly needed
Reducer nozzle: This is used when you are working on a small area and don't want the heat from the gun directed over a wide area. As you must not heat a single area for too long this nozzle allows you to heat a smaller area and therefore not over heat the area you are working on. It's great when you're working in confined spaces or detailed work
Glass protector nozzle: This nozzle allows you to strip paint and varnish, etc from neat a glass pane, without warming and melting the putty or glass. It the putty is warmed it can become soft and the glass can work loose, possibly falling out. To prevent this happening this nozzle directs the heat from the gun away from the glass and on to the surface where you need it

Using a glass nozzle on a heat gun

Flat nozzle: This directs the heat from the gun in a thin but extended area, which is ideal for when you need to direct the heat over an extended but narrow area. It can be a little more difficult to master this, but practice will help
In the DIY market Heat Guns vary in price from £15 – £50 depending on the number of accessories that come with the gun. There are much more expensive heat guns available for professional use. The increased wattage and ones that are battery powered are the things that tend to push the price up.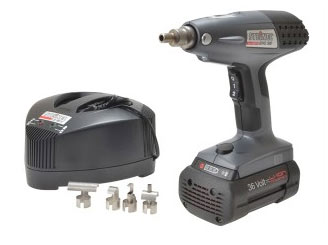 What You Can Use a Heat Gun For
The Heat Gun has many applications such as paint stripping, heat shrinking tubing, bending plastic pipes (ref to plumbing), drying materials, welding plastics, breaking down glues and adhesives and defrosting pipes etc.
Heat guns should always be used carefully around copper pipe work where solder joints have been used or scotch connectors as there is a possibility of melting the solder or weakening the joint.
Heat Gun Safety
Most heat guns will have a built in safety thermal heat switch which will terminate the device if a dangerous heat level is achieved. If this occurs then there will have been a fault with the device or there is user error (holding the gun too close to working object) check all options and/or the manufacturers guide.
Here are some safety considerations to be taken into account when using a Heat Gun:
Turn off the Heat Gun before putting it down
Do not use to strip lead paints
Do not insert any thing into the gun when working
Do not touch the end of the gun where hot air comes out
Allow the gun to cool before storing
Do not use the heat gun near anything that is flammable
Uncoil any extension leads