A Pillar Drill is a machine that has a drill bit fixed to a sliding column which, through the action of a rotating handle, can be lowered and raised to perform a drilling action. Click on the image to find out more about (or buy) the drill.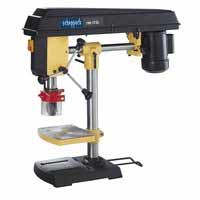 The column stands in a base plate on the floor and sometimes gets confused with a Bench Drill which is a moveable piece of machinery that can be located to any working surface. Both however do the same job. Pillar drills are used more in an industrial setting while Bench Drills will suit the DIY enthusiast more.
A Pillar or Bench drill can drill through most materials. There is a working table attached to the pillar of the drill, which itself can be moved up and down the column to accommodate different size materials.
The material you are drilling should be clamped to the working table to make the process of drilling a safe action. (Never hold the item to be drilled by hand as the power of the drill can cause the drill bit to stick and turn the piece of work into a dangerous, spinning propeller).
These items of machinery will always come with a safety guard and this should always be used when drilling. Gloves should also be worn, as the temptation to clear debris will always occur and metal fillings are sharp.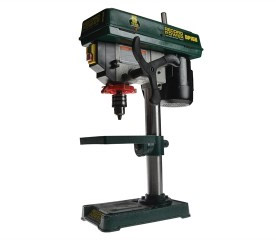 On bigger Pillar Drills a lubrication system with a collecting hopper are supplied by the manufacture to ease the drilling process. You can also preset the depth of drilling to be carried out and also the speed of the drilling action depending on the material you are drilling.
Always keep the working area around the pillar drill clear and dry especially if you are using a lubricated Pillar Drill as we all know accidents will always happen when you are not expecting them to.
Bench drills should always be fixed solidly to the working surface.
As always with machinery that creates dust, debris and has sharp moving components DIY Doctor recommends the use of gloves, dust masks and eye protection.