This is a device which will allow you to lift and position any size sheet of plaster board in a safe and controlled way leaving your hands free to fix.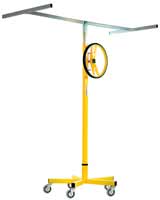 Before using a plasterboard lifter you should read the manual so that you understand the procedure for using it. Always be aware of the weight limit of your plasterboard lifter.
These lifters have become very popular for obvious reasons and have made a very awkward and time consuming job into a one man operation as long as you have a clear and level floor area to work on. Most of these lifters are on wheels.
When using a plaster board lifter and you have positioned your board, always make sure you have checked for the position of any concealed cables or pipe work.
Make sure if your lifter comes with stabilisers that they are in position and locked before you start lifting.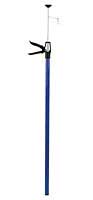 When you have placed your plaster board into position make sure you do not over lift as you may not be able to fine adjust the position of the plaster board and you might also damage your lifter or the plaster board.
Once you have finished the procedure of fixing your plaster board in to position you are advised to lower and remove your lifter slowly in case you need to re tighten some of your screw fixings.
Any device that has multiple moving parts will also have a maintenance procedure which should always be followed as recommended in the user's manual.
Plasterboard lifters are normally constructed of light weight materials and can be dismantled to fit into a workshop cupboard or vehicle for neat storage when not in use.
If you do not want to buy a lifter then they can be hired from tool hire shops.
As always with machinery that creates dust, debris and has sharp components DIY Doctor always recommends the use of gloves, dust masks, helmets, protective foot wear and eye protection.
Another handy tool to look at when plasterboarding is the plasterboard carrier. If you have ever tried to move or carry the largest 2.4m by 1.2 meter plasterboard sheets you will be well aware of how heavy they can be tricky to manouver. The plasterboard carrier allows you to move, not only plasterboard but wood panels and other large sheet items safely and easily.