What is a Verticle DPC?
A vertical DPC is similar to a horizontal DPC (or Damp Proof Course) in that it stops damp travelling through your masonry.
Whilst a horizontal DPC stops damp rising up from the ground through your walls, a vertical DPC is used to stop water travelling sideways through walls and surfaces that may come in contact with each other. In builders speak we say that walls of this type are being "returned".
Vertical damp proof courses are usually installed around windows or doors when they are being installed in a cavity wall.
When new windows and doors are installed in a cavity wall, he cavity needs to be closed around the frame to secure the window or door properly as shown in the image below.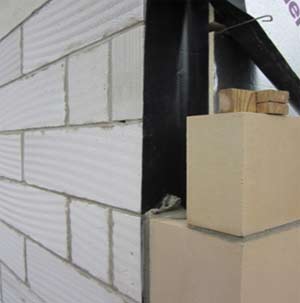 Closing the cavity forms the door or window reveals once this closure has then been plastered over.
The cavity closing around the window or door means that the external and internal walls come into contact with one another.
The vertical DPC is inserted between the walls around the window to stop water travelling in from outside through the external wall from reaching the internal wall.
Vertical DPCs are usually damp proof membranes, but laying a normal damp proof membrane intended for horizontal DPC use isn't actually sufficient for use as a damp proof course around windows, it is usually recommended to use an insulated DPC (these can be purchased from most DIY stores or builders merchants).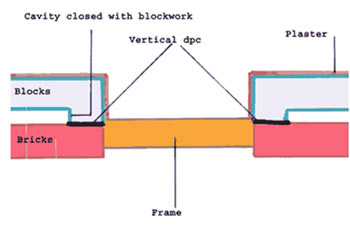 Heat Loss from Cavity Closing Around Windows and Doors
The cavity closing around your windows or door means that your warm internal wall is brought into contact with your cold external wall.
Without any treatment or insulation this means that you lose internal heat more easily from this wall area as the heat from the warmer inner wall is transfered through to the colder outer wall.
Additionally the outer wall can also help to keep the inner wall at a colder temperature as it passes cold from outside to inside through the touching surfaces.
This will in turn make your heating work harder to heat your home and maintain that heat costing you money and wasting energy.
These cold areas are known as cold spots. Not only do these areas make the internal air around your windows and doors feel cold, these cold spots can also attract moisture from your internal air.
Once this happens, this then becomes condensation on the wall area around your window which can give rise to black mould.
In addition to the fact that these cold spots around your windows and doors are costing you money in terms of energy, they can also be bad for your health because of issues like mould. This is why fitting a vertical DPC around your windows and doors is a must.
Insulated vertical DPCs have a layer of polystyrene attached to them (see the image below of An insulated vertical DPC) which acts as an insulating barrier in the damp proof course around the window, preventing water from entering your internal wall and heat from leaving it.
As you can see in the image, insulated vertical damp proof courses are normally held in place with mortar or can be nailed or screwed in place or simply pinned between walls/bricks/objects.
Installing Vertical DPC's Where Two Walls Meet
Vertical DPC's are often also installed where the walls of two buildings meet each other and there is a risk of damp passing between them.
As you can see in the picture below, the damp membrane is inserted vertically between the two walls where they meet, and then the additional brickwork is built up around the membrane.
Note that this damp membrane is not an insulated vertical DPC membrane.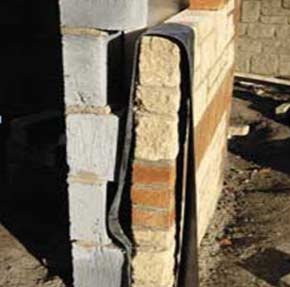 Today's recommendation is to also insert a strip of expansion foam as well as the vertical DPC to stop cold bridging. This is for cavities that have already been closed. A thin groove is cut out a little with a grinder and the foam is then inserted into the groove.
For newbuild instances where a new cavity needsd to be closed, the regulations today state that it is better to use a insulated cavity closer. This solves both the cold bridging and insulation problem in one go and is easy and straight forward to install..
If you need any help with laying your vertical DPC damp proof membrane around your windows or doors or any other vertical opening then it's best to contact a professional tradesman.
If you are experiencing issues with cold spots on your walls then more information on this can be found in our Cold and Damp Spots project page.