What Causes Timber Decay?
Most damage is caused by aging of the timber or by damp conditions which lead to fungal infestation such as dry rot or insect attack from woodworm beetles or other boring insects, but it can also occur due to excessive bending or deflection or incorrect loading which can place stress on the timber and cause splitting or compression.
Splits, cracks, and holes in wood are susceptible to insect attack as they open up a direct route into the centre of the timber.
Leaks, damp conditions and condensation can lead to end decay or mid span timber decay. Once the fibres in the wood become saturated and swell they are a nice soft bed for fungal spores of wet rot and dry rot, for and wood-boring insect eggs.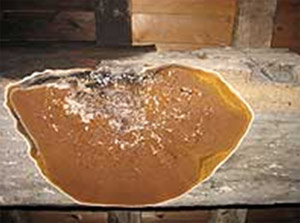 There is a lot that can be done to treat timber decay as a DIY project and we will go over the most effective below.
Damp and Moisture
Dry rot needs a moisture content of 18% or more in timber to survive and spread.
The challenge has always been to bring moisture content down to sufficiently low levels to prevent the spores and fungus surviving inside the timbers, particularly large structural or supporting timbers.
Many timber repair treatments on the market use old techniques that are unnecessarily destructive and expensive. These include 'cut back' where affected areas are timber are removed, or cut back, and replaced with sections of new timber.
This is sometimes a necessary repair where timber decay is advanced to the point where it affects the structural integrity of the timber. For further information on cutting back and splicing new timber see our project on repairing structural timber.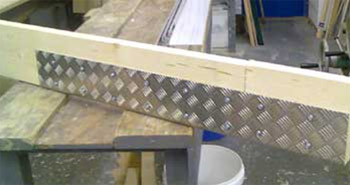 However using good quality timber treatments such as Cuprinol 5 Star Preserver or Everbuild Lumberjack, which can be supplemented with a localised preservative paint coating, can effectively provide a no-go-zone to, over which the dry rot can't multiply or travel.
They can also be used to dry out timber and kill off fungi and woodworm without needing to replace sections of timber if the decay is spotted early enough.
It is important to remove the causes of damp wherever possible to aid effective treatment.
Using Boron to Treat Timber
Note on Boron Usage: Due to Brexit, as of the 1st of September 2022 no boron-based products can be sold to anyone without the appropriate license. Therefore after this date, only registered professionals will be able to work with boron products for pest and timber treatment.
As there has been some speculation over the years that seems to support the thought that boron (or Borax as it's also known) is an irritant if it comes into contact with skin or is ingested, it has been banned from use by the general public.
With this in mind, where we refer to boron below, this is simply how it will be used by a trade professional and what safety elements you should be aware of if professionals are using born products in your home to treat timber decay or insect damage.
What is Boron as a Timber Treatment?
Boron is also known as DOT (disodium octaborate tetrahydrate) which is a naturally occurring compound, and its trade name Borax. As Borax it has in many household uses in Britain. It is readily dissolved in water, which is one of the reasons it is so effective in treating timber decay.
Damp and insect attack are the main causes of timber decay and both can affect the structural integrity of the timbers in your home.
Boron is highly toxic to fungi and insects, although it will not kill mammals which makes it suitable for use in lofts where bats (a protected species in the UK) are present.
Aside from the fact that, as we have stated, boron can no longer be used as a DIY treatment, liquid and gel boron treatments can still be used by professionals if they have a license. As it is a very effective treatment, it's still certainly worth considering.
To find a professional with the necessary qualification to treat your timber decay issues, see the PCA (property care association) website here.
Safety Precautions Using Boron
If you have opted for a boron treatment by a licensed professional then these safety considerations need to be followed at all times:
Cover up: Use gloves and ensure you are covered to protect the skin from splashes of solution, gel or paste. Important also if you're using a sprayer. If you get any on you wash it off immediately and seek medical help with any reactions
Protect eyes: Wear goggle or safety glasses when using boron products. If boron products come into contact with eyes flush immediately with plenty of water and get medical advice
Wear dust mask: When mixing solution from a powder, a face mask should be worn at all times to avoid breathing in the dust
Follow instructions: Make sure all safety instructions that come with the product are followed fully
Avoid ingestion: Do not use boron products where the is food, do not eat or drink while using boron products and it is suggested that children and pets are excluded from the area while boron products are being applied
Re-entry time: The HSE Health and Safety Executive) suggest that re-entry time after treatment is one hour or until the product is dry, whichever is the greater time
Treating Timber Decay – DIY Method
If you are keen to fix your timber decay issues yourself then there are many products available on the market that can be used to resolve such issues.
Along with the correct products there are certain steps that also need to be followed to ensure any fixes are successful. Note: The steps mentioned below cover both dry rot and wet rot.
1. Fix Source of Moisture
Whether you have a dry rot or wet rot issue, the source of the problem is due to water and moisture ingress into timber surfaces. These damp conditions where the moisture content in the timber reaches at least 18% provide the ideal conditions for dry rot and wet rot spores to germinate.
So, before any fixes are put in place the source of the moisture needs to be fixed. In terms of the source, this could literally be anything at all so you will need to remove any objects required such as floors etc.
Once you have identified the cause ensure you fix it so that it doesn't occur again!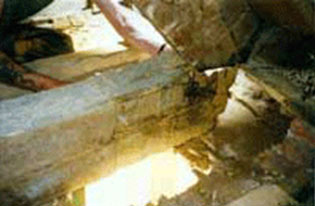 2. Establish Damage
With the moisture source repaired the next job is to establish just how much damage there is e.g. now much timber has been effected by dry rot or wet rot.
In respect to this, despite the fact that fixes for both dry and wet rot are similar there are some differences so before going any further, establish exactly what type of damage you have. To do so see our dry rot and wet rot project here and also see our woodworm and insect damage project here.
Once you've established the exact type of timber decay you have, next thoroughly inspect the immediate damage, using a screwdriver to poke the effected timber to see how far the damage has penetrated and also how far it has spread around the immediate area.
Make sure you check absolutely everything including any surrounding joists, floorboards, studwork and even masonry surfaces as dry rot can travel through masonry!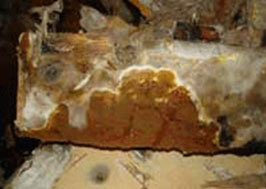 3. Replace Timber if Damaged too Badly
If during testing any timbers you find that your screwdriver penetrates the timber almost to its centre or more over a good proportion of the timber then it will need to be replaced as its structural integrity is effectively gone.
In terms of replacing the damaged timber, it really depends on where the damage is. If the majority of the timber in question has been effected by decay or insect attack then the whole length may need to be replaced by either removing the old and fitting new or running a new timber along side it, not an easy job in either case.
If only the ends of the timber are damaged then it is possible to repair them in situ without too much disruption using a timber splicing kit. For full instructions on how to repair timber using a timber splice kit, see our project here.
Another slightly more straight forward technique is to use joist repair plates to join the existing undamaged section of timber on to a new section of timber. More information can be seen in our repairing structural joists project here.
When cutting off sections of damaged timber, you will need to remove at least 500mm of timber after the last evidence of any damage to ensure that there are no spores decay that can then get back into the new timber. You will also have to ensure you use treated timber for any new sections of timber.
Replacing any timber is not an easy job regardless of where it is and often involves quite a bit of disruption and sometimes a fair bit of cost.
4. Apply Fungicidal Solution
Firstly remove any and all traces of mould and fungal growth by scraping off any fruiting and other growth using a scraper and also a scrubbing brush and place them all in a plastic bag. Mould and fungal spores can be dangerous so ensure you wear a suitable face mask at all times!
Ensure that not only the immediate area has been cleaned but also the surrounding area.
Once all cleared the entire surrounding area and the immediate repair, the next job is to wash everything down with a good quality fungicidal and insecticidal wash to kill off any remaining spores and also any wood boring insects that might have moved in.
Once treated leave the entire area to fully dry out. Depending on how bad the moisture issue was and how much water penetrated the area, this may take some time.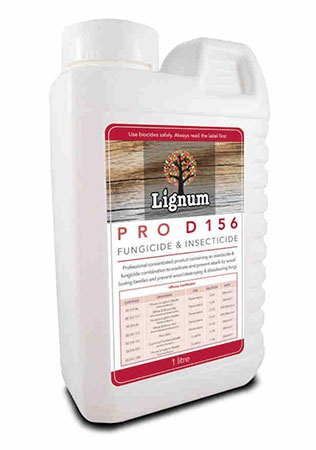 5. Apply Timber Treatment
Once all the dampness and the fungicidal treatment has totally dried out and any and all timbers are completely dry the next job is to treat all present timbers using a quality timber treatment such as Cuprinol 5 Star Wood Treatment.
By doing this you will ensure that your existing and new timbers are fully protected from any future decay through wet or dry rot or from any wood boring insects that might pass by.
Once fully treated according to the manufacturers guidelines you can then make good any repairs e.g. replace any floors, walls etc.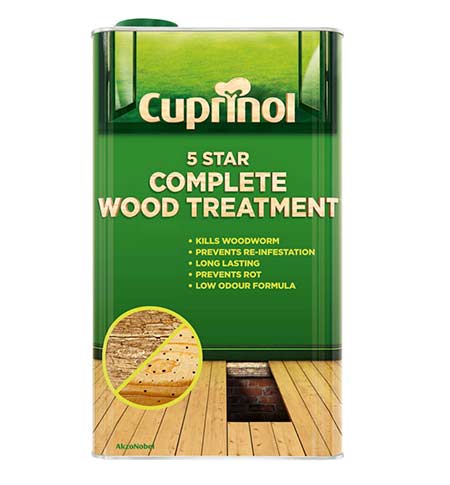 6. Apply Wet Rot Hardener
One final job before replacing any floors and making good any damage is to treat any existing wet rot (if that's the issue you've had) with a hardener.
If any timbers had wet rot, but it wasn't too bad and the bulk of the timber is still in good shape and lost none of its strength then it can still be used but may exhibit some superficial wet rot.
There are products called wet rot hardeners that exist that can be applied to items such as this that, once applied, soak down into the timber and give it back some of its strength.
However products such as this are really only suited for items such as doors and windows and not for structural items such as joists etc.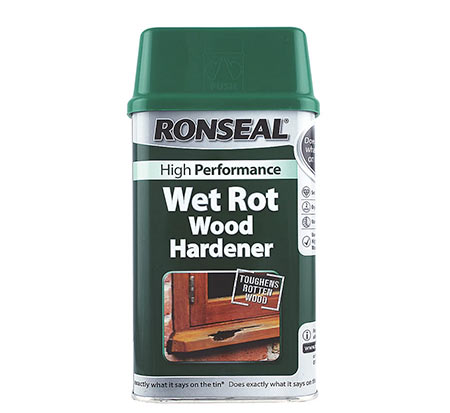 Preventing Timber Decay
To prevent the need for future timber repair the best solution is to prevent the damage happening in the first place.
As we have stated in the steps above, when adding any new timbers, always use pre-treated timber.
However, don't just rely on the pre-treatment, always apply your own good quality timber treatment plus treat any other bare timber surfaces around the area of damage after thoroughly cleaning everything with fungicidal and insecticide wash as this will help prevent and future issues.
Consider using timber treatment on any and all timber surfaces in the following locations:
External
Window frames and Stools (external windowsill)
External door frames
Timber frames for houses and outbuildings
Wall plates, rafter ends, purlin ends
Facias and soffits
Telegraph poles, posts and railway sleepers
Internal
Window and Door frames, skirting boards, and staircases, where conditions are at risk of damp
Lath and plaster ceilings
Structural timbers including joists, 'A' frames, bressumers (main beam in a timber construction) and other carrier beams
Lintels, arches, rafters, purlins, ridge beams, tie beams, and trusses (both King Posts and Queen Posts)
If you have suffered from dry rot, wet rot or wood boring insects attacking timbers in your home then treating timber decay may be on your list of jobs to do. Although daunting to begin with it certainly needs to be done and once it is, your timbers should be set for many years to come.