What Causes Timber Decay?
Most damage is caused by aging of the timber or by damp conditions which lead to fungal infestation such as dry rot or insect attack from woodworm beetles or other boring insects, but it can also occur due to excessive bending or deflection or incorrect loading which can place stress on the timber and cause splitting or compression.
Splits, cracks, and holes in wood are susceptible to insect attack as they open up a direct route into the centre of the timber.
Leaks, damp conditions and condensation can lead to end decay or mid span timber decay. Once the fibres in the wood become saturated and swell they are a nice soft bed for fungal spores of wet rot and dry rot, for and wood-boring insect eggs.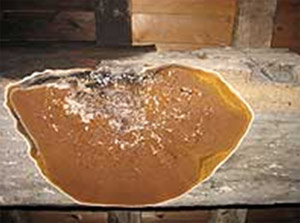 There is a lot that can be done to treat timber decay as a DIY project. If you would like some additional help and advice on timber decay and it's treatment call Property Repair Systems on 01626 872 650.
Damp and Moisture
Dry rot needs a moisture content of 18% or more in timber to survive and spread.
The challenge has always been to bring moisture content down to sufficiently low levels to prevent the spores and fungus surviving inside the timbers, particularly large structural or supporting timbers.
Many timber repair treatments on the market use old techniques that are unnecessarily destructive and expensive. These include 'cut back' where affected areas are timber are removed, or cut back, and replaced with sections of new timber.
This is sometimes a necessary repair where timber decay is advanced to the point where it affects the structural integrity of the timber. For further information on cutting back and splicing new timber see our project on repairing structural timber.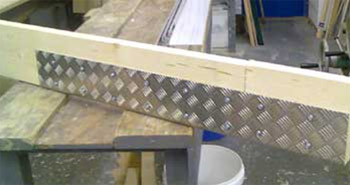 However using Boron-based treatments, which can be supplemented with a localised preservative paint coating, can effectively provide a no-go-zone to, over which the dry rot can't multiply or travel.
They can also be used to dry out timber and kill off fungi and woodworm without needing to replace sections of timber if the decay is spotted early enough.
It is important to remove the causes of damp wherever possible to aid effective treatment.
Using Boron to Treat Timber
Boron is also known as DOT (disodium octaborate tetrahydrate) which is a naturally occurring compound, and its trade name Borax. As Borax it has in many household uses in Britain. It is readily dissolved in water, which is one of the reasons it is so effective in treating timber decay.
Damp and insect attack are the main causes of timber decay and both can affect the structural integrity of the timbers in your home.
Boron is highly toxic to fungi and insects, although it will not kill mammals which makes it suitable for use in lofts where bats (a protected species in the UK) are present.
Borax Uses
Borax is a trade name for Boron, it is an effective insect killer including wood boring beetles (woodworm), ants and fleas. It can also be used as a moth repellent on clothes or carpets
As a fungicide and herbicide, it effectively alters the environment where moulds and mosses can thrive. This includes the rots that affect timber such as wet rot and dry rot
As a desiccant or drying agent for packaging and shipping items where moisture may cause damage. Also used for drying out saturated timber following a leak or flood
It is also useful as a domestic cleaning agent and even as a laundry booster
Boron has natural fire retardant properties which is another benefit when it is used to treat timber in the home
It also occurs as an active ingredient for all sorts of other domestic purposes from tooth whitening products to enamel glazes
Safety Precautions Using Boron
While Boron is a naturally occurring mineral compound and is a relatively safe product to use in comparison to some other timber decay and fungal treatments it is still important to take some simple safety precautions.
Cover Up
Use gloves and ensure you are covered to protect the skin from splashes of solution, gel or paste. This is especially important if you are using a sprayer because you are covering a large area as the chances of contact with the skin are increased.
If you get boron product on your skin, wash it off immediately with plenty of water. If you experience a reaction seek medical attention.
Protect Eyes
Wear goggle or safety glasses when using boron products. If you do get boron products in your eyes flush immediately with plenty of water and get medical advice.
Dust Mask
If you are mixing a solution from a powder you should wear a mask to avoid breathing in the dust.
Follow Instructions
Make sure you follow the safety instructions that come with the product.
Avoid Ingestion
Do not use boron products where the is food, do not eat or drink while using boron products and it is suggested that you exclude children and pets while you are actually treating the with boron.
Re-Entry Time
The HSE Health and Safety Executive) suggest that re-entry time after treatment is one hour or until the product is dry, whichever is the greater time.
Treating Timber Decay
Inserting Boron Rods into Affected Area
Solid boron rods can be inserted into affected timber to dry out the wood, halt timber decay, kill mould and fungi growth and kill woodworm. The water in the wood causes the rods to leach a boron solution right into the centre of the timbers.
This image above shows what happens after a boron rod is inserted into affected timber, you can see the active boron dissolving into the fibres in the wood.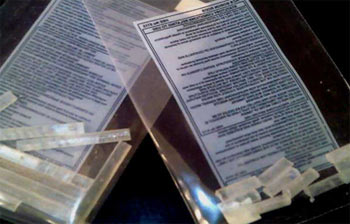 Injection Treatment
Another way of getting boron right into the heart of the affected timber is to fill the drill holes with a boron paste (Boron Ultra 78 paste) which can be applied using a skeleton gun, also known as a mastic gun, and an extended nozzle to ensure the hole is completely filled with the paste.
Boron paste can be injected into timber, or spread onto concealed surfaces. It will supply a highly concentrated mobile preservative which will spread into the wood even at fairly low moisture-content levels.
It allows drilling of fewer and smaller drill holes which allows the use of smaller (8mm, rather than the 10mm required for rods).
Surface Treatment
Where timber decay has just started or you have diagnosed insect attack by the common furniture beetle you can effect a timber repair by simply treating the surface of the timber.
However this may not be sufficient where fungal attack is more progressed or for attack by other types of woodworm.
Boron is a relatively safe compound, and avoids the hazard problems of many liquid preservatives by using only water as a carrier. It is particularly useful on areas of floor where water is expected to splash such as bathrooms.
Surface treatments can be mixed with water from powder concentrate (Boron Ultra 12) ready to be applied by brush, spray, or microblower.
It can be used in most situations to replace other insecticides, including Permethrin, which is the most widely used DIY timber treatment product, but has unpleasant fumes and is very toxic.
Boron can also be purchased as a glycol gel ready to brush onto the surface.
The diluted powder and gel is completely odourless, unlike many solvent-based treatments.
Coating and Paint
Boron biocidal emulsion paint coating contains a green pigment and is ideal for where you want to have lasting evidence of areas that have been treated. It prevents surface spread of Dry Rot strands and mycelium.
For more information on drilling timbers buying and preparing Boron Solutions and other products, plus a guide to the correct spacing when using boron rods and injection techniques please see our Guide to DIY Woodworm Treatment and Diagnosing Woodworm Infestation in Your Home.
See the end of the project for details of how to buy borax or boron products.
Preventing Timber Decay
Prevention Using Boron Rods
To prevent the need for future timber repair the best solution is to prevent the damage happening in the first place.
Boron rods can be inserted into timber as a preventative measure, and is particularly advisable in timbers which are most at risk of attack by fungi and insect infestations.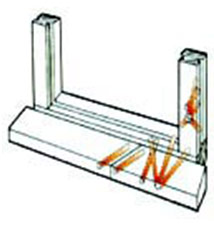 Rods can be inserted into new posts or joist ends which will be underground, or exposed to damp conditions, and can even be used where timber is pre-treated, as such treatments rarely penetrate right through the timbers.
Consider using boron rods in the following locations:
External
Window frames and Stools (external windowsill)
External door frames
Timber frames for houses and outbuildings
Wall plates, rafter ends, purlin ends
Facias and soffits
Telegraph poles, posts and railway sleepers
Internal
Window and Door frames, skirting boards, and staircases, where conditions are at risk of damp
Lath and plaster ceilings
Structural timbers including joists, 'A' frames, bressumers (main beam in a timber construction) and other carrier beams
Lintels, arches, rafters, purlins, ridge beams, tie beams, and trusses (both King Posts and Queen Posts)
Prevention Using Boron Solution
To prevent potential insect attack and invasion by wet and dry rot spores the timbers and walls in lofts and cellars can be sprayed with a boron solution.
As can the voids under floors and ceiling which can be treated by a process known as "blowing" a water-carried powder form of boron into the cavities.
This is recommended where condensation levels are high or when there has been a leak or flood which has led to saturation of the area.
Buying Boron Products
All the products mentioned in this project are available from our sponsor Property Repair Systems – click on the images below for more information and prices. If you are embarking on DIY project involving damp, decay, rot or infestation to timber or masonry and you want more information they offer a completely free, no obligation advice service on 01626 872 650.
As mentioned at the top of this project, if you require any further information or advice, Property Repair Systems are available. Give them a call on 01626 872 650.