How are Flat Roofs Constructed?
The basic construction of a flat roof is made up of roofing timbers, or joists as they are more commonly known or steels that are layed across two uprights (walls in most cases). These joists are spaced at a predefined distance appart, depending on the width or span they are covering.
When timbers are used in flat roofing they obviously need to be waterproofed so boards are normally layed across the joists and then a felt ot rubber is used to cover the boards to make them waterproof.
Sizes of Joists Needed for a Flat Roof
As you may imagine there is a fair amount of weight involved here, in terms of boards, felt etc.... so any timber joists that are used need to be strong enough to support this weight. To ensure that these timbers are strong enough for the span they have to cover a formula is used to calculate the correct width and height that the joists should be.
Additionally as part of the Building Regulations Approved Document A for structure further calculations are required to take into account additional loads such as snow that some roof may be subjected to. In most cases this depends on the area of the country the property is in and also on the ordinance datum (vertical height) of the property above sea level.
Due to these factors it is very important that before construction begins that you gain building regulations approval.
To aid you with this, there are 8 "maximum span" tables in the building regulations, which deal with the loading and span of the roof together with any slight pitch over 10 degrees that it may have to dispose of rainwater.
These tables and rules are designed to protect your home. A copy of these rules can be obtained by ordering from www.thestationaryoffice.com or telephone 0870 600 5522. Fax orders are taken on 0870 600 5533. The booklet costs £10.00.
Please do not ask us to specify your timbers as mistakes in dimensions etc can be very dangerous and we will not apply definitive regulations to any project we do not have first hand knowledge of.
If, for example, the incorrect size timbers were used and as a result your roof were subject to unnecessary movement, its covering would soon become weaker and is liable to split and possibly leak.
The diagram below is a general one and the specified timbers must be inserted at the correct centres. Timber "noggins" must also be inserted between the joists at 600mm centres to avoid twists in the joists. This roof shows the traditional covering of felt, there are more applications these days including fibreglass and rubber.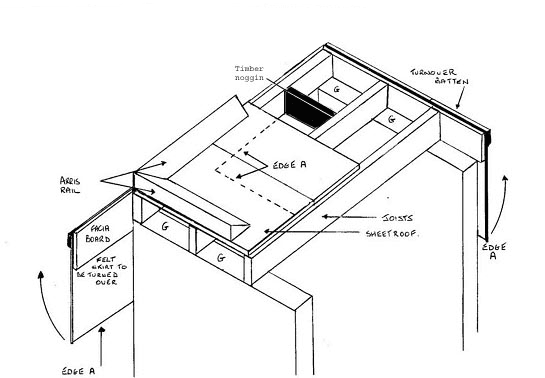 Building Flat Roofing
In the above diagram, gap G may be built in to avoid twist in the timbers.
For timber sheet, we recommend 18 or 22mm Stirling board or ply.
The arris rail is purpose made and available from most timber merchants and gives a 2-inch up stand to edges from which the water flows away.
The felt roofing to the correct B.S. can be applied all over the roof in the specified number of layers, and strips of mineral felt are then fixed to the facia boards with the back facing out. They are then turned over the arris rail and sealed to the top of the covering. This gives a finished edge to the roof/facia board.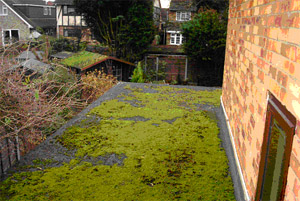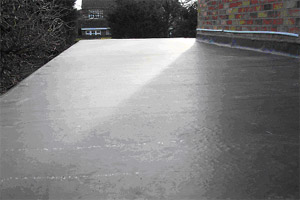 In the case of a felt or fibreglass covered roof, we very strongly advise the installation of this by a professional. You will get a guarantee and that is worth its weight in gold.
If you are felting, and you do get a leak having done the job yourself, 99% of the time a patch will not work because the water will have seeped under the felt already, causing soft spots to your sheet covering.
Rubber Flat Roofing
If you are reasonable at DIY then there are DIY kits that can save you some money. The kit includes everything you will need, the membrane itself, trims, glues, fixings etc.
In most cases there are 2 systems to choose from depending on your circumstances. You will find 2 DIY guides below. Feel free to download them for your information.
If you would like advice on which system you should use, don't hesitate to call or contact Permaroof.
The system price works out at £18 per square meter. So just measure the 2 widest points to calculate the square meterage and times it by £18. The price also includes VAT and next day delivery
Click here and visit our "Free Downloads" section for DIY Installation Guide
Click here and visit our "Free Downloads" section for DIY Installation Guide FAS
Tools to Complete the Above Project
4.5M X 3.5M Rubber Flat Roof Kit
Permaroof Emergency Repair Compound
Lead Flashing Rolls – Various Sizes
HedgeHog Gutter Brush - No more Blocked Gutters 4m lengths
Double Garage Roof Kits 7.62M X 6.1M
5.5M X 3.5M Rubber Flat Roof Kit
Single Garage Roof Kits 7.62M X 3.05M
Mardome Roof Skylights - Huge Selection
Breather Membranes 1M x 50M