Building Regulations: Approved Document K - Protection from Falling, Collision and Impact
K1 Stairs, ladders and ramps
K2 Protection from falling
K3 Vehicle barriers and loading bays
K4 Protection from collision with open windows, skylights and ventilators
K5 Protection against impact from, and trapping by doors.
Most accidents around the home happen when levels are changed via stairs, ramps or ladders. These need to be designed in accordance with the regulations. Safety barriers should be provided to stop people falling from landings and balconies etc and provision must be made to reduce the risk of impact accidents.

Click on the image to download K
Click on the book in the image below for an easy summary of the building regulations. This book is a must for those involved with any type of structural alteration. Even removing a wall in your home can require building regulation approval and with all home information available in Home Information Packs selling your home can be difficult if you do not have legal approval, where necessary, for work done on your house.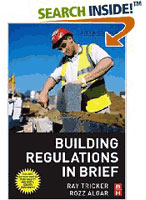 Please be sure to check on the Government Planning Portal website for updates to any Building Regulations before commencing work.