Building Regulations: Approved document P - Electrical Safety-Dwellings (Effective from 06th April 2006)
P1 Design and installation of electrical installations

Part P of the building regulations has been introduced to reduce the number of deaths, injuries and fires caused by faulty electrical installations and to make life much harder for "Cowboys" to leave electrical work in an unsafe condition. It lists the work in a dwelling which must be carried out by a competant person. I.E. A person or firm that has been approved by a Government approved Part P scheme.
Click here to download P
Click on the book in the image below for an easy summary of the building regulations. This book is a must for those involved with any type of structural alteration. Even removing a wall in your home can require building regulation approval and with all home information available in Home Information Packs selling your home can be difficult if you do not have legal approval, where necessary, for work done on your house.
To preview the contents click on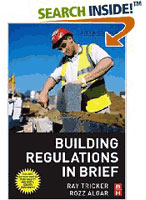 Please be sure to check on the Government Planning Portal website for updates to any Building Regulations before commencing work.