Cast iron roll top baths are becoming more and more exiting as people look for a traditional feel in a contemporary bathroom. Finding a good quality roll top, clawed foot bath for the right price is becoming harder and harder as they are being snapped up by developers.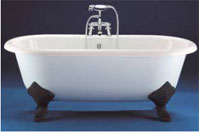 Refurbishing a bath is a great DIY project and there are many products and kits available for resurfacing the enamel in a cast iron and steel bath. Take a look at our project on this subject.
A good roll top bath will have clawed, or at least, splayed feet which you will want to show off. This means opening the whole of the underside of the bath for scrutiny and decoration is therefore required. Painting a cast iron bath is not difficult and as with every single decorating job in the world, the quality of finish depends entirely on the preparation.
Use a proprietary rust remover on the bath if required. Follow the instructions on the tin and clean off thoroughly when done. Now prepare the surface by sanding down with emery paper. Some baths may be a little bumpy here and there and you may wish to keep this natural finish. However if you want a silky smooth finish then you may want to use an electric sander with some 80 grit emery paper to get the required surface.
Once sanded down, run over the surface to degrease with a rag dipped in white spirit and allow to dry before painting with some metal primer. An oil based metal primer is the best but if you cannot get this then the quick drying primer below is ok. When the metal primer is dry, apply a coat of oil based undercoat. Make sure this time that it is oil based and paint it out using a good quality soft brush to get the undercoat as smooth as possible.
When the undercoat is dry, give it a very light sanding over with some 120 grit emery paper before applying a top coat of your choice. Baths can be stenciled just as walls can and images can be hand drawn on them. Making a roll topped bath unique is a great way of decorating your bathroom.
If the finish is not important to you but you just want some colour in the room then the old favourite Hammerite and Smoothrite paints can be used. Preparation to use these paints is not as complex as with other paints but do not expect a wonderful finish either. Whatever you are painting remember, preparation is everything.