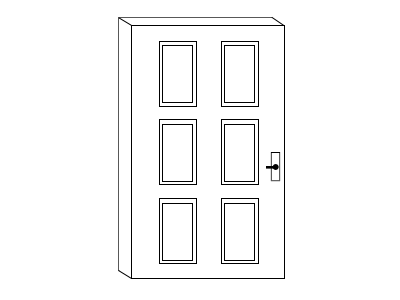 A panelled door is simply a door with panels on. The panels can be stuck to the outside of the door and formed with timber moldings or they can be set into the door. With modern composite door materials the panels can even be cast into the door face itself.
Painting a panel or paneled door is fairly simple as you can stop between panels and still get a good finish. The order of painting can be seen in the diagram but first its necessary to remove locks, handles and fittings. Apply a tiny bit of vaseline to the hinges which will stop the paint sticking and wipe off easily. After sliding some cardboard or carpet offcut under the door to protect the floor, wedge the door open using the rubber door wedges you can see in our tool section to the right of this page. Rub the door down using some 150 or 180 grit sandpaper (see the tool store to the right) and then wipe down with a rag dipped lightly in some white spirit. Wait 10 to 15 minutes for the white spirit to evaporate, then start painting.
Take a look at our video sections on decorating basics and also basic painting techniques to watch films on painting a panelled door.