With property prices at an absolute premium right now many people are turning to extending, renovation and refurbishment to gain the extra space they need in their homes. Storage space in modern properties is sadly lacking and any storage solutions, be it simply for clothes, or for the many things we seem to collect, are very much sought after.
There are several companies on the market that have been working on this problem for some time and have come up with some extremely pleasing ideas. Using fitted wardrobes with sliding doors can save a great deal of room and, especially with mirror doors, can make the room appear bigger.
See the related projects list on the right to learn how to build a cupboard or use partition walling to build a fitted wardrobe. If you have constructed your own wardrobe space in most cases the companies in question will then be able to take the dimensions of the opening and do the rest!. Installing sliding wardrobe doors is a relatively simple procedure and one that is made even easier by searching YouTube for a tutorial video, of which there are several.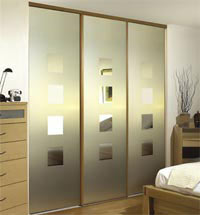 To help in your decision when selecting a company to carry out this work for you, ask them what they use in the construction of their sliding wardrobe doors. Rubber guides are better than plastic and ball bearing rollers offer a much smoother "glide sliding motion".
If you have any recesses in your room you can choose to utilise this space or you may choose to build the sides of wardrobe into the room or simply build the fitted wardrobe across the full width of the room. Sliding doors allow for no obstructions as you open them.
The usual use for fitted wardrobes is for clothes but there are a great range of alternative shelving and storage options which can be hidden beautifully behind a sliding door set. Another way of creating additional space is to use a room divider to turn a larger room into two.
Again, there are many options available on the market to cater for your needs! These can simply slide across to give privacy where required. Spending some time looking at the possibilities of your internal space can yield more room than you thought you had!
Although they will not physically give you any extra space, the illusion of space can be created by using glass doors.
These doors can be fitted into any existing door frame and most are supplied with hinges and full fitting instruction. Allowing light to travel from one room to another is an excellent way of creating the feeling of space.
Please note we are unable to offer instructions on how to fit sliding doors as there are hundreds of makes of sliding door kit, all with different instrcutions. Please follow the manufacturers instructions.