In short, painting a framed, ledge and brace door (or just a ledge and brace door) is pretty much as simple as painting the outer edges first, then painting the horizontal ledges and then the diagonal braces and then finally painting the vertical panels that make up the face of the door.
This may sound fairly straight forward if you are and experienced DIY'er as you will also be well aware of the preparation work needed to get the best finish possible, but if you are new to DIY you may not know the full in's and out's of what's involved. If not, read on.
What is a Framed, Ledge and Brace Door?
If you have just stumbled across this DIY guide whilst browsing around you might be wondering; exactly what is a framed, ledge and brace door?
In answer to this, a framed ledged and braced door is the type of door you might see in a traditional country cottage, old barn or other period property.
The frame part of the door is the timber frame around the perimeter and the ledges are the horizontal cross members of the door while it is all braced together by the diagonal braces.
On a properly constructed door of this type, the braces should always be fixed with the top of the brace angled down towards the bottom hinge of the door.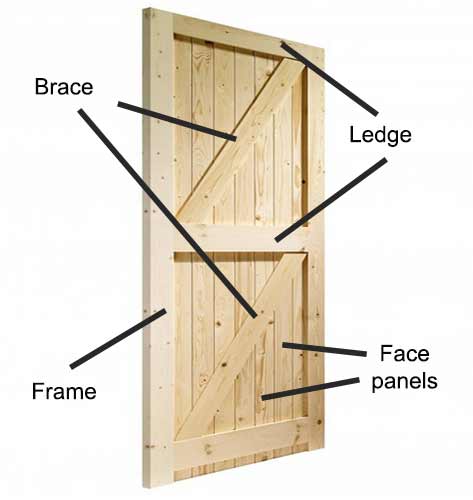 This configuration is what gives the door its strength and ensures that it remains square throughout its life and that it doesn't start to drop at its outer edge over time.
Framed ledge and brace doors can also be constructed without the actual frame part of the door. As I'm sure you may have guessed from this, these doors are simply known as ledge and brace doors.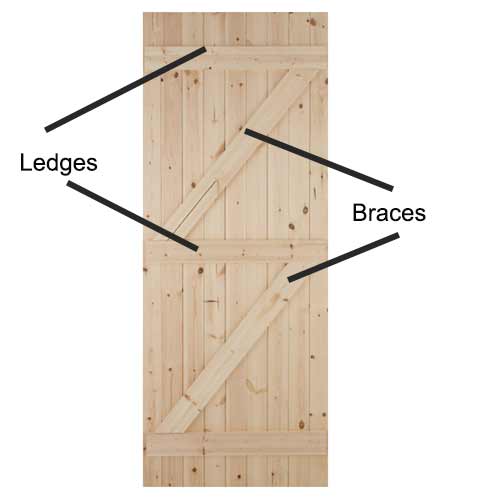 In the case of either type, the strongest part of the door is the side which is hinged and fixed to the frame.
The bottom of each brace should therefore start on this side and be angled up and out toward the leading edge of the door (the edge to handle and lock are installed on) to help "hold up" the cross members or ledges.
A Note on Lead Paint
Lead was used in a great many different paints up until the 1960's for several reasons. It made the paint dry much quicker and also made it much harder wearing. It also gave paint a brilliant gloss finish.
For these reasons it was deemed the ideal additive for many types of domestic paints and was primarily used for painting doors and skirting boards because of its hardwearing nature.
It's also worth noting that the use of lead-based paints in historic buildings was still allowed right up until 1992!
With the above in mind, if you suspect that the door that you are working with may contain any trace of a lead-based paint then you will need to take certain precautions.
To find out exactly how to strip off and deal with lead paint, see our project here.
How to Prepare and Paint or Varnish a Framed, Ledge and Brace Door
Before doing any preparation or painting, the first job is to decide on how you want to finish your door once you have prepared it as ultimately this will dictate how much preparation work is involved.
If you just want to freshen the door up by recoating it using the same finish that's already on there e.g. paint or varnish, then this should be fairly straight foward.
If you are looking to just re-stain a ledge and brace door that is already stained then see our project here on how to re-stain an existing stained timber surface.
However if you are wanting to paint a ledge and brace door that has an existing varnished finish then check out our project on painting over varnish here.
If you are going for a totally new finish e.g. paint over a door that's currently stained then this is a little more tricky.
Ultimately, for the best possible finish regardless of your chosen new finish it is always best to stip off any existing coatings right back to the timber and start with a totally blank canvas as this will give the best results, however, sometimes this isn't always possible.
For the purposes of this DIY guide we are going to assume that we're preparing and recoating a framed, ledge and brace door that's already been varnished or painted with a fresh coat of paint or varnish e.g. a fresh coat of the existing finish.
Remove Ledge and Brace Door and any Door Furniture
Regardless of the preparation work you're facing, the first job is to detach the door from its hinges and then remove any door furniture; handles, locks etc.
To give yourself the best chance possible of getting the best finish, taking the door off an laying it flat on a workbench or pair of saw horses with enough space to move freely around it will allow you to work much easier.
The best method whether preparing or painting is to start with the flat side of the door first and then flip it over and deal with the rear side with the ledges and braces.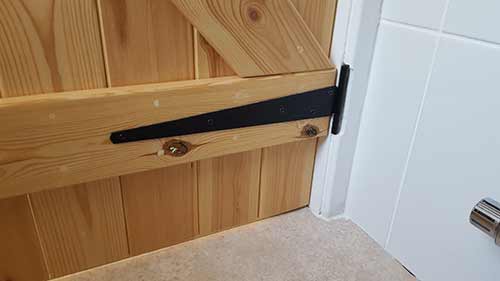 If however, you don't have the space to do this then you can work on your ledge and brace door while it's still in place.
If you are working with the door still attached, move as much furniture as you can out of the room and cover what remains with dust sheets. Close any doors to other rooms also. Make sure you also place a dust sheet under the door.
Sanding your door down will create a lot of dust, so you will need to minimise the chances of it spreading too far.
A good tip is to have a vacuum to hand and whenever you stop to check your work or rest your arm, have a good hoover of both the door and surrounding area.
With your framed or ledge and brace door laying flat on a work bench or, if in situ, all areas around it totally covered, it's now time to start sanding.
Repair any Damage
If your ledge and brace door is quite old, chances are there will be damaged areas such as chips, splits and impact marks. How these are repaired will again depend on your final finish.
If you are painting your door then the filler you use won't necessarily have to blend in and match the colour of your door as it will be hidden.
If, however, you are varnishing or stainiing your door to show off it's existing colours and tones then you will want any repair marks to blend in so they are as unnoticable as possible.
In either case you will want to use a colour-matched high performance wood filler to fill any holes or damaged areas.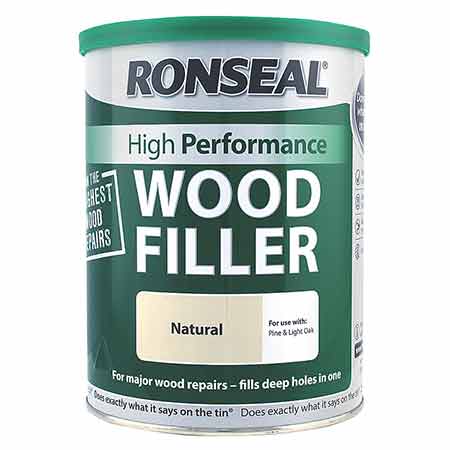 A neutral or natural colour will be fine to use if you are painting, but if you are varnishing or staining, then try to find one that matches as closely as possible, the existing colour of your door.
Also make sure that it's ok to use with your chosen finish. Read the manufacturers guidelines fully to make sure.
Sand in and around any damaged areas and then fully clean away any dust and debris.
Check the manufacturers recommendations on how to apply your filler and then fill any damaged areas using a putty knife or flexible filling spatula and then leave it to cure (again, check manufactuers guidelines for curing times).
Once fully cured, sand it down using a sandng block or mechanical sander so that it is flat and level with the surrounding area.
Sand Flat Front Face of Ledge and Brace Door Down
Regardless of the current covering that's on the door e.g. paint, varnish or stain, to ensure that your new finish bonds to the surface correctly, you will need to create a "key". This essentially means roughing up the surface so that your new paint or varnish has something to stick to.
Note: If you are dealing with or suspect the presence of lead paint, do not sand this down what ever you do! Sanding will release dust into the air containing traces of lead that can then easily be breathed in.
Refer to our dealing with and stripping lead paint project mentioned above for full information on how to strip lead paint safely.
Before starting any form of sanding, always wear a suitable dust mask, eye protection, old clothing and any other suitable safety wear!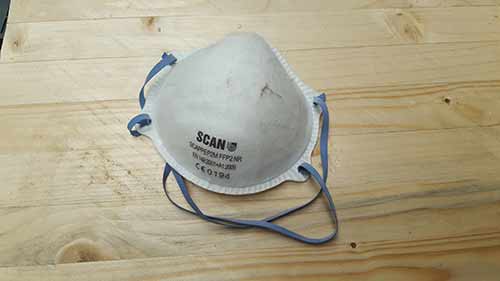 Sanding our ledge and brace door will be done in 2 passes – the first pass using a 180 grit sand paper to remove as much of the existing coat as possible and the second using a 220 grit paper to create a smooth base for any new coatings.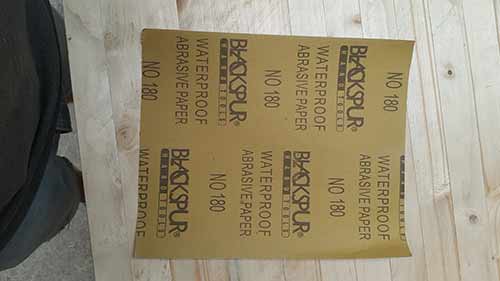 You can either sand by hand all the flat area and easily accessible areas or you can use a random orbit sander.
If sanding your door by hand it's best to use a flat sanding block as this will help you to get a nice flat and even finish across the entire surface of your door.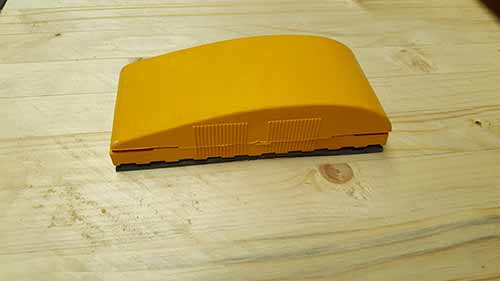 Using the sand paper with just your hand is ok to do, but if you dwell too long in one place the pressure generated by your finger tips can create indentations in the surface. Using a sandpaper block will help to prevent this.
Likewise, using an orbital sander is certainly much less work and will help you to remove any old paint or varnish much easier, but if you hold the sander too long in one place, you may cause damage, so keep it moving.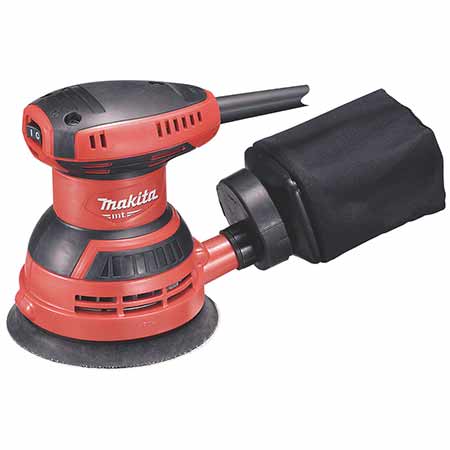 Whichever sanding solution you go with it's best to work up and down the length of the door, sanding all of the flat areas first and then once these have been delt with, moving on to sand any detail or awkward tight areas.
Always sand in the direction of the wood grain as if you sand across it you will gauge and scratch it, giving you more work to do to repair the damage.
Once you have completed the first sanding pass of all the flat areas of your door using the courser 180 grit sand paper you should now have taken back the existing finish so that it is flat and any flaking paint or varnish has been removed.
Any indentations or "steps" as they are known that existed due to flaking or damage in the existing paint or varnish should now be pretty much flush with their surrounding areas. Run your finger tips over them to check.
You'll be able to feel the slightest step if it exists.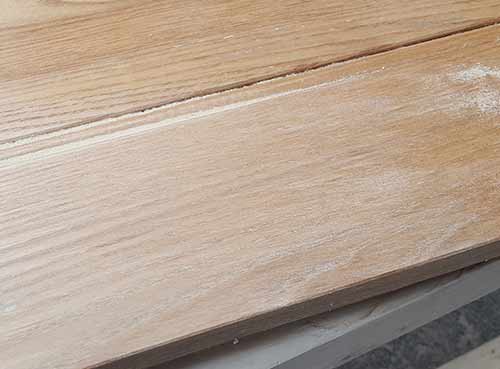 With all the flat areas sorted, it's now time to deal with the trickier detail or bevelled parts of the door.
Whether you have any of these or not will depend on the type and style of your door. If you haven't, lucky you, you've dodged a bullet there but if you have it's time to get your patient head on.
The best way to deal with these awkward areas is to fold your sandpaper in half with teh grit facing outwards and then run it along each length, sanding as you go.
You can also use a sanding block for this but depending on how deep each channel it, the block may not get all the way in.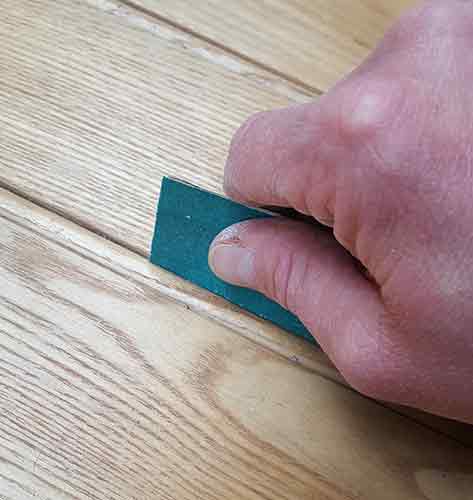 The final part of this stage is to go back over all the flat areas of your door as you did above, but this time use a finer 220 grit sand paper. This final pass will smooth the surface even further, resulting in an ideal base for any undercoats and topcoats.
Pay close attension to areas where you have repaired damage or where steps exist. If you run your fingers over them, can you still feel them?
If not, all is well, but if you can then you need to go over these again as the second you get any paint on them, they will stick out like a sore thumb!
With the second pass completed for all flat areas, turn your attension back to any bevelled, awkward or detailed areas for their second pass using the 220 grit paper.
Once you have completed the sanding of the flat face of the door, flip it over and get cracked on the rear side.
Sand Down Rear of Door and Frame, Ledges and Braces
With all the flat areas of your framed, ledge and brace door sanded down, it's now time to deal with the trickier rear side of the door that features the frame (if there is one) and the ledges and braces.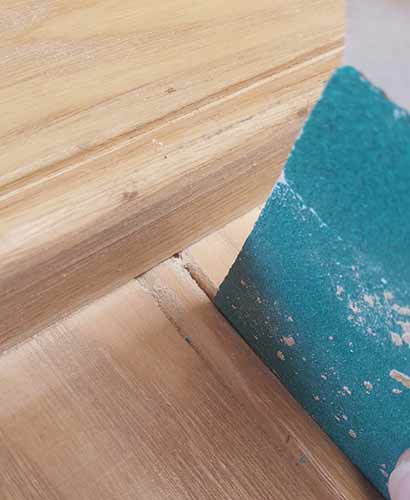 Again, we will do this with 2 passes – one using 180 grit sandpaper and the other using 220 grit paper.
If using sandpaper, again the best method to use to ensure that you get right down into any tight spaces or edges is to fold the paper in half and then get the edge right down into these areas.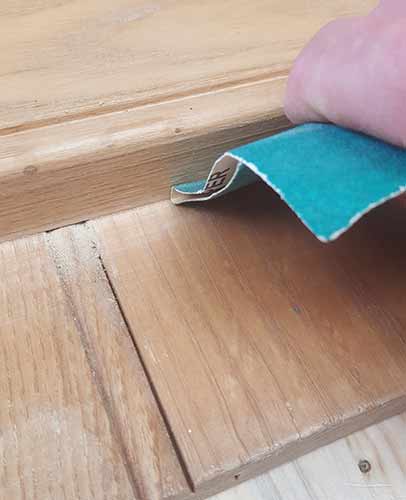 By folding the paper you also get the added benefit of sanding both sides at the same time as opposed to just one side when using the paper unfolded.
Take your time at this point and ensure that any and all areas are fully sanded and that any loose paint or varnish is totally removed.
Make no mistakes, to ensure that any and all of these tricky surfaces are given a good going over, it's going to take time! This is not a pleasant job and can be quite frustrating at times, but stick with it, it'll be worth it in the end.
It is also possible to use the edge of a sanding block as opposed to a piece of sandpaper. Sanding blocks are also available in a range of different "grit grades" so just make sure you're using the correct grade at each stage.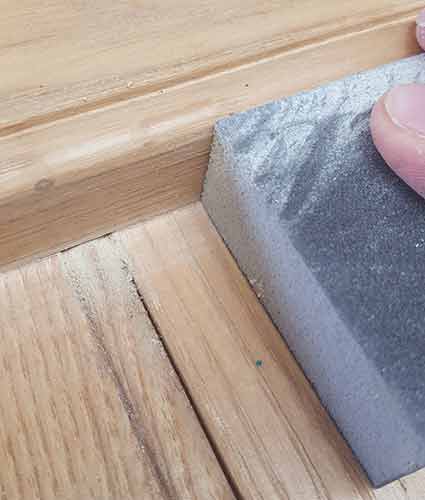 You might be thinking of using a detail sander to tackle this job and by all means you certainly can, but you will still need to do the final sanding using either sandpaper or a sanding block as even though the sander will do a fair amount of the work, their still a little too big to really get right down into any corners or tight areas.
Once you have completed the first pass, as before, go back over all areas for your second pass using 220 grit paper or a sanding block.
What About Using Paint or Varnish Stipper?
If you don't fancy the laborious job of sanding your door down then there is always the option to use a paint or varnish stripper to strip the existing surface off.
This is a messier job than sanding but the stripper will allow you to remove old paint and varnish from the tightest of spaces where you might not necessarily be able to get sandpaper down into.
In terms of the best paint and varnish stripper to use to remove paint and varnish from a ledge and brace door, we would always suggest using Eco Solutions Paint and Varnish Stripper.
It's eco-friendly, has no fumes or toxins, it's water baseed, safe for kids and pets and it really does work well.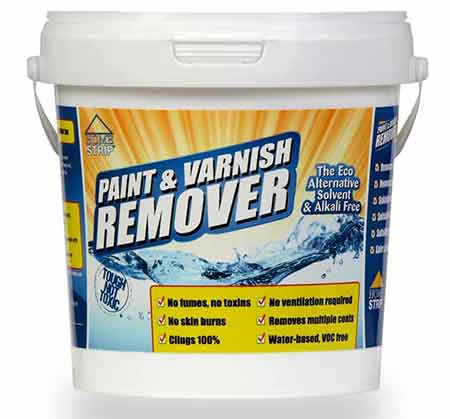 Regardless of what paint stripper you go for, most will require you to brush it on with a brush and wait for it to get to work, lifting the paint form the surface.
Once the solution has started to lift the paint from the surface you can then simply use a scraper to scrape the paint off.
Be carefuly when using scrapers on timber surfaces. Hold the blade flat on the surface ensuring that you don't dig any corners into the wood causing damage.
Once all the paint or varnish has been stripped, clean everything up and wash the door down as instructed on the paint stripper packaging
If there is any paint or varnish left on the surface, go back over it again.
When everything is totally cleaned and clear you will still need to sand over the surface of your door fully to provide a key for your new covering.
Clean off Dust and Debris
With all areas of your ledge and brace door now fully sanded down, it's time to give everything a good clean.
The best tool to use to remove all the dust created by sanding is a decent vacuum.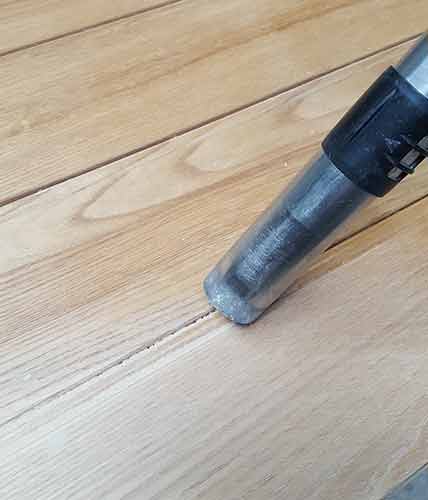 Vacuum the entire door over once, removing as much dust and debris as possible then use a small paint brush in one hand to run over all of the detail areas while you follow behind with the hoover.
Make sure you get the bristles of the brush right down into any nooks and crannies to loosen the sanding dust so that the vacuum can suck it up.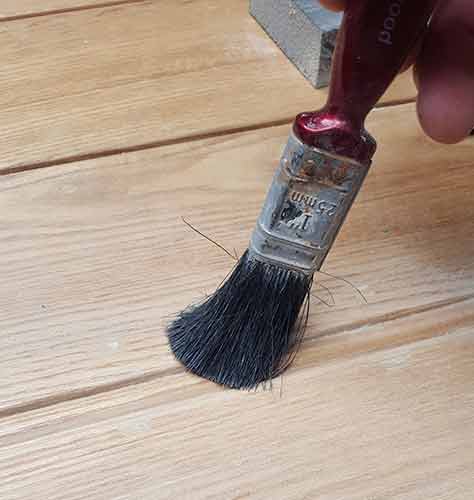 Once you have removed as much dust and debris as possible, wipe the entire ledge and brace door over using a damp rag, periodically dipping the rag in some clean water and ringing it our to remove the dirt and dust that collects on it.
Leave to fully dry for at least 30 minutes or so before continuing. Open doors and windows to let in some fresh air to help the drying process.
Applying Primers or Sealers
Applying Undercoat
To get the best quality finish possible when painting, it's usually a good idea to apply a base coat of paint for your top coat. This will not only provide a good, stable base for your top coat but will also help with the overall bonding of top coat to the surface of the door.
If your ledge and brace door is particularly rough in places then using a "high build" primer will help to iron out some minor imperfections as it's quite thick and will fill in any minor splits, cracks or depressions.
In terms of the best primer to use for your door, go for something that that offers flexibility and stain blocking.
Timber expands and contracts a fair bit and if your primer flexes with this then this will reduce the chances of your top coat cracking and peeling off.
Additionally, for resinous timber such as pine, stain blockers will help prevent tannins and other resins from seeping through and discolouring your finishing coats.
Note: We also have to mention about mixing types of paint such as oil-based with water-based. Try to seperate these e.g. use only water-based undercoat with a water-based top coat and vice versa.
It is possible to mix some types depending on the order in which they are applied but it's best to play it safe and avoid any potential issues.
To apply your primer use a decent quality 2 inch brush. Don't be tempted to go for the bargain basement type brushes as you will spend most of your time picking loose bristles out.
Additionally, a good quality brush will also minimise any visible brush strokes in the paint, giving you an overall better and more even finish.
Apply the primer to the door using long strokes running inline with the timber grains, working across the door. Apply a nice even coat but not too thick to cause runs. For any thick areas, brush these out with your brush.
To ensure that all areas of your door are covered and you can work easily over the door without brushing against already painted surfaces there is a procedure. The image below shows this procedure and suggested order in which you paint:
With one side completed, let it fully dry for the time stated by the manufacturer and then flip the door over and repeat for the other side.
If the manufacturer states that you should apply 2 coats of primer then get your second coat on including any undercoats as specified.
Before putting any additional coats on, check that dust has not accumulated on the coat that's just dried. If so, give it a run over with a fine grit sandpaper such as a 280 grid and then wipe off with a damp cloth.
Varnish Sealers
If you are varnishing your door then depending on the type of varnish you are using the manufacturer may specify that the surface is sealed before before any finishing varnish coats are applied.
Due to the vast array of different types of varnishes, manufactuers and sealers it's almost impossible to say whether your chosen type will require sealing.
If it does then the manufactuer should state this on the packaging so read this fully first.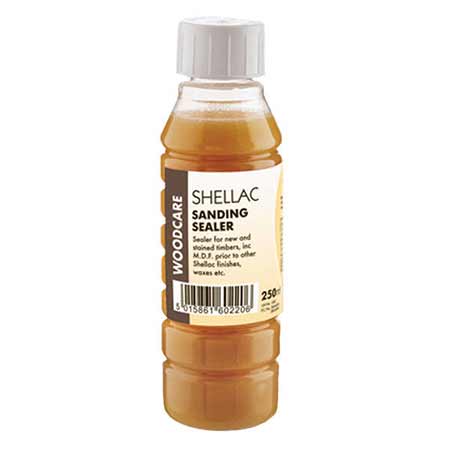 Applying Top Coat or Finishing Coat Paint
To apply our top coat of paint, as stated above, use a good quality brush.
Apply the paint using the same techniques as your primer; use fairly long, even strokes running in the same direction as the wood grain, working from side to side across the door.
Before leaving the door to dry, check over it fully, making sure that you have not missed any areas. If you notice any runs, simply run a dry brush over them to rub them out, evening out any brush marks.
Leave the door to fully dry for a decent amount of time, ideally overnight.
With one side done, flip the door over and repeat the other side. Make sure that you fully cover any awkward areas or detail with a decent covering. For any excess paint, remove with a dry brush.
One decent top coating of your chosen paint may be more than enough to call it a day if you are happy with the way it looks, but if not you an apply a second coat.
An additional second coat of paint is always a great idea as it will make the door much more hardwearing and ensure the door looks it's best for a good long time.
Rub down the first layer of top coat with a find grade sandpaper, ideally 280 grit to flat it down and then wipe over with a damp cloth to remove any dust.
Apply your second finishing coat of paint as you did for the first coat, again making sure that all areas are fully covered with a nice, even stroke free coating and then leave to dry.
Applying a Finishing Coat of Varnish
A word of caution before starting; varnish does not play wellwith dust, is attracts it like a magnet, therefore ensure that the door itself and all surrounding areas are as dust-free as possible.
If the area you're in is particularly dusty, consider moving to a more controlled area.
To apply your varnish, use the same application techniques as stated in the painting section above, after any sealers or preparation coats have been applied and dried fully.
Use long strokes that run with the timber grain and use a good quality brush. The sticky nature of varnish will pull out any loose bristles in no time and it's a messy job picking them out. A decent brush will help to reduce the chances of this happeniing.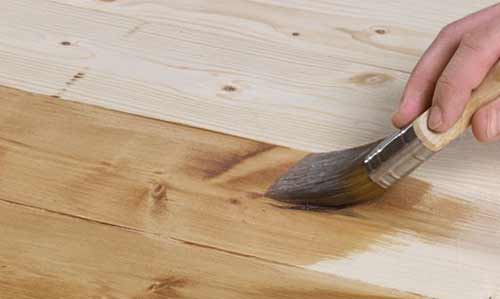 Varnishes are generally a little less forgiving than paints when you are applying then due to the fact that they tend to be quite thick and sticky.
With this in mind, try not to overlap too much as this will cause runs.
For any detailed areas or tight spaces, check that you haven't got any excess buildup of varnish. If you find any, use a dry brush to remove this.
Additionally, keep a close eye on all the edges and any drips and wipe these away straight away if you notice any.
With your fist coat complete, leave it to dry for the specified time before turning the door and completing the other side.
If any second coats are required then repeat the steps above.
Happy days!! You have now complete the full renovation of your framed ledge and brace or just ledge and brace door with your chosen finish of either paint or varnish.
The final job now is to refit all the hinges, handles and locks and then hang it back in its place.