15 Fabulous Stair Runners and One That Isn't
There are so many different styles of carpets for stairs, or stair runners, that we thought it would be good to share with you some of our favourites.
If you are going to be changing your stair carpet soon then you can find out about fitting stair carpets in our Project section.
Colourful Stripes
Like any interior design choices the stair runner you pick should fit in with your home to make a harmonious fitting, but you will also want to reflect your own style, it is after all your home. Your new carpet may be the first thing to greet you if you have a hallway with stairs facing the front door.
1. Bright Stripes – What better way to brighten your entrance than this brightly striped stair carpet?
As the pattern and colours could be overwhelming if they are paired with other bright colours or patterns in the room this bright striped carpet is laid in a pure white room, the mirror is a clever device that repeats the pattern as you descend the stairs and opens up the room by bouncing natural light around the hallway.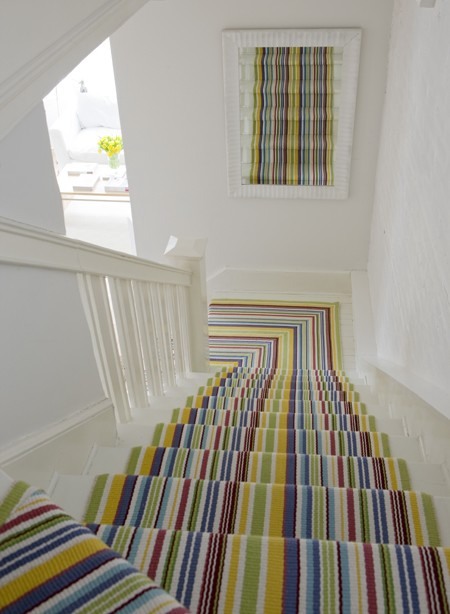 2. Cool stripes – If bright bold colours are just too much for your senses, choose stripes in cool tones to welcome you home.
The neutral shades in muted tones are set off perfectly by the traditional wooden stair rods.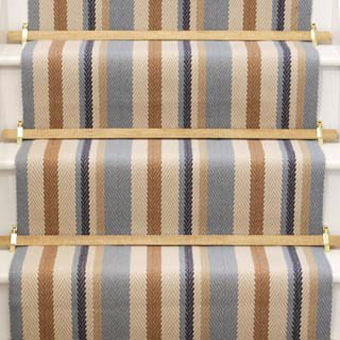 3. Informal Modern Stripes – If you want a more funky stairway then what about this informal set of stripes which will look equally good in a modern house, or in a traditional setting like the one below.
The bright colours in this stair runner have become the main feature in the room by coating the walls and woodwork in cool white paint.
Black and White Style
4. Chevron Stair Runners – Black and white is a style perennial and these dramatic chevrons make a real style statement where you have a large open hallway.
This type of stair carpet looks great meeting a wooden floor in the hall, but you could equally pick any colour of hall carpet and it will not clash with the stairs. Bold bright colours would work really well with this stair runner.
5. Asymmetric Stripes – if you fancy something a bit quirky how about an African feel?
This stair carpet has been teamed with a zebra-print rug to suggest animal stripes on the stairs without been overwhelmingly zebra-theamed.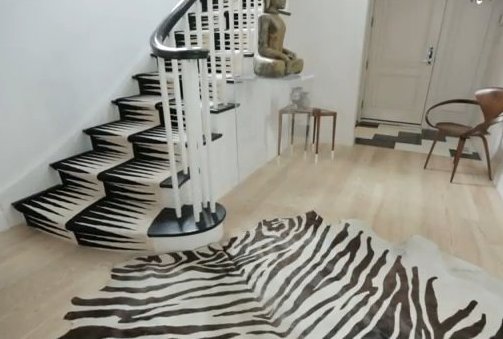 Animal Print Stair Runners
6. Zebra Print – This stair runner doesn't just look a bit like a zebra – it goes all out for zebra style!
The large hallway allows for a rug in the same zebra print to be used as a rug, but you would need a large and airy room to carry this off successfully. The stairs carpet alone would work in a wider variety of stairways.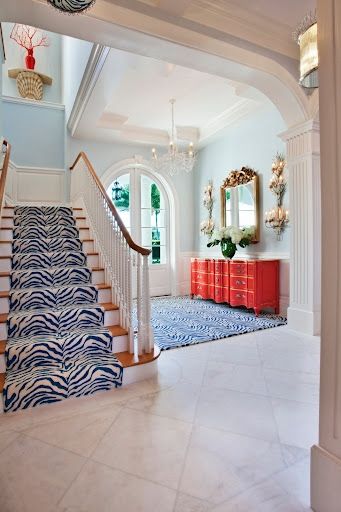 7. Big Cat Print – If grazing animals aren't your thing, how about going more carnivore with Leopard Print?
In this house with a long spiral staircase the use of leopard print looks stylish – it might look less cool in a modest modern house, but if you love animal prints it could be the carpet for you.
Modern Twist on a Traditional Style
8. Colour pop counters – Picking out accent colours in a neutral carpet works really well in this stair runner. Using the accent colours in other soft furnishings will bring the colour scheme together and give an understated style to your stairs and landing.
9. Earth Colours – These vibrant earth tones give warmth and decadence to your stairs. Contrasting the rich colours with a neutral grey/blue ground brings a modern feel to a traditional design.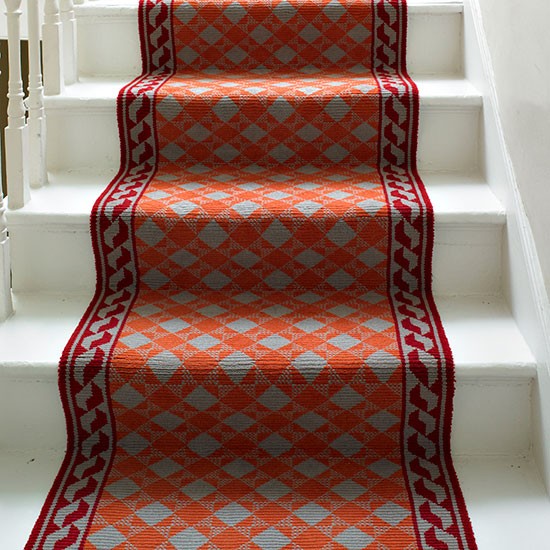 Fun and Funky Stair Carpets
10. Crochet Colour – For a colourful, fun and home-made vibe we love this crochet-style stair carpet. Cutting in some of the pattern from the stairs into the neutral hall carpet helps the areas to flow and softens the boundary between stairs and hallway.
Here the walls have been covered in stripes of colourful carpet – we aren't sure this is something we would do, but what do you think?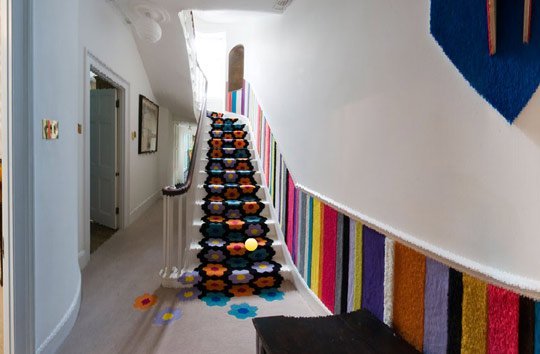 11. Personalised – These stairs have an added human touch, the 'wet footprints' are definitely a bit of fun.
Floral Carpets
12. Flower Power – Carpets are said to be 'back in fashion' and while for many of us carpets have not been out of our home, highly patterned floral carpets have not been much in vogue.
This brightly coloured floral stair carpet is not for everyone, but set in this renovated setting it makes a fantastic statement and if you love florals, you can't get much more floral than this!
The dark background creates a dramatic contrast to the bright pattern and helps to prevent the carpet from being sugary sweet.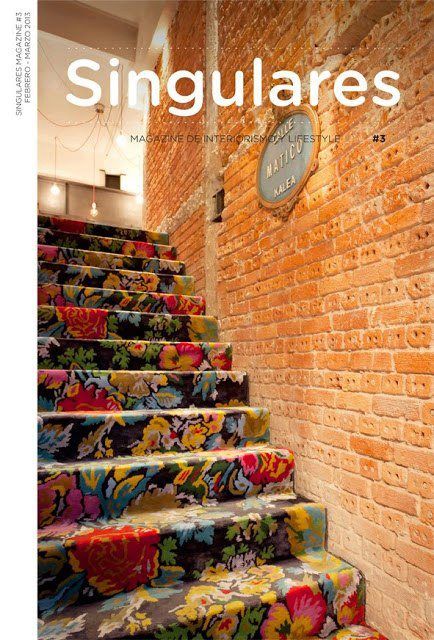 Traditional Style Runners
13. Oriental Style – This style of stair covering never dates, this rich luxurious oriental inspired patterned stair runner looks fabulous in this period setting.
Using metal stair rods further accentuates the traditional feel.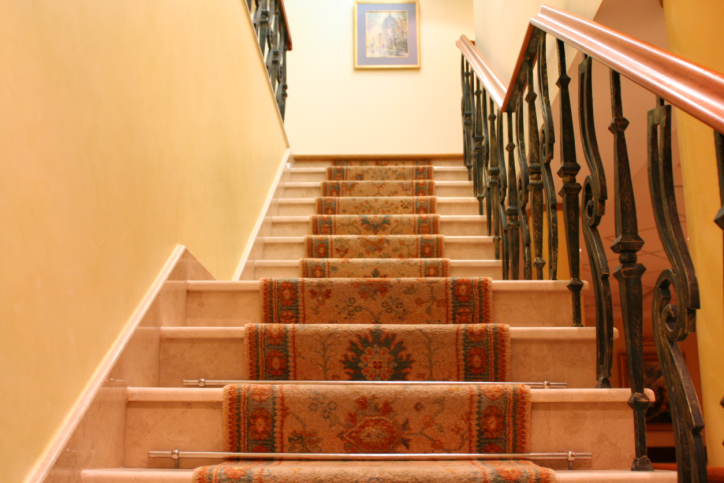 14. Tartan Stair Runner – This tartan check in shades of heather is very much on trend, but is classic enough not to date immediately.
The stairs carpet is echoed by the matching hall rug, and the woodwork on the stairs complements the muted tones of the stair runner perfectly. The overall effect is warm, welcoming and modern.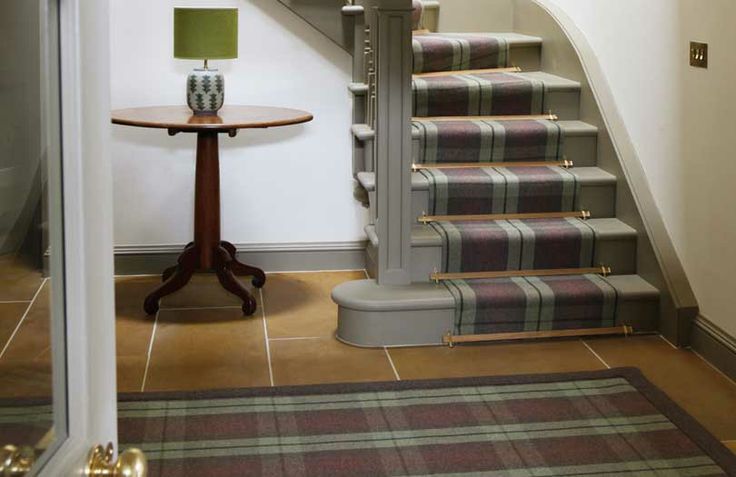 15. Houndstooth Checks – looking rather like a suit fabric this traditional check carpet looks fabulous against a white-painted staircase.
16. No carpet – by contrast if you don't want or can't afford the type of stair runner we have been featuring here then you might choose to paint rather than carpet your stairs. Find out how to paint your staircase.