Time Saving Tips for Home Plumbing Using SPEEDFIT Fittings
Save time by using SPEEDFIT® push fit plumbing fittings when carrying out home improvement work in your home. Find out why plastic pipe is a great alternative to traditional copper pipework.
Plumbing for Novices
Many home improvers stay clear of plumbing because they are concerned about getting a good joint on copper pipes. After all there is no point in spending a lot of money on a new kitchen and bathroom only to create a leak from the pipework!
Using plastic pipes when plumbing at home allows you to be sure of a perfect leak-free fit from the very first time you try plumbing. There is no need to worry about the niceties of flux, solder and blowtorches.
The only specialist tool you need is a pipe cutter – and it is essential that you buy a purpose made plastic pipe cutter. Do not be tempted to try to get away with using a hacksaw or indeed any other sort of saw. If the pipe is cut at an angle it won't fit properly. Plus the burrs caused by cutting the pipe with a saw will prevent the system from being able to form an effective seal.
A good pipe cutter will not cost you a lot of money – we have a range in our toolstore, and you can pick up a decent one for around £5, so it really isn't a problem to add one to your plumbing toolkit.
Other benefits include being able to easily bend the pipes around obstacles and corners (although you should use a right angle bend if you need to get a tight corner – don't risk kinking the pipe by tying to force it to turn too sharply).
Once the SPEEDFIT plumbing is installed you can also revisit any fittings that you want to change by simply pushing down on the release collar, removing and replacing the fitting. (Don't foret to turn off the water first – it is good but it is not magic!). So for example in a bathroom if you have a sudden urge for retro styling and want to put in a bidet you can add a T-piece to spur off the existing plumbing system.
Take a look at our project for a full explanation on how SPEEDFIT works, and what fittings are available in push fit fittings.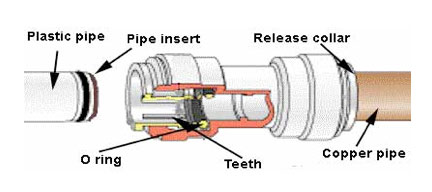 Speed up Plumbing Installations
Experienced plumbers use plastic pipes to save time with installation – SPEEDFIT® is much quicker to fit than standard copper pipework. It is also easier to install under floorboards and in partition walls where using an open flame to form joints can be both a fire risk ad more fiddly than using a push fit system.
The plastic pipes are available in long lengths – so for large installations there are fewer joins, which is another reason it is quicker to fit.
Another benefit is that where pipes are surface mounted there is no need to paint them, because they are already white – always assuming you want your pipes white of course.
Can I Use SPEEDFIT For Central Heating?
Yes these plastic fittings can be used to join to new or existing copper pipework (not chromed pipe though), they are suitable for use on central heating as well as domestic water plumbing.
See the section "What Can I Use SPEEDFIT® Fittings For?" in our Speedfit project for a full list of where you can and can't use push fit fittings.