The Quick Guide to Staircase Regulations – What's Allowed and What's Not When Changing or Adding Stairs, Handrails or Banisters
This is a really quick guide to what is allowed and what is not. It is no substitute for contacting your local building control officer for further clarification; Find out how you apply for building approval here.
If you would like to read up further it is very clearly laid out in Part K of the Building Regulations, which you can download or read our synopsis.
When you are adding or altering staircases you do need to get building regulation approval. If you think about the potential risk of someone falling from/through poorly constructed stairs you can understand why this is an important area where regulation is required.
Summary of Rules for Adding New or Replacing Stairs
As discussed these are the highlights that you need to be aware of but clarification will be provided by your local Building Inspector. If you are replacing an existing staircase that does not meet the existing regulations, on the whole you will be able replace it with the same (or better) when measured against the regulations.
Firstly there needs to be enough head room for normal sized person to climb the stairs in leaps and bounds. In the regulations they state that there needs to be at least 2 meters vertically above the pitch line at any point.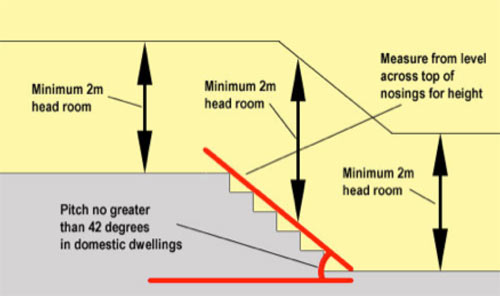 In loft conversions this rule can be relaxed as typically there is a shortage of head room. The minimum height can be reduced to 1.9 meters or 1.8 meters at the shoulder or side of the stairs where there is a sloping roof above the ceiling: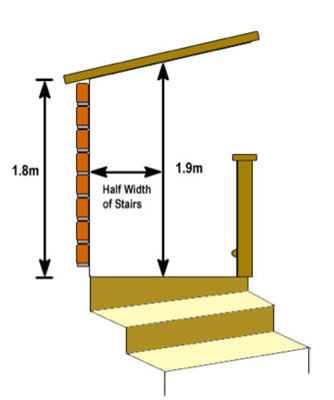 The pitch or the angle of the stairs cannot exceed 42°. This means that in a normal situation (where there is at least 2 meters of headroom) the run or length of the stairs will always be over 2.2 meters.
There are special concessions for lofts, where Space Saving Stairs (or Alternating Tread Stairs can be used). These have to have minimum 2 meters headroom and have non-slip coatings, among other requirements.
Remember to leave space to get on and off the stairs too – plan on needing at least 600mm. The landings length should be at least the width of the stairs and they have to be at the both top and bottom of the staircase.
There is no restriction on the width of the stairs, although it is unusual for a staircase to be less than 800mm (or 600mm for loft staircases). Typically they are 860 mm wide. Where doors open out on to a landing, there needs to be at least 400mm space when the door is open.
So that the steps don't get too big to climb, the maximum rise, or vertical distance between on step and the next is 220mm. It should not be less than 190mm.
Measurements for the Parts of Your Staircase Handrail
The handrail is clearly a very important part of the staircase when considering it from a safety perspective. As a result there are some very clear rules about what is allowed and what is not. For more information about handrails for staircases have a look at our project.
If the stairs extends beyond 600mm then a hand rails is needed. If you can fall 600mm or more from a staircase or landing then this should be guarded against with some form of balustrade.
Handrails have to be over 900mm on both landing and stairs. If the staircase is in a public setting then the handrails needs to be a little higher on landings, but this is not relevant to domestic dwellings.
The spindles, which stop people from falling below the handrail, should not allow a 100mm sphere to be able to pass through them. This will stop even the most determined toddler from getting through.
Planning Your Stairs
There are a wealth of choices when it comes to selecting new stairs even when the restrictions that the building regulations impose are applied. To help you understand all the terminology, jargon and options we have prepared some projects that should help you.
Firstly, you will need to understand how stairs are constructed and what are their parts. This will allow you to know what choices you can make. Read our project about staircases, their parts and construction here.
When you have an understanding of the staircase, you will need to understand about the handrails or balustrades. As this is such an important part for the safety of the staircase this has been written in a separate project coving the terms, jargon and construction of the handrails. You can read this project here.
Finally, if you need to research further you can read our project on Part K of the Building Regulations. We have written a simple "translation" of the regulations (available on the second link at the top of this page), but you will find that the regulations, which can be downloaded on this project page also, are pretty accessible anyway.