Choosing the Right Strimmer to Buy
Choosing the right stimmer all depends what you need it for! It sounds obvious but once you know what you need it for then it is relatively easy to choose the right strimmer .
Timmers, rather than "Strimmer" which is a brand coined by Black & Decker, are idea for dealing with long grass, too long to mow, trimming and edging and even cutting back brush including brambles and bracken. Have a look at our project on Strimmers for what can be done and how to use them most effectively.
Here are the key questions that you need to ask yourself when buying a trimmer:
Where are you Going to use Your Strimmer?
There are 3 types of strimmer; Petrol, electric with a cord and battery operated.
Clearly if you need to operate one where there is no socket or you are going to struggle to get an extension lead to, then a corded trimmer is not an option.
How long are you Typically Going to use it for?
In each trimming session, how long you use your strimmer will have an impact on your choice. Battery powered strimmers tend to only last about 20-30 minutes on a single charge, which can be inconvenient if you need to continue for longer.
Of course, you can be getting on with other things while the battery charges or buy several batteries.
What are you Going to be Cutting?
This is probably the most important question. Light grass can easily be dealt with by an electric trimmer, but you will need a petrol trimmer, possibly with a brush cutting blade, for thicker vegetation and long grass.
Light fine edging work will be difficult with a heavy petrol trimmer, but a light battery operated model will be handy and easy to manoeuvre.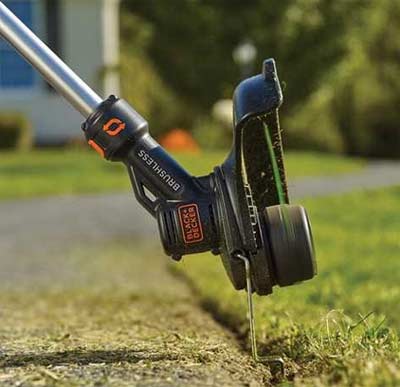 What can you Manage?
If you don't want to deal with petrol and 2 stroke additive, which a lot of the petrol strimmers use, then a petrol trimmer is not for you. You might find it is too heavy for you to use.
On the other hand, you might not want the bother of extension leads or charging batteries. This can be a bind if you have to take your strimmer to a site with no power such as an allotment.
What can you Afford?
As a rule of thumb an electric corded trimmer will be cheapest, and then there will be the battery powered versions and the most expensive will be petrol powered. However there is a lot of overlap, so for example, you might find a cheap petrol trimmer is cheaper than a more advanced and expensive electric one.
We suggest that you pick what you need; petrol, electric corded or battery. Then you should start to hone in on price.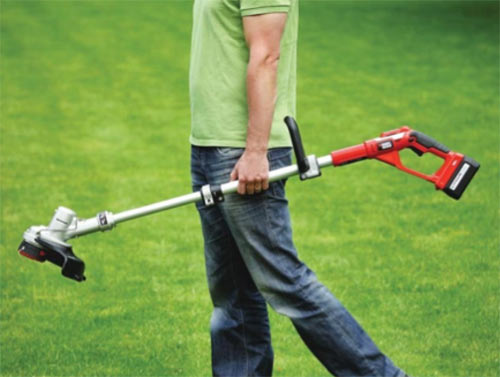 Haggling, Special Offers and Accessories
Once you have chosen a type and style of trimmer we recommend that you do not get hung up on the brand. There are a lot of great, and lesser known, manufacturers out there offering warranties of 2 and 3 years, so if you get the right machine for your needs, the brand name on it shouldn't matter.
It's always worth asking for a discount if you're in the shop; you've got nothing to lose. If you're buying on line you can compare prices across a range of models and makes to get a good deal. Look for special offers such as accessories being thrown in.
Try to buy out of season; spring is probably not the best time to buy a strimmer as this is when people find out that they need one or are taking them out of winter storage and finding that they need replacing. Retailers know this and are less likely to discount then, but in late autumn when they know they're going to be left with stock on the shelf all winter it is a great time to shop about.
Using a Strimmer
We cover all the techniques for how to use a stimmer effectively in our project on strimmers – have a read of this before you go to the garden centre or tool shop so that you know the jargon and can explain exactly what you are looking for.