This section contains the projects that are essential to finishing your bathroom project. We cover a range of topics from earth bonding bathroom appliances and pipes to fitting demisting mirrors. We also show you how to remove silicon sealant.
We have a huge range of plumbing projects that will be relevant to any work that you might be doing on your bathroom. We have projects that cover all these topics:
The projects in these sections cover every aspect of the plumbing that you might need to do on your next DIY Project.

The Best Bathroom Gadgets and Accessories for a Bathroom
We regularly attend tradeshows, in fact we get invited to present our Tricks of the Trade Theatre at many of them. While we are at these trade shows we often see some amazing new inventions and ideas.
Here is our pick of the best appliances and gadgets for your Bathroom – no bathroom is complete without at least a couple of these!
Bathroom TV Mirror
This is complete luxury which you can justify as being a little bit practical! When it is not on it is a mirror which every bathroom cannot have too many of, but you can also relax in the bath and catch up with your latest show or keep up to date with the news in the shower.
There is a little wiring involved, so being in a bathroom you will need to get a competent electrician to do this for you. Plan for this because retrofitting could be prohibitively expensive, as all the wiring needs to be run inside the studwork.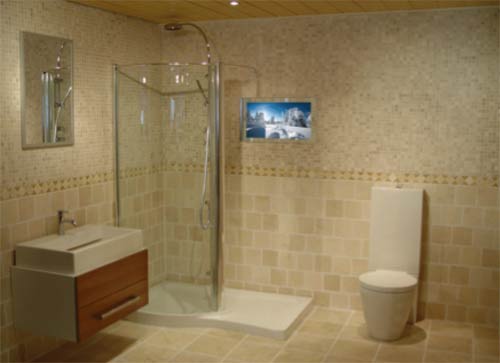 Get Creative with your Basin
The first rule of bathroom design is to get a design and stick with it, which we heartily agree with. However….
There is some amazing bathroom ware out there. If you can build in a really funky basin that fits with your overall design you will have an amazing talking point. We have seen lots of amazing bathrooms sinks, but the runaway winner has to be the aquarium sink:
We have never actually seen this sink, but found it on the internet when searching for other designs that we have seen, but it had to be in our list just to demonstrate how crazy you could be!
Steam Shower
Even the Romans knew the benefits of steam! You can get yourself a shower cubicle that will fit in to most bathrooms with a built in steam generator. You can enjoy the benefits of a steam room in your own home.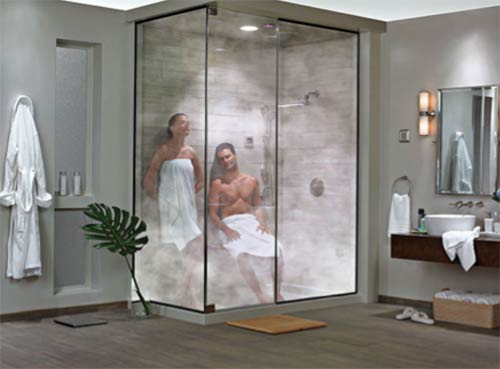 Feature Bath
We've already covered the "feature basin" so now it's the turn of the bath! As with the basin there are lots of amazing designs out there so it is worth shopping around to see if there is something that will work with your overall design.
If you want to go for something truly amazing you could try the carbon fibre Hammock Bath by Splinter works in Bristol. Price? If you have to ask you can't afford it!
Follow the link to see more pictures – the waste even makes letting out the plug look cool.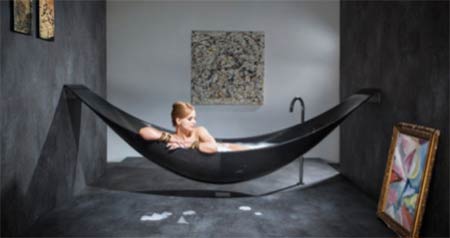 Demisting Mirror
These are pretty mainstream nowadays but they are still a fantastic luxury, and invaluable if you are in a rush; no more smearing the mirror with a corner of a towel to try and use the mirror.
These will need to be wired in so will need a little forethought and planning, and is not a job that a DIYer should do themselves.
Shower Step
A simple and practical solution for getting to your feet easily while in the shower. These are ideal for ladies shaving or just for washing.
They are really easy to fit, even retrospectively and will not break the bank either. It's a great project and once you start to use it you'll be pleased you went to the effort.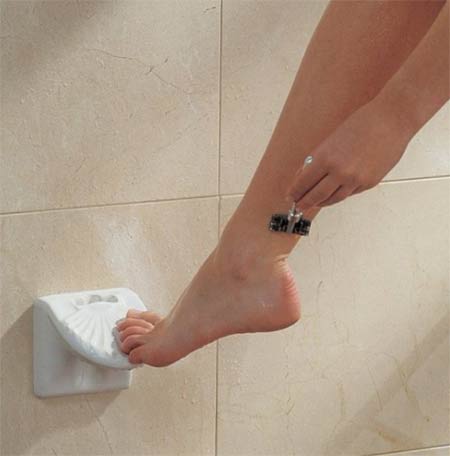 Under Floor Heating
Under floor heating is now relatively common place, but it is still a real luxury in a bathroom. You have the choice of fitting electric under floor heating, or you could have a water based system.
Whichever you opt for you will not regret it as the bathroom will be warmer and drier as a result. Getting out of the bath will be a pleasant experience even on the coldest winter day.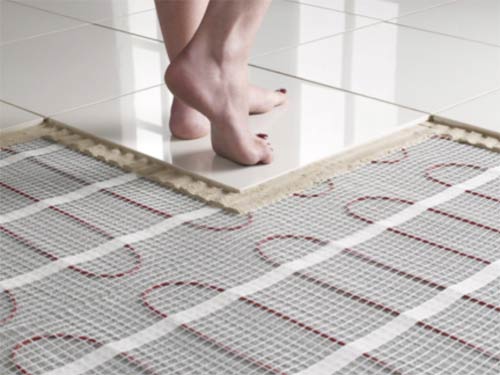 Bathroom Lighting Ideas
LED lighting has meant that it is now possible to have the more amazing lighting effects all over the home and the bathroom is no exception. You can have "stars" in the ceiling or lighting that you can alter to suit your mood.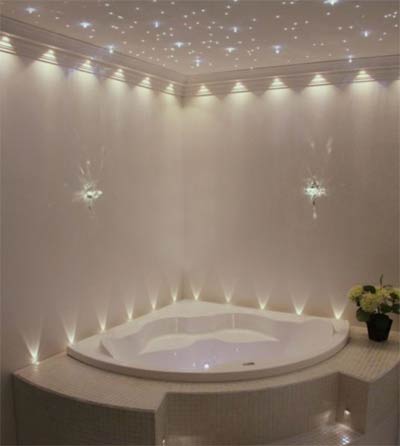 There has never been a better time to do a bathroom makeover project. There is so much choice – and we did not even get into the taps, which are a topic of their own. There is no reason to have a boring, functional bathroom any more. Nowadays a bathroom is a place you actually want to spend time in.