A feature bathroom can really add the wow factor to your home; and this all helps to improve the value of your property which is a nice bonus too. This section contains the main projects that you need to install all aspects of your bathroom suite including information on bathroom plumbing that you need to consider. There are also projects about bathroom and toilets that are growing in popularity, such as composting toilets and macerators.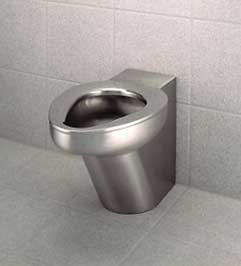 If you are trouble shooting then we have a range of projects that cover all the major issues that commonly occur, from fixing leaks to finding out why your toilet won't flush. If there is something very specific, why not look at our plumbing forum for the answer or post your question?
Toilet History
Like many great inventions the flush toilet was invented here in Britain, but surprisingly it is credited a courtier named John Harington in Elizabethan England, who with described the first flush toilet that he had installed in his home in Kelston. However it was not until Thomas Crapper started to manufacture toilets in the 19th Century did they come into wide spread use. Thomas Crapper was a Yorkshire born plumber that moved to London and manufactured sanitary plumbing part in his brass foundry founded in 1861. A great innovator, he pioneered the bathroom fitting showroom and held several royal warrants.
Advice on choosing a bathroom suite
There are a number of practical things to think about when considering which bathroom suite that you are going to have. Here are some of them:
Style – This is down to your personal choice but there is no substitute to looking around for ideas. Go to showrooms so that you can see and get a feel for what it will be like in your home.
Not all suites are suitable for every type of installation – a little research will clear this up quickly. Check with a plumber if you're unsure about measuring up to get the right sizes.
Delivery time vary widely – Make sure you're not caught out so start planning early as some suppliers can take 6 week or more, where as others can deliver in 48 hours or less
WRAS approved – This is a quality make from the Water Regulations Advisory Scheme which will give you an indication of quality, but at least make sure you have a suitable guarantee for the item you purchase
Always check your order on delivery carefully – it is very frustrating if something is missing and can be expensive if you are using a plumber to fit the suite and they have to come back when all the parts are there.
Fixing Toilets Problems
There are a range of projects here that specifically help you to fix and resolve problems with toilets. However the installation projects will help you to understand how a toilet works and then the toilet, cistern or plumbing.
This section covers all aspects of plumbing and fitting your toilet. Once you have chosen the right bathroom for you then you can refer to all the projects to make sure that your toilet is fitted correctly.