In this section we cover every aspect of DIY and home improvement involving baths, basins and sinks. We will explain the options you have and their various pros and cons. We will cover practical trouble shooting including how to find and repair leaks easily.
We also cover the fitting of all types of sink, including kitchen sinks. There are detailed guides to installing different types of bath, including cast iron, with tips to ensure the project is a success.
We cover the installation and tips for maintaining or repairing showers and wetrooms in a separate section.
We have an extensive section all about plumbing, where we cover every aspect that you could possibly imagine. Those that you will probably be interested in if you are doing a bath or basin project are:
Pipes and Pipework
Tanks and Water Systems
With all the information from this section about sinks and baths, and the information about plumbing from the plumbing section, there is no reason that you cannot install your own basin or bath.
What is a Bathroom Suite?
A bathroom suite is generally considered to be a matching set including a bath, basin and toilet. Some retailers will advertise 3 or 4 piece suites (and sometimes more). These can be any combination of a sink or two, bath, toilet or shower; you will need to check the product description to be sure what is on offer.
Often the bath is bought separately, as this is likely to be the largest and most expensive appliance in the bathroom.
Cost will vary hugely, and not just for the quality of the appliances, as the design and aesthetics will come into play. The cheapest will typically be acrylic or plastic, then steel with be slightly more expensive, with cast iron being the most expensive. This is a very crude approximation as a cheap steel bath can be much cheaper than an acrylic one. A cast iron bath will be in the region on 10 times the price of an acrylic one.
There are some amazing designer materials that can be used for bathroom suites, and baths in particular. Stone, copper or even timber baths will be thousands of pounds upwards. They can have lights and even a TV built into them, which obviously will push the price up!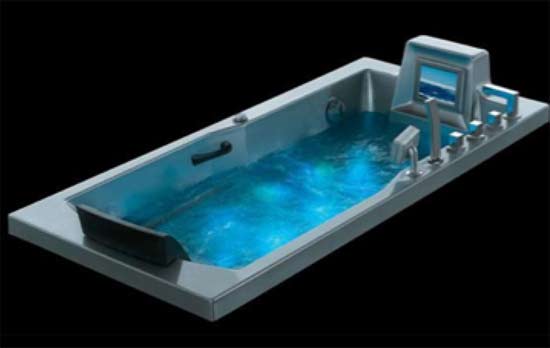 The range of baths is only matched by the range of bath prices!
When it comes to choosing a basin for your bathroom, it is worth remembering that pedestal basins are often the cheapest. Wall mounted basins are then more expensive. Like baths, prices can climb rapidly with designer basins, especially which fashionable designs like washbowls basins.
How to Choose the Right Bathroom Suite at the Right Price
Choosing the right bathroom suite is always going to be challenging given the bewildering array of designs, materials and most importantly prices to choose from.
Here are a few steps to take to ensure that you get the right suite for your needs (and budget):
Measure up: Work out exactly how much space you have. This is particularly important in if you are tight on space or have a particular requirement such as a long bath for example. Most retailers have design software to help you plan the layout but they will need the measurements. If you're old school you can plan your layout on scaled graph paper
Decide on your budget: This is really important because with the staggering choice of options out there, if you don't have a budget you'll be a salesman's delight! Work out all the appliances you need, including extras such as towel rails, shower waster systems and even shelves and baskets
Decide on your Design: Work out the style that you want; is it traditional or contemporary or possibly designer. Surf the net for images and get the feel for what you want but don't get hooked on a specific design. If you can be flexible, within the contemporary range say, you are sure to get a better deal than if you're set on a particular product range
Shop Around: You will have to do this to get a feel for the design style that you want, but make sure you get a feel for the prices. You might need to go to several shops to get the feel of the material to ensure that you are happy with the price quality compromise. Understand which places have the best prices for which parts of your suite (and all the accessories)
Take the Plunge: When you are as clued up as you think you will get, then you need to buy. You might get a better deal from buying everything from the same place, or you might be better off buying separately – if you're buying from a salesman, make sure that they are given the opportunity to price match!
The Extras: Make sure that you know the lead time before you hand over the credit card; there's no point shaving a few pounds only to have the plumber standing about at £160 per day. Make sure that you ask about delivery costs or any extras; don't forget to get a bath panel for instance
With these tips you should be able to buy yourself the right bathroom suite for your needs and budget. With the projects about you will be able to fit them yourself!