Projects to help you with all aspects showers and wet-rooms from fitting them to maintaining them can be found in this section. Showers have relatively recently become common place in the modern bath room and wet rooms seem to be following suit so here are a few tips for choosing a shower or wetroom for your home.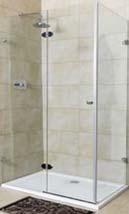 How to choose a Shower
Before you start it is important to work out what will be an appropriate shower for your home. Use this flow chart to work out which is the right shower for you:
Working out your water Pressure
As you can see from the flow chart one of the most important factors in choosing your shower is your water pressure. Here are a few tips to work out if you have enough water pressure or not:
If you have a combination boiler you will have high pressure as they offer the highest pressures
For reasonable pressure in a gravity fed system you need at least a 1 metre drop between the bottom of the tank and the shower head
For reasonable pressure in a gravity fed system you need at least a 1 metre drop between the bottom of the tank and the shower head
Shower types
There are number of different options that you can consider when choosing a shower. Here are some of the common types:
Electric Showers: Electric Showers take cold water and heat it up as and when required using mains electricity. They are easy to install and cheap to run. They don't typically have the best pressure but more modern electric showers have a much better performance that earlier versions; the higher the KW rating the more water that it can heat so the better the shower you'll get.
If you can afford it, it is a good idea to go for one with a stabiliser as this ensures that the temperature will not be affected when others start to use the water in other parts of the house.
Mixer Showers: Mixer Showers take both hot and cold supply and mix it in the shower to provide the right temperature shower for you. They work best if you have a plentiful supply of hot water and the pressure is good.
Shower Towers: A shower tower is a not just a single shower head that jets water down on you, it also has an arrangement of jets typically arranged vertically that spray your body from the side to give you a through cleansing experience. They do require good water pressure and will use a little more water than a normal shower.
Power Showers:By fitting a power shower you can boost the water pressure to give you an exhilarating shower time experience. There is typically an electric pump which is used to boost the pressure. There are two main issues:
They can use up to 3 times the amount of water that a normal shower uses
They also use electricity to boost the pressure.
While exhilarating they will cost more to run.
Choosing the right shower is important and you need to know all the options and pit falls that this project will help with. Once you know what you want, then in this section you can find all the information that you need to fit, fix or repair the shower or wet room that you have chosen.