This is the section that deals with everything to do with pipe-work and pipes. We have projects on all types of pipes; Copper, Plastic uPVC and Chrome. We show you all aspects of working with pipes from making joints, adding valves to brazing and solvent welds.
We cover fault finding in your pipes and show you how to can discover the cause of problems and then how you can fix them. We cover solutions to all the common problems from burst pipes to noisy pipes and curing airlocks.
We have a complete plumbing section which covers all aspects of plumbing beyond and including pipes.
While we cover pipe works here, we have a separate section for Waste Pipe and Systems. This is because this is a different topic which warrants a section of its own. If you are looking for information on waste pipes and working with waste systems have a look at our section on this.
For information about taps we have a section that covers everything you need to know about them. See our section all about taps and valves here. We deal with all the projects involved with tanks and water systems in general in another section called Tanks and Water Systems.
We have information about virtually every plumbing project that you could imagine, so there is nothing to hold you back!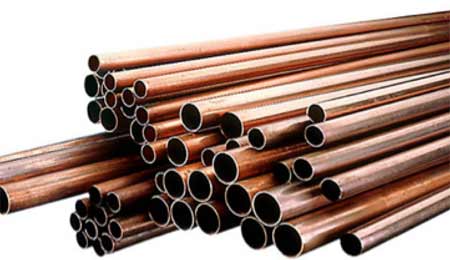 Types of Pipes Use for Domestic Water
Over the years a great many materials have been used for making pipes in people's homes. The Romans famously used lead, and in medieval times wooden pipes have even been used.
Nowadays in the UK there are only really three types of pipe that are used for potable (drinking) water and for heating systems. These are:
MDPE Pipes – Medium Density Polyethylene or "Blue Poly"

Blue Poly Pipe is use for mains water entering the house

Copper Pipes

Copper Pipe typically comes in 2 metre lengths

Plastic Pipes

Plastic Pipe and cheap and quick to work
MDPE Pipes Explained
Medium Density Polyethylene pipes are used for the cold mains water that enters into your house (and to commercial properties). It is used to replace the old lead pipe work that was laid extensively in our mains water network during the Victorian period.
It can be buried in the ground and is durable and seamless. It can withstand reasonably high pressures required in the mains network. It comes in three diameters depending on where it is going to be used; 20mm, 25mm & 32mm.
This is not an area that a typical DIY enthusiast will get involved so it is likely that you will not have too much to do with this kind of pipe.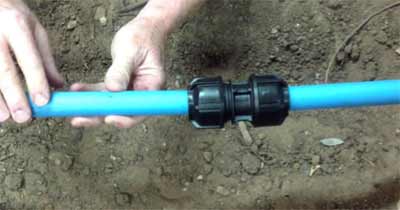 Copper Pipes Used in Home Water Systems
Copper pipe is used for hot and cold water applications, including central heating systems. It has been the traditional material for heating and potable water systems since the middle of last century when it became clear that lead pipe was dangerous.
One of the main advantages of using copper pipe is that because it has been used for so long people are familiar with it and tend to have all the tools. In fact if you are involved with any sort of renovation it will almost certainly have some copper pipe, so whether you like it or not you will probably have to work with it.
Copper pipe has been a favoured choice for so long because it is durable and the connections are proven and seldom leak if done correctly. It is easily worked; it can be bent and joins are easily made. Copper does not corrode easily, although if the water is acidic it will corrode a little faster.
Why it was adopted was that if does not pollute the drinking water, which we take for granted now! It can also be used for hot water.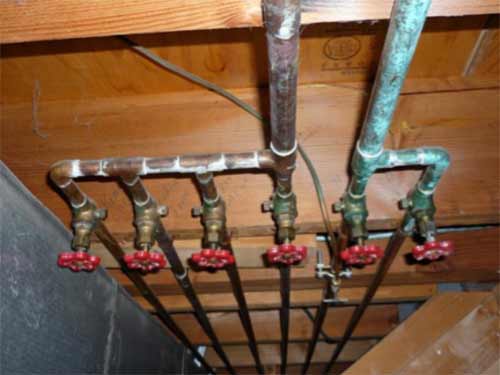 The main disadvantage of copper piping is its price. It can be as much as 3 times the price of plastic piping solutions, and is highly dependent of the volatile price of copper so the price can change week to week. This can play havoc with your budgeting.
Copper does corrode as we have mentioned, but it can also split, particularly when water in the pipe freezes. This is because it is ridged and cannot give to accommodate the expanding ice. This rigidity also makes copper less flexible and can make it harder to fit – it will require more work to bend and turn corners – and support compared to a bendy plastic pipe.
Plastic Pipes Used in Domestic Plumbing
Plastic piping has gradually started to replace copper pipe in domestic plumbing and the advocates of it are very vocal!
Plastic pipe is a general term for non copper, plastic pipes. They can be referred to as uPVC pipes, Speedfit pipes and PB or PEX pipes (see below for a detailed explanation). It is confusing!
In the United Kingdom there are two main types of plastic pipe that are used for plumbing purposes. This is a simplification because there are a number of subtypes and brand names all claiming to have better and more durable pipes. However these are the main types to consider:
Polybutylene Pipe – This is a plastic resin which is used to make pipes. It is sometimes referred to as Poly pipe or PB pipe
Cross-Linked Polyethylene Pipe – or PEX pipe. This is plastic polymer where the polymers have been bonded to each other or "cross linked" so that the resulting plastic is stronger, less brittle particularly in cold temperatures and is still flexible
PEX can withstand higher pressures and temperatures than PB pipe. PEX does not corrode when there is chlorine in the water, which is in most mains supplies to some degree. The chlorine will cause the PB pipe to become weak and brittle and eventually break. PB pipes are no longer allowed to be used in North America, although you can still get them here in the UK.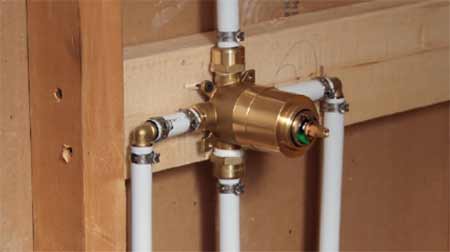 There are significant advantages to using Plastic pipe, particularly if you choose PEX pipe. The main one is cost over copper which is typically much more expensive. It is very easy to fit particularly retro-fit as it is flexible and can be pushed through gaps in joists, for example.
Plastic pipes can take hot or cold water and a pressure of up to around 10 bar, which is suitable for anything that you would need in most home plumbing. Because they are flexible, they are less prone to splitting if the pipe freezes.
They are quicker to fit; a compression joint should take about 40-50 seconds to make, but a speed fit fitting will take considerably less than half that once you are practiced. The fittings are more expensive, but the pipe is cheaper and bendy so less time is need to bend pipe and make joints.
One disadvantage is that some appliance and boilers stipulate that copper pipe should be used. They tend to stipulate the minimum distance, such as a metre from the appliance, where copper piping must be used. Although there is no issue with then changing to plastic; plastic and copper can be used interchangeably if required, and you use the right fittings.