Often it is not just a case of choosing the right appliance or white goods to fit into your kitchen or utility room, although we have a project that can help you there too (see the Kitchen appliance project). Nearly always you need to know more; how to remove the old washing machine, how to wire the plug or a little plumbing to get the appliance exactly where you want it. Even when you have your white goods fitted you need to know how you can ensure that they have a long and trouble free life; maintenance and trouble shooting are important to get the best from you appliances.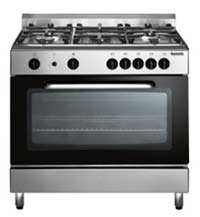 Deciding to buy White Goods
When you're looking for white goods it can be quite daunting to choose what you need and what will work in the space that you have. Our Kitchen appliances project has some great tips for choosing the right appliance and is a really good place to start for all the usual appliance you might need.
Consider the environment and your wallet too. The ongoing cost of running your appliance should be considered; your electricity bills will be reduced if you buy an energy efficient appliance. It is estimated that if every fridge freezer that was bought in 2011 was the highest A+++ rating then collectively £24 million would have been saved! The labels are confusing too. An "A" is not a great rating, so if you can afford to, go for the top rating which is an A+++. For more information about how to understand the new EU energy efficiency labels for products see the guide produced by the government.
Choosing and Looking After Washing Machines and Dishwashers
This is one of our most popular sections and there is extensive information about how to look after your washing machine and dishwasher, from choosing it and fitting it, to ensuring that you can deal with any problems that arise and then removing it once you make the decision to purchase a new one. Particularly for washing machines and dishwashers, you may need to carry out a little basic plumbing, and many moderns fridges are plumbed in too. This is nothing to be scared of as there is lots of information available that can be used to work through the exact job that you are looking to achieve. If you cannot find the right project in the links above have a look at our plumbing section for more information about specific plumbing projects.
Fitting White Goods
Generally the instructions for fitting most white goods are pretty comprehensive these days, but even so often there are tricky issues to overcome that are particular to your home and this is where we have project to assist you. Often you are moving an appliance from one home to another and the fitting instruction have been lost long ago. If you live in a hard water area it is a good idea to fit a water softener to improve the performance of you appliance and increase they life span. And of course, when it comes to removing a particular appliance you might not feel quite so confident, and a little guidance is always useful!
If you are looking for information about specific appliances or need to post a question about something that is no covered in any of the projects, have a look at our appliance section on our forum.
This section is useful for anyone that is trying to fit, fix or remove and domestic appliance or white goods. There is even information about how to go about choosing the right appliance for you, be it a fridge or a washing machine.