Dishwashers and dishwasher problems are a relatively new part of our lives but most people who spend any time in the kitchen wonder how they did without them! Even people who like cooking often hate the idea of washing up, so what better than to have a dishwasher to take the strain of our daily domestic chores.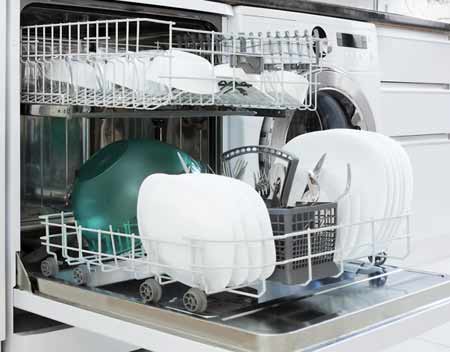 Dishwashers are essentially just a box that is plumbed in. They are a simple kitchen appliance with a heating element that uses the power of water and detergents to keep our dishes sparkling clean.
This may be a simplistic explanation of how a dishwasher works but if you are thinking of doing a DIY dishwasher repair it is comforting to know that they are not very complicated, and with a little investigation, you can usually narrow down the cause of any issues fairly quickly.
As dishwashers are powered by mains electricity, please make sure you disconnect them from the mains before you start any work on them.
Common Faults With Dishwashers
Many of the things that go wrong with a dishwasher are user errors and as much as we don't like to admit it, could have been avoided if only we had read the instructions.
The following is a list of easily rectifiable problems but if you are at all worried, or encounter something not explained here, please call an engineer.
Also check out our projects on washing machine and dishwasher wastes and pressure reducing valves as these will also provide a little insight into the way the machine drains and also is supplied with mains water.
No Power to Dishwasher
If you are not getting any power to the dishwasher i.e. nothing happens when you turn the dishwasher on try checking these common electrical problems.
Damaged Electrical Socket
If the socket or indeed the plug is damaged see our project on how to wire up a plug and also our project on wiring a spur socket.
Both of these projects contain all the info you will need to know to wire a plug, add a spur socket for your dishwasher or replace a broken socket.
Possible Power cut
Check whether other appliances are working from that socket. Try unplugging the dishwasher and plugging in your kettle to check the socket is working.
Check Fuse in Plug on Your Dishwasher
Unscrew the plug on your dishwasher and replace the fuse with one appropriate for your appliance. The original instruction book will indicate this or check the manufacturer's website for your particular dishwasher.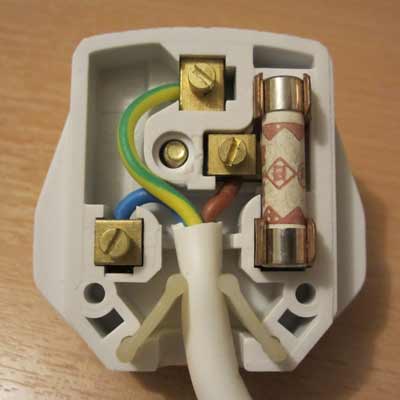 Check Fuse in Consumer Unit
Check your fuse box to see if a fuse has blown (if you have an old-style fuse board), or an MCB has tripped. See our project on consumer units for more detailed information.
Check Door is Closed Properly
Dishwashers won't work if the door is partially opened; this is a safety mechanism to make sure you don't flood your kitchen or utility room. Check if something is blocking the door from shutting fully.
Check Water is Switched on
Most dishwashers won't work if the water supply is interrupted; this is a safety mechanism to make sure you don't run it without water.
Check the pipes are not kinked, the mains water is on and that you have not accidentally closed an isolation valve. See our project on isolations valves for more information on how they work
Dishwasher Leaking
If you find water on the floor while the machine is running or after the cycle has finished try checking these common dishwasher errors:
Overloaded With Detergent
Your dishwasher might be overloaded with detergent which causes too much foam to build up and this can then leak out. Check your manufacturer's instructions on detergent quantities to use for your model of dishwasher and take into consideration how dirty your dishes are.
Dishwasher Pipes Damaged
Check all pipes are connected properly with no splits or other damage. Make sure they are not folded or kinked. Make sure connectors are tightly connected, that they are not split and that washers are in good undamaged condition.
Dishwasher Door Seals
Check that the seals around door are in good condition and not leaking. They can get ripped, bent or pulled out of place which means they cannot form an effective seal around the dishwasher door.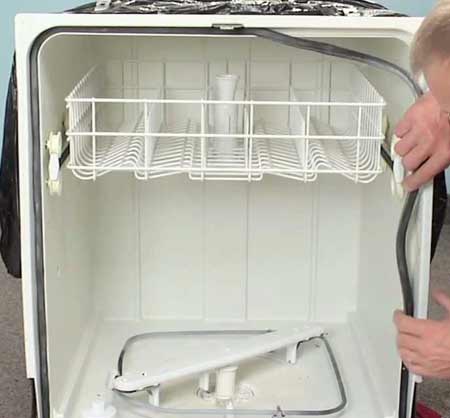 Waste Pipe
Check whether the waste hose is still inserted fully into the waste pipe. Make sure the waste hose isn't split or kinked.
Is the waste pipe split and are the connectors between hose and pipe still firmly connected? You can run a paper towel along joints, pipes and hoses to test if it is wet to find leaks.
Dishwasher not Washing
Badly Stacked Dishwasher
If dishes are badly stacked in the dishwasher the machine will not be effective. The dishwasher uses jets of water to get dishes and cutlery clean, so if it cannot get water to all surfaces of the items in the dishwasher food will "hide" or get lodged in crevices.
Make sure that all items are standing away from each other without nestling into each other or leaning against each other.
Dishwasher "Arms" Obstructed
The dishwasher arms should be allowed to spin freely around the machine, make sure your plates and dishes are not stopping them turning. Make sure they are not clogged with food debris.
You can usually unclip them and run them under a tap to be sure they are clean. Use a pipe cleaner to remove clogging if necessary.
Low Water Pressure
As we said above your dishwasher uses jets of water to get dishes and cutlery clean, so if it doesn't have the power to get water to all surfaces of the items in the dishwasher they will not get cleaned.
If your water pressure is low don't run your dishwasher when you are running water for other reasons. Experiment with different times of day to run your dishwasher, sometimes your neighbour' water use will affect your pressure.
See our project on curing low water pressure issues for some further help with this.
Check with your water supplier if you have experienced a sudden drop in water pressure – you might have a mains leak.
Dirty Filter
A dirty dishwasher filter can really clog up the machine. Check your manufacturers' instructions for how to clean the strainer and filter on your dishwasher.
You can usually just scrub them under a running tap once you have dismantled them. Make sure you fix them firmly back in place before you run your dishwasher again.
Consider running a proprietary dishwasher cleaner through your dishwasher on a regular basis – every 1-3 months depending on use and water hardness. This can prolong the life of your dishwasher by removing scum and lime scale build-up.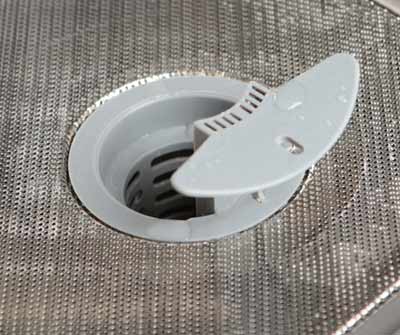 Water may be too Hard to get a Good Wash
The hardness of the water shouldn't be a factor in most of the UK, because dishwashers have an inbuilt water softener.
This is why we add salt to dishwashers. However some models do allow you to adjust the salt usage so do just check you have that set correctly too.
Even if you use tablets that say you don't need to add salt to you dishwasher we would still recommend you use dishwasher salt if you live in a hard-water area.
Dishwasher Detergent
If your dishwasher is not washing properly then try experimenting with different brands of detergent to see if you get a better result with another brand. This does not need to be the most expensive brand.
If the detergent dispenser door doesn't open properly this can cause problems, you can always throw a tablet in with the cutlery instead of putting it in the dispenser.
Dishwasher not Filling
If your dishwasher is not filling the first thing to check is the water supply, are taps running in the house?
Dishwasher Water Supply
Is the valve from the cold water open, you might have inadvertently turned off an isolator valve. If that isn't the cause check the hoses are not kinked or blocked.
To test for a blocked dishwasher hose, turn water off, remove hose from dishwasher end and hold it over a bucket, turn water on gently to see if hose is blocked. You can remove it fully to flush the hose through or buy replacement hoses.
If hose is not blocked it may be the inlet valve is faulty which is a relatively cheap repair.
Dishwasher not Taking the Detergent
If you find that some detergent is sticking in the dishwasher dispenser there are a few things to check and a quick fix for those of you using dishwasher tablets rather than powder.
Levels of Detergent
If you are using powder detergent you might be using too much so try using less detergent. If you are using tablets they can get stuck in the door. Try adding tablets to the cutlery tray instead of the dispenser.
Spray Arm Blocked
If you find that some detergent is sticking in the dishwasher dispenser then the spray arm may be blocked. If the water jets are not washing out the dispenser properly some detergent may be left in it.
See "dishwasher arms obstructed" above. Poke out the holes with a cocktail stick if you can see an obstruction.
Dishwasher not Draining
Before you blame your machine if your dishwasher is not draining, it is just worth checking whether you mains drains are blocked. If they are backing up then the dishwasher waste water will have nowhere to go and it will just stay in the machine.
Drain Hose
If the dishwasher is not draining properly it might be the drain hose. Is your drain hose damaged, blocked or bent? You can buy a replacement hose and fit it very easily.
Filter
Is the dishwasher filter blocked? Check the manufacturer's instructions on removing and cleaning the filter, it is usually a simple DIY job.
Sump Strainer
There is usually a sump strainer in a dishwasher to catch any large pieces of food debris before they get to the pump.
Check to see if this needs cleaning using the manufacturer's instructions on removing and cleaning, it is usually a simple DIY job.
Waste Trap
If you have fitted a new dishwasher or fitted a dishwasher into a new appliance trap just check that the end has been cut off the spigot. This is a very easy plumbing mistake to make –  and to rectify, fortunately.
Pump
If your dishwasher is making an odd sound it may be the pump, it is usually worth calling an engineer and replacing this (definitely if it is still under warrantee).
What if my Dishwasher is Beyond Repair?
After using the above tips to diagnose your dishwasher fault, you may find that it is indeed beyond repair. If this is the case then it's time to look for a new one.
If the idea of forking out for a new one seems too much, then there are specialist domestic appliance engineers around that may be able to fix it for you, but in pretty much all cases, the cost of repair will be more than the cost of buying a new one, but it may be worth checking.
Most domestic dishwashers are generally good for at least 5 years and if you haven't renewed yours for a while then chances are that technology has moved on a fair bit in that time, especially in terms of power and water usage and efficiency.
With the above in mind, when looking for a new machine, always check out it's "Energy Efficiency Rating" and go for the one with the best rating possible (or the best rating for what you can afford). A+ is a good option, but A++ is better if you can go for that.
When it comes to expenditure, it is certainly worth weighing up the possibility of spending a little more to get a better, more efficient machine against what a slightly better machine will save you in terms of electricity and water. It may be the fact that the savings in water and power will be greater than the extra expense – it's worth thinking about!
Due to the sheer amount of machines and manufacturers, it can be confusing in terms of what machine/manufacturer it's best to go for, however, there are quite a few tools available to help you with this.
Most online sellers will now provide customer reviews for a given appliance that should highlight any common problems or faults and there are also specific companies such as Which? that offer impartial reviews to help you select the correct dishwasher for your budget and needs.
You might like to visit our video section on troubleshooting in our plumbing section too to watch a video on common dishwasher problems.