The most common question any DIY orientated person asks when it comes to Central Vacuum Systems (CVS) is: Can I do-it-myself?
We all know that anything can be done if you put your heart into it, but retrofitting a CVS system can be no easy feat. Installing on it to a new build as the house is going up is an easier proposition.
In short, the answer to this question is &dsquo;Yes", but… it is something that is challenging particularly if you are retrofitting. We will explain exactly how to retrofit one in a second, but the other questions we also get asked are &dsquo;What are Central Vacuum Systems and why would I want to fit one?" Lets's cover these questions first.
Central Vacuum Systems (CVS) Explained
A Central Vacuum System or CVS is a permanently installed vacuum unit which allows vacuum cleaning across the house by plugging in a hose and attachments to fixed inlets positioned around the house.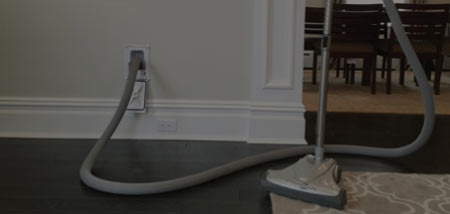 They are big in Canada, where reportedly around 25% of houses having them, but less so over here (and in the USA where only around 1% of homes have them).
As you can imagine it is integral to the house, with ducting built into the fabric of the building which takes the dust and dirt sucked up during cleaning to the canister. There are three elements to any CVS:
The power unit: This is a large roughly metre high (3 foot) unit housing a motor and collection chamber or canister for the dust and debris. It creates the suction and collects whatever is sucked up.
The hose and attachments: This is at the other end of the system, and is the bit that does the cleaning. The hose is usually around 10m (30 foot) but can be as long as 15m so it can reach every part of the house.
Inlet valves and ducting: The inlet valves are where the hose and cleaning attachments can be connected. In turn the ducting connects the inlet valves to the power unit with plastic pipe work that runs behind wall, under floors or in boxing or cupboards. The carry the dirt and dust sucked up to the canister.
There are a range of options for each of these component parts. For the power unit you need enough power for the length of ducting and hose that is needed reach all corners of the house, which is a function of the size of house it will be cleaning. The manufacturers should be able to give you a good steer on the size unit you will require.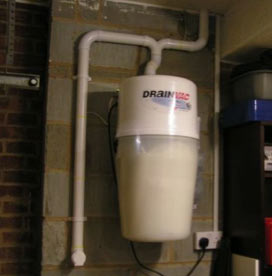 The ducting is typically the cause of most of the difficulties for installing. The hose and attachment are the least critical part of the system as they are removable and therefore can be changed at any time. A CVS can serve a huge range of innovative and ingenious types of inlets. We will cover some of these at the end of the project to give you a few ideas about what you can do with your CVS.
Pros and Cons of a Central Vacuum System
So, why do people install a CVS? The main benefits are:
Improved cleaning – They will typically have 3-5 times the suction of normal plug in hoover/vacuum cleaner
Good for allergies – because the dirt, dust and air is sucked from the room and then the expelled outside, rather than being filtered and re-circulated. This way any allergens are removed; normal hoovers/vacuums filter the air and then expel the air straight back into the room so any allergens that get through the filter come straight back into the room too.
Quiet cleaning – Because the power unit which makes the noise is in another room, such as the basement or garage, there is much less noise when cleaning. This is ideal if people are watching TV or working while the cleaning is done.
Easy to use – There is no need to carry around a heavy portable vacuum engine and everything that it sucks up. All you have is the hose and the attachment.
Adds value – Supposedly houses with a CVS sell better and faster; it can't hurt and we're sure that any estate agent worth their salt will do a good sales job about it!
Longevity – Manufacturers claim that a CVS will last much longer than a portable hoover and when they do wear out the parts can usually be replaced.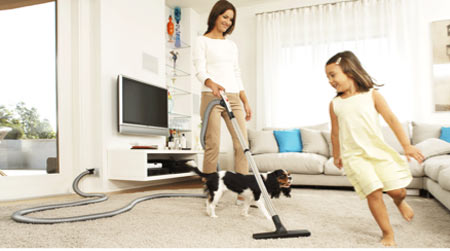 As you can probably see there are certainly some issues that might put you off fitting a CVS in your home:
Installation – As a DIY website we would encourage all DIY where possible, however this can be a challenging project as you will see below
Cost – They will be more expensive than a portable vacuum, typically from £500 and upwards. However the cost of the installation might be even more expensive
Blockages – This is frustrating in a portable hoover, but if there is a blockage in a pipe that is running inside walls and under floors for long distances it could be hard to unblock. Thankfully by all accounts this is a rare occurrence
Lost items – Because the suction is stronger you can accidently suck up things that you might not want to! These can generally be recovered from the canister
Planning for your Central Vacuum System:
If you are thinking about a Central Vacuum System and would like reliable trades people to assist you to fit yours, click on the link. If you have decided to install your own system, most manufacturers will issue you with a manual and a step-by-step DVD. Make sure you ask for this.
It would be a lot easier to undertake installing a CVS system with a new build project or if you are having an extension built onto to your existing property as this makes access to wall and floor areas so much easier. But let's say you are going to install a CVS into an existing property. You will need to plan the positions of your proposed vacuum wall outlets/plug in hose sockets.
Make sure your hose can reach all parts of your floor area (hoses can be purchased up to 15m long). If you can draw a roughly scaled floor plan of your property you can then use a scaled length of string to see if your vacuum hose will reach all areas of your room or proposed work area with the hose.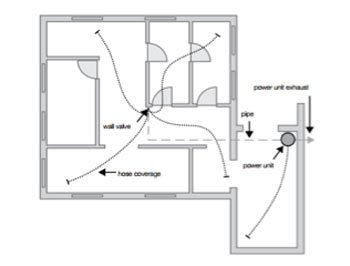 It is easier to install your CVS system using the internal walls which (depending on the age of your property) would normally be of stud/partition wall construction method. If not then you are in for a lot of cutting, chasing, and hammer and bolster work.
Laws have changed with reference to people with disabilities and the position height of sockets for access from wheelchairs, i.e. 450mm in height from floor level for power sockets and vacuum points (you will have to take this into consideration, it's now law on new buildings).
The longer the run of ducting, the more powerful your vacuum unit will need to be, so make sure you have not underestimated the size of your rooms. Good planning is the key. If you measure up the total run of ducting you can give this information to your supplier when purchasing your vacuum unit and they can inform you which model will have sufficient power for your home.
The most important part of installing a CVS system is planning, as it is in all DIY projects. Route your system through walls and voids making sure you do not cut through any load bearing timbers, existing cables or pipe work.
If you can acquire any original drawings of your property to help you plan your runs of extractor pipe work, it would be a great help.
If your walls are not easily accessible from below or above, you may have to consider boxing in your ducting. Keep your runs in the corner of your room this will make the boxing in easier and less intrusive to your room.
Boxing in causes a lot less disruption but can be a little unsightly. Plan well!
Installing or Retrofitting a Central Vacuum System
When undertaking installing a CVS system into an existing building you will have to expose timber studs in plasterboard (drylined) internal walls, you will also have to lift floorboards and possible also floor tiles and cut into ceiling areas.
You will also need to know how to cut chases and electrical boxes into solid walls. You will therefore need to know how to reinstate these areas. Follow the links for more information.
Of course if you are fitting the CVS during a new build you can do it very easily as you go. All the ducting can go in during the first fix, and then the inlets and power unit can be fitted during the second fix.
Ensure that the system is tested as soon as possible and certainly before the finishing starts, as it would be a shame to pull up flooring or wallpaper to access a fault or loose connection which could have been easily reached earlier.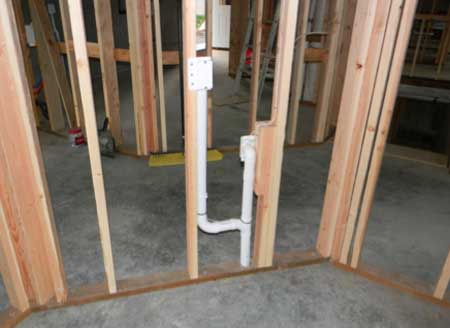 Step1 – Installing the CVS Power Unit
When locating your extractor power unit, it is best placed in your garage, cellar or sound-proofed room. This just keeps any possible noise pollution down to a minimum when the system is running. The loft or attic is not a good location as it can get too hot and dusty.
Ideally make sure you install your vacuum unit onto an external wall. It will be easier to install your exhaust pipe to the outside of your property if your system requires it. It is always a good practice to make sure that the area where the vacuum unit is installed is well ventilated.
The unit will come with a mounting bracket. This needs to be fitted to the wall as instructed and then you can hand the power unit on this.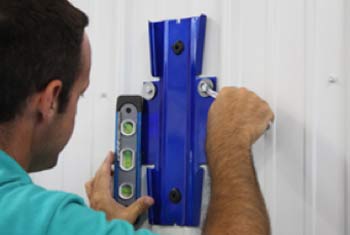 Step 2 – Fitting the Exhaust
Once the unit is in position you can fix the exhaust to take the air that the power unit suck out of the house having passed through the filter and dropped the dirt and dust collected during cleaning. This is likely to have a silencer (or "muffler" – most manufactures are from North America so you have to get used to their terminology) to reduce the noise.
This should be fed to the outside; you might have to drill the opening but you can find out how to do this with a core drill here.
 The closer you can position the unit to where this is going to exit the house the better. Finish off with well caulked flap vent to ensure that you keep the weather out.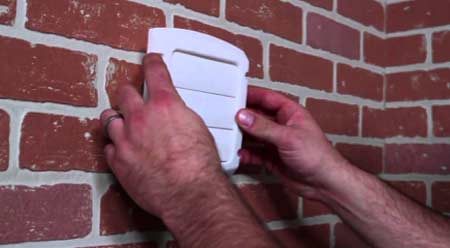 Step 3 – Fitting the First Inlet Valve:
When installing your system start from the furthest usable vacuum socket from the extractor unit. Start working your way back towards the unit. You want to use the least number of 90° bends possible. This keeps the flow of air at its maximum and cuts down the potential for blockages.
Most ducting comes in 42mm diameter pipe or flexible hose with 90°, 60°, Y connectors, straight connectors, pan outlets (for kitchen kick board use).
Do this process in small sections. When you are happy with your short section of pipe work and you have completed a dry run you can then dismantle and glue each section properly in place. Then repeat, making the next short run of pipe work. Glue and fix until your system is complete.
Step 4 – Fit Remaining Inlet Valves and Pipe Work
As we mentioned the route that your pipes take might require lots of different skills to get it from your inlets to the power unit. Depending on the route you take and the construction of your home you might need to employ any one of these skills or techniques:
These projects mainly focus on how these areas of your home are built, so rebuilding them having run your CVS pipes should follow the same principles.
Each of the wall inlets will have a low voltage power cable circuit which will need to be run back to the vacuum unit. When a pipe connector is placed into the outlet, it triggers the vacuum unit to turn on, saving you much legwork running backwards and forwards.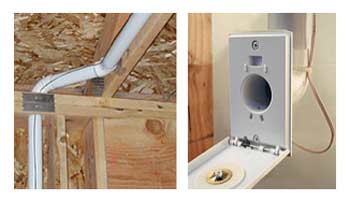 A CVS is a huge time saving piece of technology and, with good planning and good DIY skills, is certainly achievable by self installation. They are also however, very expensive and the work needed to create room for the outlets and ducting is difficult.
As is the reinstatement of the various parts of the home you have pulled to pieces. Make absolutely sure you have the skills required.
Options for Central Vacuum System Inlets
The most common types of inlet are used to plug in the hose and then you can carry on with your cleaning.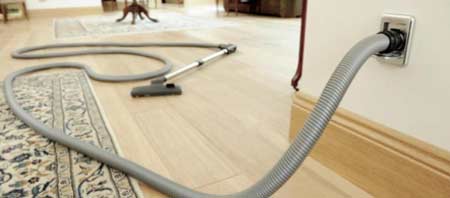 In kitchens and possibly skirtings of stud walls, you can have "toe-kick dustpans" installed, which are ducts cut into your under kitchen unit kick board so you can just brush your floor dirt towards it and it will be sucked away, you then just close the duct when finished. These are usually included in a full central vacuum system kit.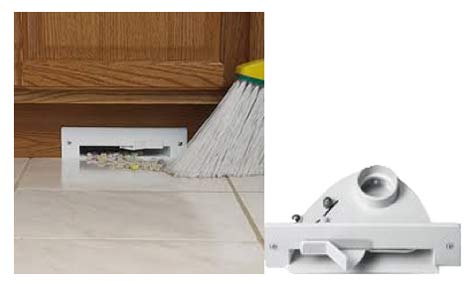 You can also have flush floor plug in extractor sockets as well as wall sockets. These have a spring loaded lid to them so when not in use will always be closed.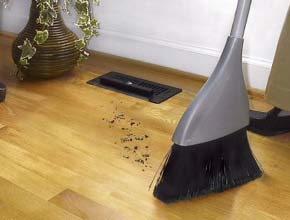 There are clever vacuum draws where you can sweep waste from a work top surface to get rid of it easily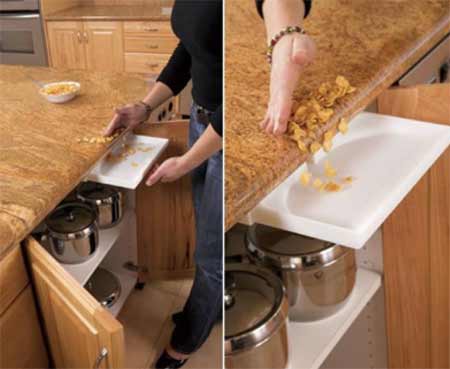 A Central Vacuum System or CVS is a great way to clean the house being more powerful and better for allergies than normal portable vacuums. They are a challenge to install, particularly retrospectively, but with the projects available on DIY Doctor there is no reason that you will not be able to do it. With patience and good planning you be able to install a central vacuum system yourself.