A pergola is an open structure, usually used to link different parts of the garden or as a focal point. A pergola can add interest to even a small garden, providing a secluded area and shade in the summer.
Designing Your Pergola
The pergola is a very versatile addition to your garden, and the location and use will dictate the design. If your garden is divided into sections, you could add a pergola as an interesting connection between areas. If your garden is very simple, a pergola gives height and offers support to climbing plants such as roses or wisteria. If you have a particularly nice view from your garden, a pergola can be used to frame and highlight that view.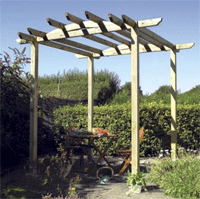 Once you have decided where your pergola will be situated, this will probably dictate the size of the structure.
Materials
Pergolas can be made from a variety of materials, but wood is the most common. Softwood is the cheapest, and provided you buy pressure-treated timber and look after it, it will last well.
For the uprights you will need at least 75mm x 75mm (3" x 3") timber, and 100mm x 100mm (4" x 4") is better if it is to be a sizeable structure. The uprights need to be around 3m (10ft) long, as they will need sinking into the ground by 0.5m (2ft) to give a firm foundation. You need enough uprights so that they can be placed 1.8m to 2.5m (6 to 8ft). If you are planning on growing a grapevine over your pergola, you should reduce this distance as the vine will be heavy when laden with grapes, and require extra support.
For the main and crossbeams use 150mm x 50mm (6" x 2") timber – cut to length so that the crossbeams extend by about 300mm (1ft) either side of the main beams. Crossbeams should be placed about every 600mm (2ft).
Coach bolts can be used to fix the main beams to the uprights, or you can notch out and let the wood support itself. Galvanised nails or stainless-steel screws and wood glue are required to fix the main and crossbeams.
Concrete or quick-drying post-crete will hold your uprights in place, unless you are building off a deck or solid concrete base. If you are building off decking you can cut a hole through the decking next to a joist and fix the uprights to the joist using coach bolts. If you are building off concrete you will need metal bases which bolt through the concrete.
Fixing the Upright Posts
Clear the area where your pergola is to be situated and dig holes for each upright, about 300mm x 300mm (1 x 1ft) wide and 600mm (2ft) deep. Prop posts in two of the holes, balance a crossbeam over the top and use a spirit level to ensure they are level. Remove or backfill mud if you need to level one of the posts.
Repeat this process for the other posts. It will help if you have some scrap pieces of batten you can screw to the posts to support them. Ensure all the posts are in line with one another as well as level. Fill in the holes with a stiff mix of concrete, or ready-mixed post-crete, making sure each post is level upright using a plumb line. See our Concreting Fence Posts project for more information.
Let the concrete set for two days before continuing with the build. This time can be reduced if you are using ready-mixed, quick-drying post-crete.
Fixing the Main Beams
Once the upright posts are secure, you can fix on your main beams. The best way to do this is to notch out a section from the top of the upright posts, giving a ledge for the main beam to sit on. Make sure the beam is level, and nail or screw through the beam to secure it into place. Alternatively, you can fix the main beam on by drilling through both the post and beam, and securing with coach bolts.
Fixing the Cross Beams
Lay the cross beams over the main beams where they are to be positioned, ensuring that they are equally distanced at both ends. Mark where they touch the main beams, then take them down and cut out a notch so that the crossbeam slots snugly over the main beam. Try to make sure that you rebate each beam by the same amount, so that they are level across the top of the pergola.
Fix each crossbeam into place using wood glue and nails or screws.
You can give your pergola a decorative or oriental look by using a jigsaw to trim the bottom corner of each end of the crossbeams. Make sure you paint wood preservative on all cut ends.