Also take a look at our project on concreting posts using Postcrete.
A fence post should be chosen to allow 25% of its length to be in the ground. A 6 ft high fence should have an 8 ft post with 2 ft in the ground. A 5 ft fence should have a 6 ft 6 inch post with 1 ft 6 inches in the ground etc. We would recommend a post size of 4 x 4 inches for fences of 6 ft high and over with 3 x 3 inch posts used for anything under 6 ft.
All posts should be pressure treated to avoid rot and wood boring insects.
If you need to work out the size of hole you need for your post visit our Fence Post Hole Size project
The hole should be 3 times as wide as the post. For a 4 inch post the hole should be at least 12 inches wide. The concrete mix should be a general mix (See our mixing concrete project) and should be placed in the hole and settled into place by poking with a stick or broom handle to make sure no air voids are present. 150mm should be left from top of concrete to top of hole for backfilling with soil and turf if required and the top of the concrete should be sloped away from the posts to allow water to run away from the timber.
The post should be vertically levelled with a spirit level.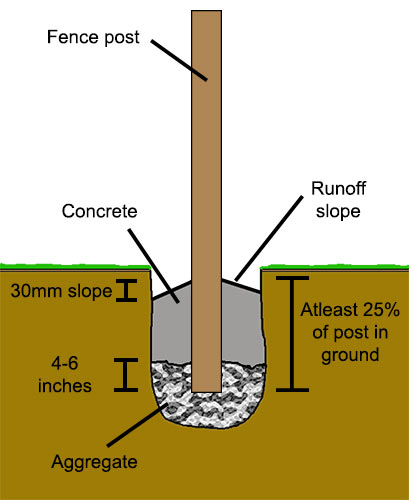 Take a look at our video section to watch a 6 part video on how to build decking for your garden.