What is Chalkboard Paint?
Chalkboard Paint (or Blackboard Paint, as it is sometimes known) is a specific type of paint that produces a chalkboard-like coating that can be used as a writing and drawing surface in the same way as a traditional chalkboard or blackboard.
This can come in handy in various locations all over the home and can be a great storage labeling solution as well as a way of keeping the little ones entertained without making too much of a mess.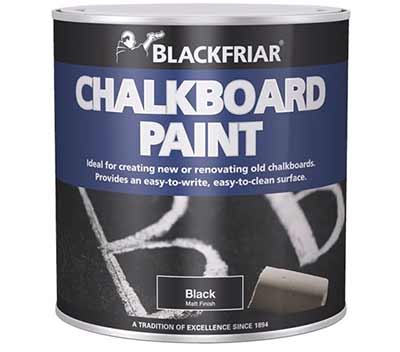 According to most manufacturers of chalkboard paint, it is generally made from a mixture of talc, acrylic emulsion, water, glycol, titanium dioxide, carbon black pigment, pacifiers, silica and esters.
It sometimes may also contain acetone, propane, butane, xylene, ethylbenzene, amorphous silica, n-butyl acetate, and propylene glycol methyl ether acetate which are industrial standard ingredients used in inks and paints as thinners, olfactory, and pigmentation agents.
The differences depend greatly on the manufactures themselves and region the paint is made in, as well as what surfaces the paint is intended to adhere to.
Chalkboard Paint should not be confused with Chalk Paint, which is an entirely different type of paint that was invented and trademarked by Annie Sloan and is used to create a matted, chalky finish to the surfaces it is applied to, such as furniture and other items.
Mostly, it is used to create a shabby-chic or distressed look that adds a certain feel and atmosphere to your furniture and rooms.
Although Chalk Paint can look very similar to Chalkboard Paint in appearance when dry (due to their similarities in composition) the two paint types are relatively different and have separate functions so it's best that they not be confused with one and other.
Types of Chalkboard Paint for Different Surfaces
Chalkboard Paint is a paint solution that emulates the old style blackboards.
It contains incredibly tough pigments that when dry harden to a finish that allows you to write and erase chalk with relative ease.
Once the paint has been applied to a surface, that surface can be used just like a regular chalkboard – reusable, erasable, washable, and most importantly, durable.
Once painted on, you could also leave it as is if you wanted to use the chalky matte finish as a décor statement rather than a writing surface.
There are a few different kinds of Chalkboard Paint depending on who the manufacturer is and the type of material it is to be applied to.
There are, of course, all-in-one types which claim to work on all materials across the board, but usually we recommend that you use the ones that are designed specifically for one material or a combination of similar materials.
Some manufacturers also stock variations of colours, ranging from black to pastel colours.
The most popular amongst homeowners and designers is black (with dark green as a close second), as not only is it a very stylish and trendy colour nowadays, it is also the colour most people think of first when we think of chalkboards or blackboards.
There is a limit on the variations of colours due mainly to the pigment strength and durability, but there are still some rather good choices depending on which brand you are buying from.
You can even get chalkboard paint that dries clear! That's a rather clever way of utilising the chalkboard-like qualities, whilst keeping the original look and integrity of the surface below it.
Pretty much any surface you can think of can be used with chalkboard paint, and done properly can create some magnificent results. The most obvious location being a wall, but also doors, cupboards, tables, furniture, glass, metal, wood, etc.
How to Prepare Surfaces for Chalkboard Paint
As mentioned above there different versions of Chalkboard Paint for different surfaces, just as with normal paints.
They all share the same basic recipe, and a lot of the time one type will do for various surfaces.
Just remember to check the label on the cans before you buy to be sure that you're buying the right paint for the right surface.
You wouldn't want to have to start all over again when you realise the paint isn't sticking to the surface.
Before you can apply chalkboard paint, you will most likely have to prep the surface by sanding and priming it.
This will allow the chalkboard paint to better adhere to the surface, especially if that surface is particularly porous such as bare plaster or soft woods, or if it is smooth like metal, glass, and ceramics.
But again, always check the label and instructions on the paint can before you start. Check out our section on Prepping for Paint to help you get started.
When painting chalkboard paint onto an already painted surface such as a wall, a primer is not usually needed unless the wall is in need of any repairs.
Cracks or holes that need to be filled will have to be sanded down flush and primed as new plaster is especially porous.
Chalkboard paint is a lot less forgiving than most interior paints and so any bumps or cracks on the wall will be glaringly obvious and need to be filled and smoothed before you paint it.
Once you have completed that, or if there was no need, then all that needs to be done is to lightly sand the wall (or section of the wall that you will be painting) with a medium-grit sandpaper, wash and wipe down the walls to get rid of any dust and dirt and then begin to apply your paint.
How to Apply Chalkboard Paint
Chalkboard Paint can come in both standard paint cans and spray cans, as well as in little bottles usually reserved for smaller craft projects, and can be applied using a bristle brush, you can also use a foam brush, or you can even use a paint roller depending on how large the surface area is.
If you are painting a large flat surface, such as a wall or large piece of MDF or similar, a standard roller is typically best as it covers the larger area quickly and smoothly.
When doing smaller projects, most people will use a foam brush as it doesn't leave behind brush strokes, or a smaller sized roller such as a 4 inch roller.
That said, the method with which you apply the paint to the surface is up to you.
When spray painting remember work in a well-ventilated area and to apply the paint in nice, even strokes.
Mask up any edges or parts that you don't want the paint to get on – check out our project on masking up.
For best results, you should apply three coats of chalkboard paint, no matter the project or surface.
Chalkboard paint is best applied in thin, even coats that will dry patchy and chalky in appearance so multiple coats are recommended.
In some cases, only two coats will be needed, and in others, you might need four or even five.
It all depends on the project, the surface, the brand of the paint, and your own personal preference.
Make sure that the paint has an even and full coverage of the surface that you are painting.
Allow time for drying between each coat. Unlike most normal paint jobs, working with chalkboard paint calls for more patience.
This won't be a slap-on-and-go kind of project and it may take a few days before it is finished.
The larger the paint job, the longer you will have to leave between coats.
Small little craft projects will call for an hour or two between coats, but larger surfaces, such a wall, will need at least 24 hours, if not more, between coats.
Once the final coat has been applied, allow at least 24 hours for smaller projects and two or three days for larger projects to let the paint dry fully and cure before you use it.
This will allow the paint to dry and harden into a usable writing surface.
Once the paint has cured, you will need to "prime" the surface of the paint before you can start writing or drawing on it.
It may sound like a fairly unimportant step, but skipping it means that you will have a much harder time erasing any marks you make and they may leave behind "shadows" or "impressions" of what was there before.
To prime the surface, you need to take a stick of regular white chalk and rub it all over the chalkboard surface until you have a coating of chalk dust on the surface.
Leave it to "set" for about an hour or so and then wipe off the excess with a cloth or chalkboard eraser.
This will leave behind a very thin coating of chalk dust set into the paint that will serve as a base for any new markings you make and will make it much easier to erase.
If after some time, with lots of use, it becomes difficult to erase the chalk or if the chalk markings are starting to leave behind shadows, wipe down the whole surface with a damp, warm cloth and leave to dry for several hours before 'priming' the surface once more.
With chalkboard paint, the best material to use is Soft Chalk. Hard chalk may scratch the paint and will be more difficult to erase, whereas soft chalk has a more malleable structure and so is easier to clean off.
A lot of people like the look and vibrancy of Chalk Markers which have an almost ink-like quality when being applied.
However, before using these, we recommend testing them out on a small part to see how they work and if they are easy enough to erase.
Most people who use chalk markers use it for semi-permanent purposes, such as signs or labels. Always make sure that you test any chalk or chalk products before using them properly.
The 5 Best Creative Design Ideas for Chalkboard Paint
When it comes to designing a project or space for chalkboard paint, the possibilities are virtually endless as really it is all up to you and your imagination.
Many people enjoy the aesthetic and practicality of a chalkboard wall, however, if an entire wall seems a bit advanced at this stage, then perhaps something smaller such as a door, a cupboard, an old mirror or picture frame, can be a good place to start… Or maybe even smaller.
Below, we've collected a few of our favourite designs to give you a little insight into the range of what can be done with Chalkboard Paint. It really is very versatile.
Chalkboard Mug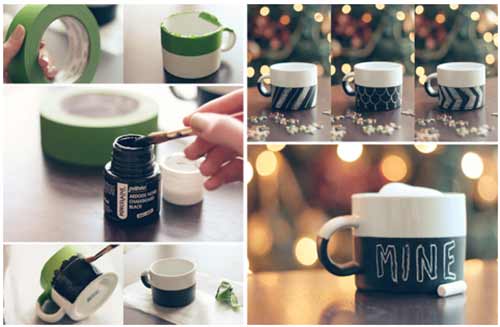 This chalkboard mug is a genius and simple little design that can be incorporated very easily to your own mugs.
It's a great way to spice up plain white mugs and allows you and your family a little creativity and fun. The painter's tape gives you crisp, clean lines for a bold contrast between the black paint and the stark white ceramic, as well as a contrast in the texture, from smooth and glossy to rough and matted.
If you decide to do a similar project remember to get chalkboard paint for ceramics and follow the instructions it comes with. Also, try not to restrict yourself to just mugs… there's a whole kitchen full of crockery and utensils that might benefit from a bit of chalkboard paint. Get creative!
Chalkboard Glass Storage Jar Labels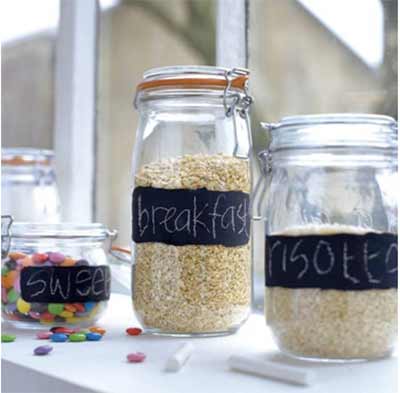 Along the same vein as the previous project; food jar labels. This is quite a clever idea and certainly rather stylish.
With open shelving in kitchens becoming more and more popular, displaying your dried foodstuff such as rice, flour, and cereals in these airtight glass containers is a great way to store your food without having to deal with bulky and mismatched cardboard boxes.
The added benefit of chalkboard labels means that it's easy to change what's written on the label, allowing you to swap around what is being stored in the jars as you desire. It's simple and classy and looks great in any kitchen, no matter the layout.
This type of project works for a lot of things that may need semi-permanent labels such as filing cabinets, folders, drawers and cupboards, etc.
Not only does it look fantastic it also saves you money having to go and buy new labels and stickers to replace old ones. With chalkboard paint, you simply wipe off what was written before and write in a new label. Easy!
Chalkboard Serving Tray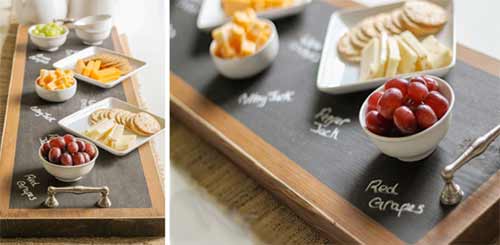 Another great little project for chalkboard paint is a serving platter or tray.
A simple and easy way to revamp an old tray with new life.
Combining black chalkboard paint with dark woods will give a vintage, retro sort of feel to the piece, whereas something sleek and smooth such as ceramics combined with chalkboard paint will feel modern and fresh.
A metallic or glass platter/tray will feel industrial and alternative. Mixing together different textures can be a risky business, but if done well the results are delightful.
Painting a serving platter or tray with chalkboard paint allows you to clearly label what is being displayed so family and guests know exactly what they're getting.
The erasable surface also means you can arrange your display as you want and use quirky arrows and handwritten text to show off your display.
Chalkboard Kitchen Splashback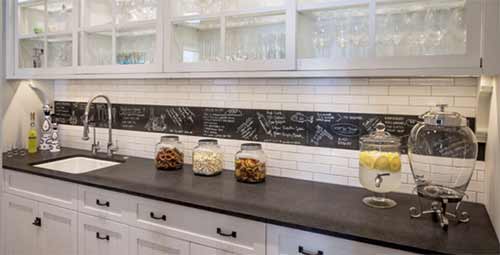 A great way to give your kitchen a little pizzazz is to give it a chalkboard wall. However, if an entire wall feels a little intimidating or overbearing (especially in a smaller kitchen) then perhaps a smaller section of the wall will do… say, the splashback?
This is such a clever and practical idea! Not only does adding a strip of chalkboard paint to your splashback add a point of interest in an otherwise bland kitchen, but it's also a great tool as well!
You could use it to write reminders and notes for the family, recipes or ingredient lists, the menu for a dinner party, so many options! Take a look at our section on splashbacks for more information.
The above design is only one out of many, but we quite like the contrast between the glossy subway tiles and the matte paint.
Of course, if the splashback in your own kitchen isn't the best option for you then take a look around your kitchen and have a look at what else might benefit from a bit of chalkboard paint; The pantry door? A section of the wall that may be too narrow or small to do much with? The exposed side of a kitchen cabinet? Endless possibilities!
Free-standing Chalkboard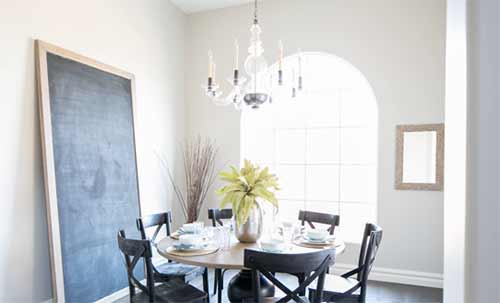 If a wall is a little too stationary for you and you need something that is a little more mobile, a free-standing chalkboard is a great alternative and allows you to move the board to wherever in the house it is needed.
You can make a free-standing chalkboard out of quite a few different items.
You could recycle something you already have in your home or that you'd find in a thrift store such as an old mirror or framed painting, or you could go to your nearest DIY Shed and buy a sheet of MDF or something similar and make your own – see here how to mitre the joints to make your own frame too.
One of the great things about this type of project is that you can make it as big or as small as you want to fit you and your family's needs. This can be really handy in the family room or kitchen and can make great entertainment for children.
The above are only a very few of the ideas and examples that already exist.
There are countless more to find and to create yourselves. Chalkboard paint, despite having one function, is quite versatile and can be used all over the home for every member of the family. Get creative and see just how many surfaces you could turn into a writing surface, we'd love to see what you can come up with.
Happy Painting!