Choosing garage doors is not an everyday task, and they are not cheap, so it is important to get it right. There are a range of factors to consider beyond the obvious factor of the budget. With such a huge range of types and price options it can be confusing making the right decision.
The good news is that we are here to help you get through this tricky decision!
The Key Factors and Constraints Affecting Your Choice of Garage Doors
The key factors that you should be considering when selecting a new set of garage doors include:
Budget; how much can you afford, typically weighed against all the other factors below
Security; how much protection from a would-be intruder do the doors offer and do you need
Maintenance required; how much time and effort are you going to have spend keeping your doors looking good and working well
Insulation; how the doors should prevent heat escaping from the garage – are you going to use in as a utility room or just for the car?
Colour: the range of colours will be affected by your choice of door type and the material it will be made from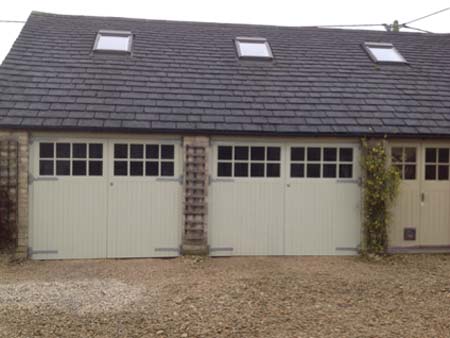 All these factors are constrained by the size of the opening that you have, and the space you have for the various opening mechanisms available – see below for more on the standard size of garage openings.
If you are building a new garage from scratch it is worth considering the doors first, or at least early in your planning process so that you are not constrained in your choice of doors later.
If you need or want to get your garage door to match your front door with will be a further constraint in your choice as there is only a limited range of matching front and garage doors.
The space both inside and outside the garage doors will affect your options for the opening mechanisms. If there is not enough space on the drive way for the door to swing out or into the garage while opening this will limit your choice.
In summary, your constraints when choosing garage doors include:
The size of the opening to fit the doors
The match to your front door
Any planning constraints*
Space available to open the doors
*There is no requirement to get planning permission for garage doors specifically, however there might be restrictions on the options available to you if you live in a listed building or a conservation area. If you have one, you will need to get permission from your property Management Company or landlord.
The Choice of Materials for Garage Doors
There are four main types of materials typically used in the manufacture of garage doors:
Steel
aluminium
timber
glass reinforced polyester (GRP or plastic) or glass fibre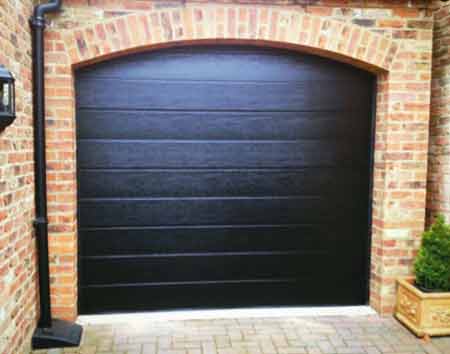 The exterior style of your home will influence you decision the most, and a contemporary style will need a modern look that will be hard to achieve with a timber door and conversely a traditional home would look out of place with a modern metal door. But ultimately it is down to your personal taste.
Steel doors are light and easy to handle and are supplied ready-primed for the purchaser to apply the finishing coat colour of their choice. See our painting a metal garage door project to find out how to do this.
Aluminium doors are particularly suitable for situations for where there is living accommodation above the garage for noise reasons. Timber garage doors were once the most popular choice of the door (see our project on painting wooden garage doors) but they have been replaced by GRP doors whose strength and resistance to both knocks and rot makes them extremely durable, not to mention the much reduced ongoing maintenance that will be required.
It is possible to get a wood effect GRP or plastic garage door which mimics the look and feel of wood without all the maintenance that real wood doors will require.
The Sizes of Garage Doors
These days it is not as important as it used to be to stick to the standard sizes as doors can be made up for you by most of the leading manufactures. The only concern here is that the price and lead times might be higher and longer than for a standard door.
If you are replacing a garage door you will not have much choice and will need to find a door for the opening size that you have.
Thankfully the range of sizes available are significant and will suit more openings for typical garages.
It is worth canvassing several manufacturers to get an understanding of the sizes they offer as standard as there will be some variation.
A good garage door installation company will be able to assist you with this – you can find one in your area here.
There is a wide variation of door sizes available and sizes will vary between manufacturers. However, here are some of the more popular sizes for the different types of garage doors:
Sizes of Steel and Aluminium Garage Doors
width 1981 to 4267mm (6 feet 6 inches to 14 feet)
height 1981 to 2134mm (6 feet 6 inches to 7 feet)
Sizes of GRP Garage Doors
width 2134 to 4267mm (7 feet to 14 feet)
height 1981 to 2134mm (6 feet 6 inches to 7 feet)
The variation of standard widths within these ranges means that it is unlikely that it would ever be necessary to require a purpose made door to be made – a good thing considering the extra cost that would be involved!
Sadly beyond these standard sizes you are likely to require custom made doors to be made up.
The Opening Mechanism or Styles for Garage Doors
When comes to choosing you doors probably the biggest factor to consider is the way that it opens and this will determine the ease that it opens and how convenient it is for the use that you have for your garage in general. We recognise that very few garages are used only to put the car in any more!
There are only 4 or 5 different options which we will discuss in greater detail below, including covering their pros and cons:
Up-and-over garage doors
Sectional garage doors
Roller garage doors
Side-hinged garage doors
Round-the-Corner or Side-sliding garage doors
Let's look at these options in more detail:
Up-and-Over Garage Doors
These do exactly what the name suggests and open up and over the garage space. They are the most common type in use today and come in a huge range of sizes, colours and materials. They can be opened manually or electronically – see below for the options for garage door opening solutions. There are two types:
Canopy doors, are overhead doors that only retract part of the way into the garage leaving a horizontal canopy of door projecting beyond the face of the garage entrance
Retractable door enters the garage for its full length without leaving a projecting canopy and it is generally regarded as being stronger and quieter to operate than a canopy door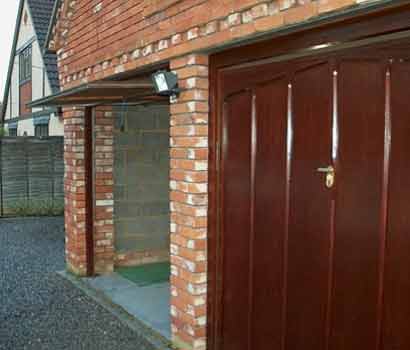 These types of garage door are simple to use and fit, therefore tend to be cheaper than most. They are strong, reliable and weatherproof, while offer a huge range of styles, colours and designs.
On the downside they open out into the driveway so are not suitable if you have limited driveway space. You cannot park right up against these doors and still open them, for instance.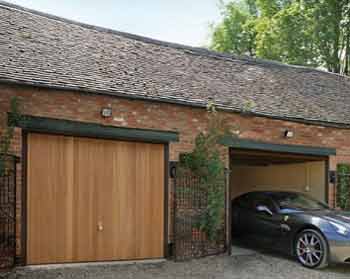 Sectional Garage Doors
These are garage doors that are made up of sections of panels rather than a single panel. This allows the sections to slide up vertically and back into the garage on rails, therefore do not need to swing out over the driveway.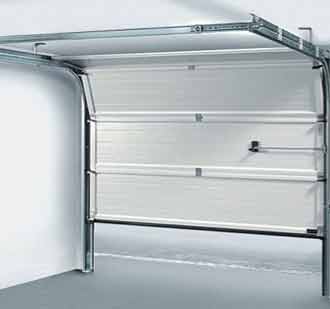 They are more complex as a mechanism, which will add to the cost and fitting time. They are usually operated with an electrical opening device which will add to the cost.
Not only do they save space on the driveway by opening vertically, but they are also very strong and secure, and can be easily insulated. They are also ideal for large openings.
Roller Garage Doors
Roller doors move on tracks embedded in the garage wall on either side of the opening and are generally opened and closed by electric remote control devices.
They are similar to a sectional door in that they open vertically, however the big difference is that the sections are very small so that rather than sliding back into the roof of the garage space, they roll up above the door opening saving space.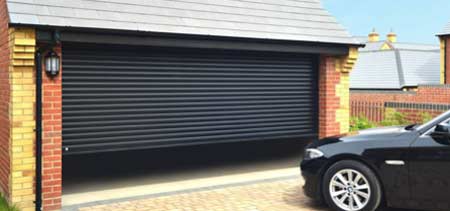 This offers all the advantages of the sectional garage door in that it opens vertically saving space on the driveway, but also it saves space inside the garage as the door does not block access to the ceiling for storage and lighting.
Like sectional doors this type can be insulated and is very robust and secure. The installation is relatively easy, as is the day to day operation of the doors.
On the flip side, these doors will not suit every type of property as they design and look is very distinctive and they are a little more expensive.
Hinge Sided Garage Doors
This is the traditional "coach house door" style garage door which opens like a normal door on hinged on the side of the door. Generally there will be two doors, or leaves, which open outwards. They are perfectly suited for a traditional style home, although there are contemporary styles available too.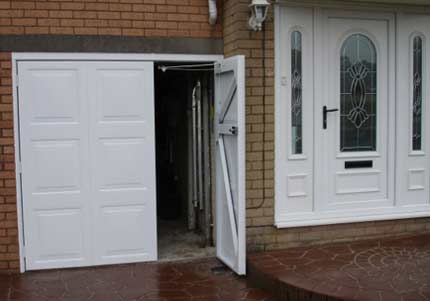 They are ideal where access is regularly required on foot as they are quick and easy to open. They take up minimal space inside the garage so are perfect for garages where storage is at a premium.
They are low maintenance, depending on the materials that they are constructed with, and very easy to install. The can be made very secure and highly insulated.
The take up the most space in the driveway so should not be considered if drive space is limited. They can be automated, although there are better types of garage door to automate.
Round-the-Corner or Side-sliding Garage Door
These are a version of the sectional or roller garage door but on their sides so that the panels slide to the side rather than up. There is a track in the floor and a rail on the top of the opening which will guide the sections as they open.

This has the benefit of being able to be used on very wide garage openings, and will also allow only partial access as they do not need to be opened fully to be used.
In this way they have many of the benefits of the side hinged doors allowing quick and easy pedestrian access, but without extending into the driveway when opening, but without taking up space on the drive.
The downside is that they can take up storage space against the garage wall where the door opens. They are not the cheapest option either.
The material that you choose will limit the style of door to a degree too.
Steel door frames are required for the canopy and retractable door types in steel, aluminium or GRP material, but timber frames should be used for softwood doors. Roller doors don't require a frame because they move inside the garage on a floor track and overhead guide rails.
Opening Options for Garage Doors
The means of opening and closing the doors can be either done manually or by remote control and the styles of doors will determine exactly how the mechanism will work.
There are two main types of automatic door openers.
The first works by pointing a remote control towards the sensor inside the garage to activate the door opening mechanism.
The second type is an entry pad fixed to the external wall of the garage that requires the entry of a four digit code to make the door open although this system is not so popular because of the need to get out of the car to tap in the code number – not an attractive option on a cold and wet winter night!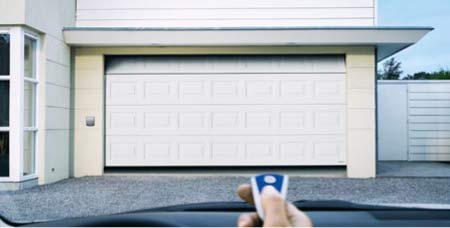 Ball Park Costs for Garage Door
The cost of the doors listed above range between £400 and £4,000 including VAT and delivery.
The standard size single garage doors can be fixed by a competent DIYer but the wider double garage size would probably need to be installed by professionals particularly if the electric opening system is being used.
Expect to be charged in the region of £300 upwards to have the door fitted, although this will vary significantly with the type door and your garage. You can find an installer here.
Adding automatic opening and closing will certainly add another £200+ to the cost of the door, but this can be done retrospectively for most garage doors.
Like most things when it comes to Home Improvement, choosing your garage doors is best done as early as possible and there is no substitute for research.
Hopefully this guide will give you points to look out for and get you started, but we do suggest shopping around as much as possible to ensure that you make the right choice. It's worth getting the right garage doors as they will be with you for many years.