Warning: To complete electrical works you must comply with Electrical Regulations – Click here for more information.
Please also see our project on the New Wiring and Cable Colours.
PLEASE SEE OUR PROJECT ON PART P BUILDING REGULATIONS FOR INFORMATION ON DIY ELECTRICAL INSTALLATIONS. Make sure you have isolated any circuit you are working on.
How to Fit a Dimmer Switch
Dimmer switches are the name used for plate switches which allow you to control the brightness of a light. This is achieved by regulating the amount of current flowing through the circuit.
The most basic, and consequently, the least expensive variety of switch, is the simple dial that you turn to click on, and turn further to make the light brighter. Obviously the reverse is true to dim and turn off. To replace an ordinary, one way, on/off switch with a dimmer is easy. Simply (TURN OFF THE LIGHTING CIRCUIT FIRST) remove the face screws and pull out the face plate.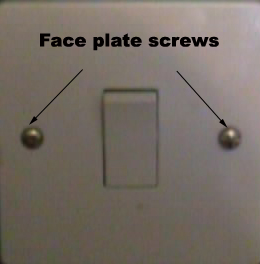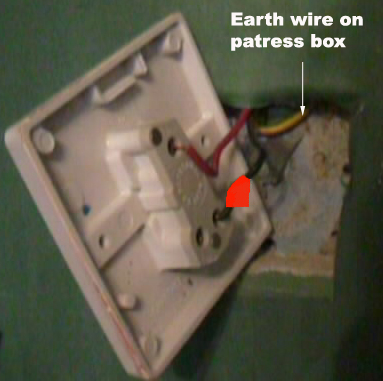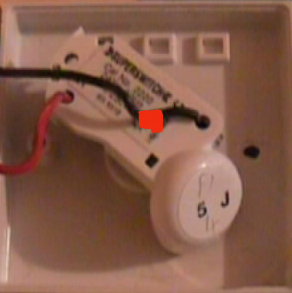 You will find a red and black wire connected to the switch (or a brown and blue wire for new wiring colours). Both of these wires are live wires when the circuit is reconnected. (see lights and switches) Although there was none there, we have added a red indicator to the black wire. If you have a metal face plate for your switch there should also be a green and yellow earth wire to a small terminal on this.
This earth wire should be connected to the metal box in the wall called a pattress box. If the face plate is plastic there is no need for this short length of earth wire. The small screws are undone to release the wires and they are reconnected in the dimmer switch to the appropriate terminals.
If you have more than a red and black wire in your switch, then you are involved in two or three way lighting. This is very complicated and if you cannot work out what you are doing from our diagrams on two and three way lighting in the see lights and switches then call an electrician.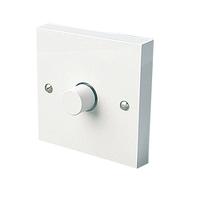 More expensive types allow the dial to be pushed for on/off operation.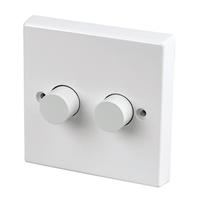 There are also remote control dimmer switch units available, easily replacing a standard switch or existing dimmer switch. Most are remote or manually controlled. Remote operation can take place from up to 15m away and the last light level is stored in the memory. The unit below is suitable for a 40W to 300W loading.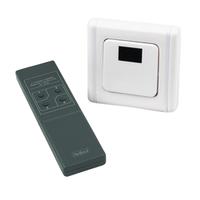 For regulations governing heights of sockets etc, please see our socket height information project