When working on and around electricity in your home it is imperative that the person doing the work and anyone benefiting from the results is kept safe.
To these ends electrical safe zones were introduced in the 17th edition BS7671 Wiring Regulations (later renamed to prescribed zones in the later issued 18th edition). To find out all you need know, read on below.
Rules and Regulations for Electrical Work
To ensure that safety remains at the very top of the list when any electrical work is being done the BS7671 Wiring Regulations were introduced and coupled with the Part P building regulations, these set out exactly who can do what electrical work and how it should be done.
What the regulations state is that no work (other than changing existing socket and switch faceplates and a few others) should be done by anyone that isn't a "competent person" or effectively anyone that isn't Part P registered.
If these rules are ignored then this can have quite serious consequences in terms of the validity of your home insurance and also your ability to sell your home!
What are Electrical Safety Zones?
To reduce the risk that you could accidentally cut or screw into an electrical cable buried in a wall, electrical safe zones were introduced. These are defined areas of a wall that you are allowed to run cables through if they need to be buried and concealed.
Electrical cables should not be found outside these zones, although in many older (and some newer) properties they often are, so if you are chasing out areas of a wall or chopping sections out, this is something to be aware of.
It is important to know where these safety zones are for two reasons; firstly if you are doing some of the first fix yourself, you must ensure that you keep to these zones, and if not you know what you need to do.
Secondly it is useful to know where these safety zones are if you are going to be drilling into a wall. By avoiding these zones you will reduce your chances of injury or accident greatly. You can focus your cable searching activities to a limited area.
Safety Zones for Electrical Cables in Walls
So, where exactly are these safety zones found on a wall if you need to bury any cables?
Thankfully they are fairly simple to understand and are as follows: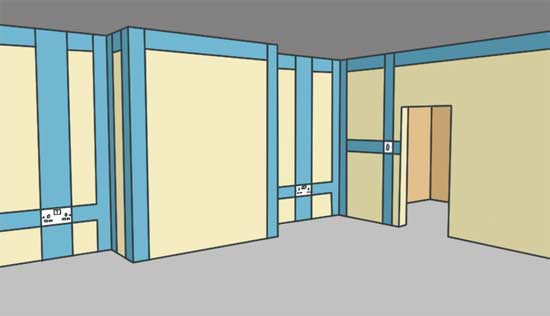 Top of the wall – where the wall meets the ceiling there is a 150mm zone where cables should be run. It is at the top of the wall and runs horizontally around the whole wall
The join between two walls – where one wall meets another, there is a safety zone on each wall for 150mm from the corner. This is the case if the angle where the walls meet is internal, as in the corner of a room, or external as you would find on the edge of a chimney breast. These zones will always run vertically down the corner
Horizontally from any switch or socket – The zone runs horizontally from both sides of the socket or switch until it reaches a corner or an obstacle such as a door where it stops. Such zones don't continue around corners or on to adjoining walls
2 Electrical Objects on the Same Level – Where a second switch, socket etc. is installed on the same level plane as another object and continues around an adjoining wall or similar, the zone then continues on to this wall
Vertically from any switch or socket – the safety zone runs the width of the socket or switch both up to the ceiling and down to the floor
Walls less than 100mm thick – If a partition wall is less than 100mm thick, then the cable safe zone for a socket or switch will occur on both sides of the wall
Note: When cables are buried in walls they should be covered over with capping or concealed in trunking. As these are generally made of PVC they don't constitute a protective covering as PVC can easily be punctured by nails, screws and the similar.
Cables That are not in Electrical Cable Safety Zones
In some extreme situations it's not possible to run cables in their correct safety zones. In these instances using areas outside the zones is allowed, as long one of the following guidelines are followed:
The cable must be over 50mm below the surface
If the wall is made from metal then it will need RCD protection
The cable should be armoured with an earthed armour or metal sheath
The cable should be in metal trunking or conduit which is earthed
It should have protection from at least 3mm steel
Running Cables Under Wooden Floors
Typically, it is much easier to run the cables under a floor than to chase out walls, however this is not really possible when there is a concrete floor, hence the safety zones described above to run the cables down to the switches and sockets.
Where there are wooden floors you can run the cables under them, but there are some restrictions:
Cable must be at least 50mm from both the edges of the joist, essentially 50mm from the ceiling below or the floor above
When notching, only notch the top edge of the joist
Notches should be no deeper than 0.125 time the joist depth
No notch should be closer to a supporting structure than 0.07 times the joist span
No notch should be further than 1/4 of the span
Holes should only be drilled through a joist centre
No hole should be bigger than 0.25 times the joist depth
No hole should be closer than 3x the largest permitted diameter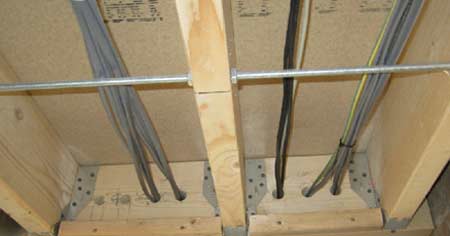 These are just some of the rules about where you can notch and drill through joists. Any form of notch or hole weakens the joist and therefore is controlled to ensure that the joists are safe.
For a full run down of all of the rules when it comes to nootching joists, see our handy joist notching project here, including a joist notch and hole calculator to make life easier.
If these guidelines cannot be followed the cable needs to be protected as described above.
Other Electrical Zones
These safety zones for electrical cables should not be confused with the zones that are used in a bathroom to determine which electrical appliance can be used. You can find more about these on the IET website (formerly the IEE).
Using and sticking to the safety zones for electrical cables is in everyone's interest. It is worth knowing about them for anyone who is doing DIY particularly if it involved fixing anything to a wall that might unwittingly come into contact with an electrical cable.