Vinyl flooring comes as individual tiles and planks, some of which are highly suitable for DIY, and as sheet vinyl. Sheet vinyl can be cushioned for warmth and comfort and it can be textile-backed for easy fitting.
The days are long gone when vinyl was purely used for utilitarian school corridors and factory floors. Today's vinyl is absolutely top class and suitable for every room of the house.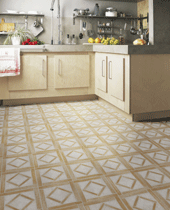 Vinyl's' extensive range of designs and colours means that there is something for everyone. It also now replicates wood and stone so well that it is a real alternative with added benefits such as durability, slip resistance, warmth and comfort, easy maintenance and is also generally easy to lay
There are 2 types of tiles and planks – dry back and self adhesive. Self-adhesive vinyl tiles and planks are ideal for DIY and relatively easy to lay as they come with a pre-applied adhesive layer. You will not need separate adhesive as it is already pre-applied and you do not need to invest in specialist equipment as the only tool required is a sharp knife to cut the individual tiles and planks to fit your room.
As you may have guessed, dry back tiles are the opposite of this and do not feature a self adhesive layer. Instead you will have to purchase suitable adhesive and apply it to the rear of the tile or plank before you lay it. These types of tiles tend to require additional tools to lay and can also be more difficult to lay than the self adhesive type.
If you are installing vinyl tiles or planks, in most instances and for most manufacturers they recommend unpacking them and leaving them out for at least 24 hours before you plan to lay your floor.
Vinyl needs to acclimatise and relax in an ambient temperature of at least 15-18°C to make it flexible and easy to work with.  Do not attempt to install your flooring at lower temperatures and maintain this ambient temperature during fitting and for at least 24 hours afterwards.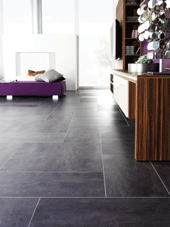 You can lay vinyl tiles and planks over underheated floors (28°C max) provided the heating is turned off for 48 hours before and during fitting and then for a further 48 hours afterwards but again do remember to keep the room at a constant 15-18°C. Vinyl is generally not suitable for conservatories but can be laid in all other rooms of the home including bathrooms.
During this time you may also find it useful to get a plan together of how you want the finished job to look (if you are using a selection of different colours and styles). Also, similarly to laying quarry or ceramic tiles you will need to work out your floor area and ensure that you firstly have enough to cover your floor space and secondly (if you are laying tiles/planks) it may also be useful to start from the centre of the room and work outwards.
By doing this you will achieve an even covering across the centre of the room and in the event that you have to cut in around the edges (if you are unable to remove kitchen units in order to lay underneath them etc.) you should then end up with an even cut all the way around the room.
For more information on this see our ceramic tiling project and also our laying floor tiles project.
Preparing the Subfloor
To achieve the best possible results and to avoid a lumpy floor and lifting tiles, you are advised to carefully prepare your subfloor before laying the flooring. Time spent on this will be time well spent.
All subfloors must have an effective damp proof membrane and, whether you are laying directly over new or existing concrete, an existing stone floor or removing old vinyl, the surface must be smooth, hard, clean and dry (min 75% Rh with regard to new subfloors).
Vinyl tiles and planks also require the subfloor surface to be primed to isolate any existing contaminants such as paint, plaster, oil and grease. This is essential as it will also provide a good base for the flooring to fully adhere to..
To begin, sweep, vacuum and clean your subfloor. If you are laying over existing ceramic or quarry tiles, they should be in good condition and fully bonded to the subfloor. A proprietary smoothing compound should then be applied by following the manufacturer's instructions.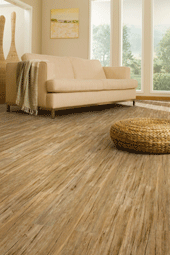 If you are dealing with an existing vinyl flooring, it should be removed, together with any residual adhesive, before applying a smoothing compound.
For wooden subfloors, secure all loose boards, hammer down any protruding nails and sand down high spots. A smoothing compound may be used to level the surface before covering the floor with 6mm plywood and fixing it with 25mm ring shanked nails at 100mm centred spaces across the board.
Once your subfloor is clean and level, brush or roller apply a coat of floor primer covering the entire surface. In most cases (depending on brand etc….) it will form a white film, which turns transparent as it dries ready for use. This usually takes between 15 – 20 minutes.
Fitting the Flooring
Start by laying your flooring from the centre of the room (as described above). To determine this point, measure the width and length of the area and strike a chalk line halfway across both. It is best to check the positioning and patterning by loose laying a single row of tiles or planks both widthwise and lengthwise along the guideline line to ensure even spacing on both sides.
If necessary you can now reposition the guideline so that equal cuts can be made around the perimeter. Cut the required tiles or planks with a sharp knife. Now lay the tiles and planks from the centre point by removing the backing paper to reveal the adhesive (if you are using the self adhesive type). If you are not using self adhesive tiles then apply some adhesive to the back of the tile and then lay it accurately.
Try to avoid sliding the tiles to butt up close to neighbouring tiles as this can sometimes force the adhesive in between joints and in some cases can cause a bad fit.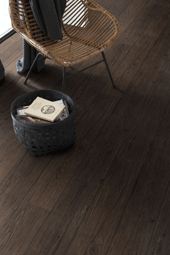 Once in position, ensure the joints are tightly butted together and press firmly from the centre to the edge of each tile or plank to make sure that no air bubbles are trapped.
In the event that some joints are not level you can even them out. Find a nice clean and flat piece of softwood and then lay it over the proud joint and then gently tap it down with a hammer.
It is then ad visible to wipe around all joints with a damp rag to remove any excess adhesive before it goes off hard (only if you are using dry back tiles or planks).
A few days after fitting, as the adhesive cures, it will automatically rise to form a perfectly sealed, waterproof join, remaining firm even in bathrooms. You can then clean any excess from the surface with a cloth saturated in white spirit. If you are laying vinyl tiles or planks in a bathroom you should seal the perimeter edges with a silicone sealer.
You may find that your tiles finish in a doorway. In this case it is advised to use a metal threshold strip to give a neat edge and join between the 2 rooms. Many styles are available to match your floor finishes. In most instances door stips are purchased in a set length and are then cut down using a hacksaw to suit the width of the door gap you need to span.
During the floor laying process you may find that you need to cut in around architrave or pipework. Unlike ceramic or quarry tiles this is considerably easier:
Architrave – The easiest and in most cases best way of cutting in around architrave is to actually cut out a section of the architrave at the base so that the tile will fit underneath it. To do this lay a floor tile on the floor and butt it up close to the architrave. Using a hand saw, lay the saw flat on top of the tile and push it up to meet the architrave and then saw into the architrave ensuring that you maintain a level cut to ensure that the tile will then slide nicely under it. You may then need some sandpaper or a chisel to tidy up the cut. If you are not comfortable doing this then you can use a profile gauge or piece of cardboard to create a template which you can then transfer to the tile and cut out.
Pipework – In order to fit tiles around pipework you will need to punch a hole in the tile that is slightly bigger than the diameter of the pipe you are laying around. Using a waste piece of pipe (copper or other metallic material) sharpen around one edge with a file and then align the piece of pipe on the tile to the corresponding location on your floor and hit the up-facing end of the pipe with a hammer to punch a hole through your tile. Once you have done this, using a pair or scissors, cut a straight line from the edge of the tile into the hole and then you can lay your tile around the protruding pipe
Lifting Tiles and Planks
You may find over time that one or more of your tiles or planks may start to lift up. Depending on the brand of tile or plank and the adhesive used you may be able to re-position and re-stick the tile or plank back down.
Heat it with a hair dryer to soften both the flooring and the adhesive before smoothing it back down using a cloth working from the centre to the edge. Then simply apply pressure to re-adhere it.
In the event that the above does not work then you may need to remove and replace.
Replacing Damaged Tiles and Planks
It is well worth keeping a few spare tiles or planks as it is possible to replace individual tiles and planks should they become damaged.
To do so, cut the damaged tile or plank into strips using a sharp knife before applying the heat of a hair dryer to soften the flooring and the adhesive. You will then be able to lift the strips but do this carefully and begin at the centre to avoid damaging the adjacent tiles or planks. Once removed, install a new one using the methods described at the beginning of this tutorial
Maintenance
Much of today's vinyl flooring types are coated with a PU (Polyurethane) coating making them quite hardwearing and ensuring that with regular cleaning they stay looking fresh and new. In respect to cleaning regular sweeping and mopping with a general floor cleaner will suffice.
However it is advised that you do not use any solvents as this can cause damage but you can use white spirit to remove marks or stains but before you do use this test on an inconspicuous area to ensure that no damage will be caused.