Erecting panelled fencing is not difficult as long as the preparation is done. If the ground you plan to put your fence panels on is reasonably flat then this is the project for you. If the ground slopes then you will need to see our project on stepped fencing. You will also need to see our projects on how to mix concrete, concreting fence posts and cutting down fence panels. You might also like to view the projects on chain link fencing and close board (arris rail) fencing.
First you need to establish the exact line of your fence. If it runs near trees remember they will have roots which may be difficult to dig through. Fix a string line between two points to enable you to keep your fence panels straight.
We always erect our panelled fences one panel at a time. This way we can guarantee each panel will fit exactly. We have watched fencing contractors come in one day, dig about 30 holes and concrete in 30 posts only to find, on their return that a few of the measurements were slightly out and a couple of the posts were not fully upright leaving the correct distance for fitting the panel at the bottom, but because the post was leaning, the panel didn't fit at the top.
The series of images can be viewed from top to bottom and will explain how to erect a panelled fence.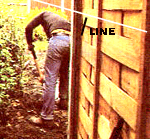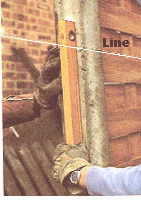 Having set your line up measure out from your starting point the length of a panel. Normally 6 feet. Dig the hole as seen in the project on concreting fence posts. Drop the post in the hole and fix the panel to it by side nailing or using special angle brackets you can buy for fixing fence panes to posts. Level up the post both ways and make sure the top of the fence panel is level. You may need to put some bits of brick or stone under the post to get the panel level.
When the panel and post are in position, concrete the post hole and support the post either side with some timbers. Measure for the next hole, fix a panel to the last post, drop the next post in the hole and fix it using the same procedure. This method allows you to move down the fence run quickly without any mistakes. Keep to your line all the time and when you have gone as far as you want to go in one day, re-check every post for plumb as each one will move a little as you add each new one.