PTFE tape, thread seal tape, plumber's tape or Teflon tape as it's also known is a very usefully and versatile tape used mainly to help seal up plumbing joints and stop or prevent them from leaking.
If you have ever done any plumbing work or worked on an existing water system in a home e.g. changed a tap chances are that at some point you will have come across some PTFE tape wrapped around a given joint and possibly wondered why it was there.
In this DIY guide we take a look at PTFE tape and find out how exactly how to use it correctly.
What is PTFE or Sealant Tape
As you may have guessed from the opening line of this how-to guide, PTFE tape or "polytetrafluoroethylene" tape is known by numerous different names but regardless of what name it's known to you as they all refer to the same product; PTFE tape.
Unlike many common tapes that you would expect to be adhesive, PTFE tape isn't to the touch, but instead it stretches slightly and sticks to itself to a degree allowing it to remain in place once applied to a given thread.
PTFE tape works by sealing and filling any gaps in the threads, no matter how minute they may be, that can cause a joint to leak. PTFE tape is more of a preventative measure employed to help minimise the risks of any leaks forming in the future.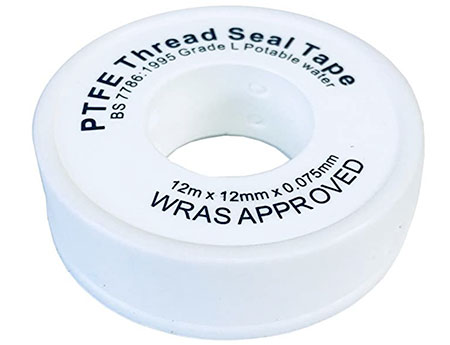 Not only is PTFE tape a fantastic sealant, due to the very low-friction nature of the tape it makes it very slippery which in turn makes it a fantastic lubricant on and around joints.
Aside from its common use as a sealant for water-based plumbing applications, PTFE tape can also be used for gas and fuel oils.
It is important to note that when used with gas applications you cannot use the standard white PTFE tape that is used with water-based plumbing. Instead you need to use specific PTFE tape designed to work with gas applications as it's slightly thicker than the white tape and much less porous as you would need when using with gas.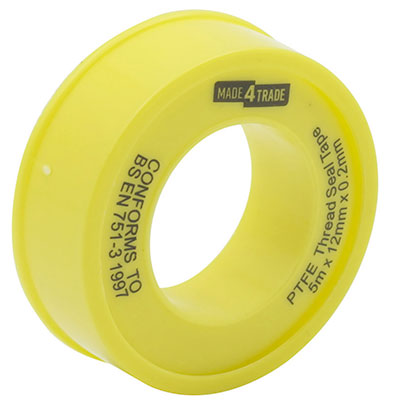 When it comes to using PTFE tape with fuel oils such as oil, petrol, diesel etc. standard white PTFE tape can in most cases be safely used with systems that utilise and work with these fuels as the tape itself is able to deal with heat and pressure rather well and due to the fact that PTFE tape won't react with any such substances it won't degrade.
Where Should PTFE Tape be Used?
As we have discussed above, PTFE tape can be used on pretty much any domestic water-based plumbing system to help prevent the potential of any future leaks forming. It can also be used to help seal up fuel systems that include oil, petrol and diesel and also with gas systems, but you have to use the correct PTFE tape specifically for use with gas.
Although it may seem that you can use PTFE sealant tape with pretty much any water, fuel or gas system, this isn't quite the case however as pretty much all compression fitting manufacturers recommend it should not be used on any form of compression joint. With a compression joint, the watertight seal is created when the compression nut is tightened down. Introducing a substance such as PTFE tape into this can actually in some cases cause create leaks!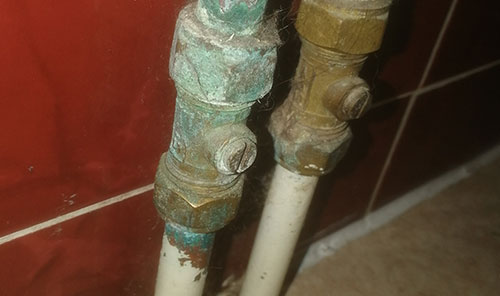 That being said we have found in many situations that despite not tightening a compression joint too much and doing everything that's required to ensure a successful joint, the slightest pin prick hole can cause a leak and adding a little PTFE tape to the thread can certainly prevent this.
As prevention is certainly better than cure in this case, for any plumbing joints that are hidden or hard to reach such as those being kitchen units, it's not a bad idea to add some PTFE tape to ensure no leaks occur at any point in the future as in most cases you'll never find a leaking joint until the damage has already been done.
One other point to note is that you should always use PTFE tape on the actual threaded male section of the joint and no where else, this is where it is designed to go.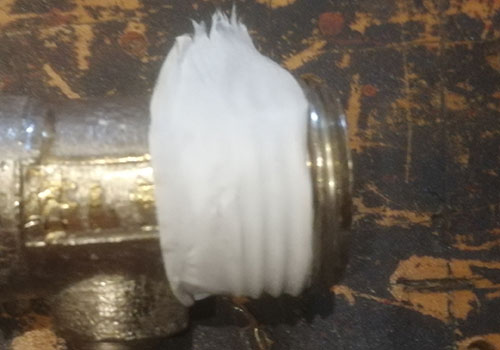 We have had, over the years, individuals and even some professionals comment that PTFE tape can also be wrapped around olives in compression joints as this will help to create a water tight seal. This is ceratainly not the case at all and one that we have confirmed with pretty much all the major PTFE tape manufacturers.
How Much PTFE Tape Should you use?
One question that often gets asked when using PTFE tape is; exactly how much tape should you use on a typical joint? In terms of this it is recommended that you don't use any more than 3 complete wraps of PTFE tape around a thread.
If any more than this is used, as the joint is screwed together it can cause the tape to ruck up in the thread and in turn create a void that can then easily lead to a leak.
When wrapping PTFE tape around a thread each revolution or layer should over lap the last one by roughly a half to ensure a good seal.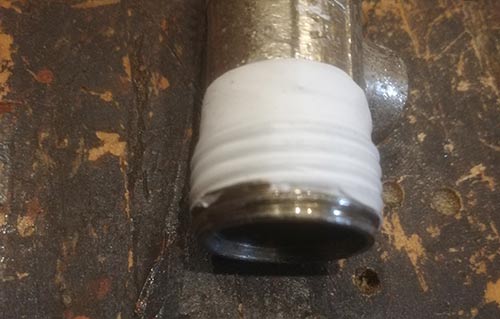 Which way do you Wrap PTFE Tape on a Joint?
The short answer to which direction do you wrap PTFE tape around a joint is that it should always run in the same direction as the thread itself. e.g. if it's a right hand thread and you do it up by turning it to the right then this is the way that the PTFE tape should be wrapped around the joint.
This is a very important point as if it's wrapped the opposite way to the thread then as you do the thread up it will start to unwind the tape which can in turn then cause it to ruck up in the threads again potentially causing leaks down the line.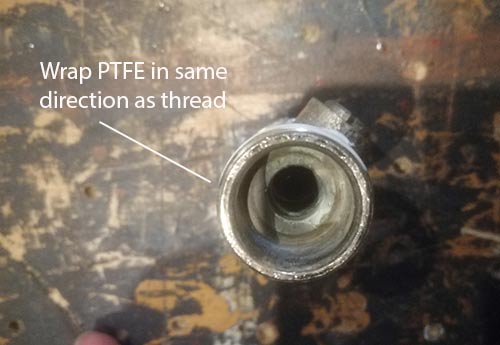 Alternatives to PTFE Tape
As we have established above PTFE tape is a great solution for preventing leaks from forming in plumbing systems, however if you have never used it before it can be a little tricky to work with. If you don't fancy trying to use PTFE tape there are some alternatives.
Another product that's used in the UK is a product called "Plumbers Mate". This is a putty-like substance but unlike putty it doesn't cure so therefore doesn't dry out and crack.
It's generally used on domestic sanitary drainage joints such as waste pipes for baths, sinks etc. and essentially helps to prevent seepage. It's also used for seating items such as taps and basin wastes. By spreading some around the underside of such items, when it sits down on the basin, sink etc. it forms a gasket that prevents any water ingress.
One important point to note is that Plumbers Mate should not be used in any areas where is it exposed to pressurised water. As it doesn't set solid any exposure to pressurised water can easily just wash it straight out of the joint.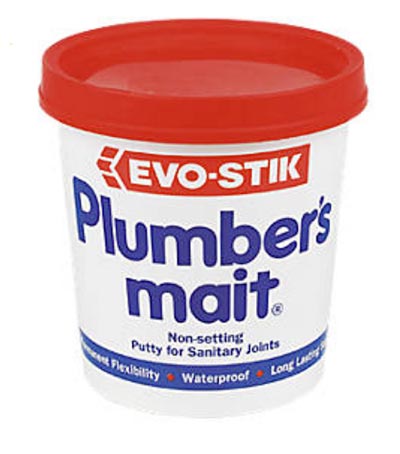 As a product Plumbers Mate is more suited to preventing leaks in and around fixed objects rather than sealing up actual plumbing fittings.
For products that actually create a seal in pipe joints products called "Jointing Compounds" should be used. Commonly known in the UK as "Portable Jointing Compound" and in the US often known as "Pipe Dope" these products are also used to help seal up threads in pipe joints.
When selecting a pipe sealant for use on hot and cold domestic plumbing systems in the UK ensure it is safe for use by confirming it conforms to BS 6956-5:1992.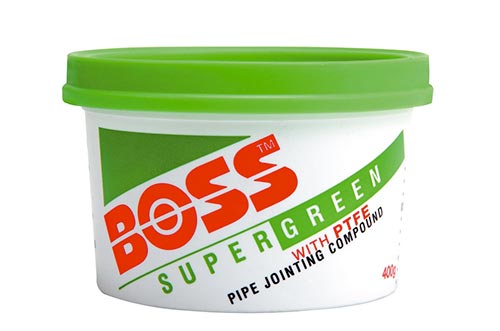 One final very important point to be aware of is that you can indeed use both PTFE tape and also Plumbers Mate or another similar jointing compound together for the best and most comprehensive sealing solution.
How to use PTFE Tape to Seal Pipe Joints
Now that we have looked at what exactly PTFE tape is and also how it is used in order to help seal up pipe joints across a range of applications it's now time to look at how to actually use it:
Clean all threads: The first task is to clean everything fully and remove any dust, debris or grime that may be in any of the threads. The presence of even the tiniest spec of dust can cause a leak. Using a clean, lint-free wrag dust off any debris from in and around the threads of both sections of the joint. Where any heavy soiling is present you may need to use a specialist cleaning or degreasing product. The best tool to use is a wire brush or if you have one, like we have used here, a brass wire brush.

Cleaning the threads of a dirty plumbing joint using a wire brush

Ensure joints are clean, dry and free from any debris: Once you have cleaned off all the major crud and debris from your joints ensure they are fully dry as the presence of any moisture can cause leaks. Use a lint free cloth to remove any remaining dust and moisture and for a fine clean a can of compressed air (also known as an air duster) can blow away and remaining dust or moisture

Compressed air canister for blowing away dust and debris

Wrap PTFE tape around thread: With your joint fully cleaned and dried, now start wrapping PTFE tape. Starting at the open end of the joint come in 1 – 2 threads (as any stray debris from the tape won't then spill into the open end of the joint) unwrap the PTFE tape from feel and flatten it out, removing any creases and lay over the thread. Wrap the tape around the thread overlapping each layer of tape by a half until you reach the opposing end then snap the tape off and run the loose end down around the threads

PTFE tape wound around thread on joint

Screw joints together: Run your finger over the loose end of the PTFE tape and push it down into the threads to prevent it coming out when you start screwing the joint up. With the tape fully secured you can at this point apply a little jointing compound if you wish to fully hold the tape down and also add an additional layer of leak prevention. Gently screw the joint up taking care not to loosen the tape until the joint is screwed up hand tight and then pinch it up using a spanner (don't over tighten as this can cause the joint to fail)

Joint fully sealed and screwed up
PTFE tape is a valuable addition to anyone's plumbing tool arsenal and can be used to quickly and easily resolve a great many problem leaks with the minimum of hassle, however when using PTFE tape you need to ensure you're using the correct type of tape for the appliance or system you are working on.