How not to Repair Cracked Concrete
Repairing concrete is not as easy as one might think. The perceived wisdom out there is to look at a crack in a concrete path or drive and try to force some kind of cement based mortar or concrete into the existing crack. This does not work for two reasons.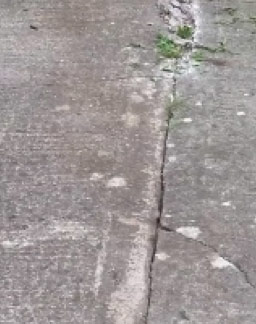 Repairing concrete in small areas cannot easily be done with a normal concrete mix as the aggregate is usually too large for small areas and the stones in the mix make it very difficult to get a good finish. The concrete or mortar mix cannot be forced down into small cracks or fissures easily and you cannot be certain you have even filled the crack. All you can see is, that the top of the crack is indeed repaired, but 1mm below the surface, you very likely have the void still in place.
When concrete dries, it shrinks. As it shrinks it pulls away from the edges of the crack it is supposed to repair. This leaves another crack, albeit a very small crack. This new crack lets water in which, in very cold weather, freezes.

As water freezes it expands into ice and, as those who have seen Titanic will know, ice is a pretty unstoppable force. The expansion of the ice introduces more/larger cracks into the concrete which, in turn, fill with water.
Incidentally, this is the reason why you see the surface of a lot of bricks and render "blown" off. This process is called Freeze-Thaw action and more about this can be seen on our p[roject page on freeze-thaw action on masonry.
What Should I use to Repair Cracked Concrete Properly?
Cracked concrete is not properly repaired with more concrete or cement mortar. It does not matter whether this is a concrete path, slab, base or drive. Unless the crack or hole is more that 1 cubic foot or 0.1 cubic metres, the correct method of repairing damaged concrete is with an epoxy repair mortar.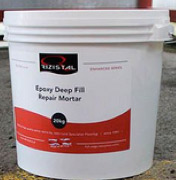 The type of repair mortars we like to work with at DIY Doctor are made by a company called Rizistal. They specialise in repair products either on the ground or on the roof. You can view their products here and read how we got on with them in our Product review section, subsection; Building.
How do I Repair Cracked and Broken Concrete?
Having explained, in reason one, above, that normal concrete has too large an aggregate to push into tiny cracks we are left with two choices. We either find something that can be guaranteed to fill up even the tiniest of cracks or we make the cracks bigger!
Choice one is not plausible given that even the finest mortar or concrete mixture will clog in small crevices, so choice two it is.
Borrow (or hire) a concrete breaker and read our page on how to use a Kango Hammer or concrete breaker where you can also see a video on how to use the concrete breaker. Make sure you are wearing all the appropriate personal protection equipment (PPE).
Open the crack so it is about 25-50mm wide and at least 75mm deep unless of course the crack does not go down that deep!
Don't go too mad though; epoxy repair mortar is expensive and there is no need to use more than you have to.
Sweep out the dust and bits of concrete. This is really important as any tiny piece of concrete left in the crack will prevent the epoxy mortar from bonding to the entire surface area of the crack. The repair then may not be effective.
Once the crack or hole is opened up so all of the damaged area is removed and you have found solid sides, you can look at which repair product to use.
We use three different types and we have listed them below with a short summary on how each one works. If you click through on the links provided, you will be taken to a product review where you can look at a video on each one. This review will allow you to choose which product is best for you.
What is Epoxy Repair Mortar?
Epoxy mortar is simply aggregate mixed with a resin and hardener which, when cured, forms a flexible, waterproof plug which (as there is no drying out involved) does not shrink.
It is also completely waterproof as it has a resin base and will withstand any temperatures without crumbling. It will (usually) accept foot traffic after about 4 hours and is fully cured after 24 hours. Please do however read the instructions on the individual containers as some epoxies vary a little.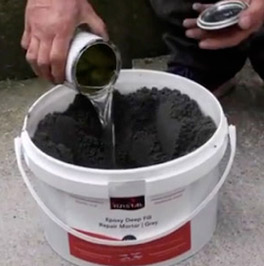 What Should I use to Repair my Cracked or Broken Concrete?
Filling Deep Holes in Concrete Paths, Slabs, Drives and Hard Standings
For deeper holes, up to 150mm deep you can use the Deep Fill Repair Mortar. This epoxy mortar has quite large (up to 4mm) aggregate within the resin and, as usual is mixed with a hardener.
When mixed it is placed in the hole and levelled out. If a smooth finish is required on the surface it is as well to use a normal (as opposed to deep fill) high performance repair mortar. See below for this. The deep fill repair mortar should be left at a maximum of 50mm down from the surface.
You can read a product review on how to mix and use Epoxy Deep Fill Repair Mortar by clicking here
Filling Shallow Holes in Concrete Slabs, Paths, Hard Standings and Drives
For holes of less than 50mm it is best to use an ordinary epoxy repair mortar. This repair mortar has a much finer resin aggregate and the video review of the epoxy repair mortar shows how it is applied and the best finish obtained for your repair.
If you want to walk on the repair quickly, you can also get a fast cure epoxy repair mortar so go to the review, take a look and click through to Rizistal if you would like to buy the product.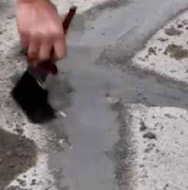 Filling Long Cracks in Concrete Paths, Hard Standings, Slabs and Drives
The last of the repair mortars we use is called Flowfast pourable repair concrete and it simply does what it says on the tin!
It is mixed in the same way as both of the mortars above but the quantities that come in the tub allow for a wet, smooth flowing mixture. Watching the video in the Flowfast product review will show you exactly how to use this pourable concrete and how it can be used to repair concrete cracks very quickly.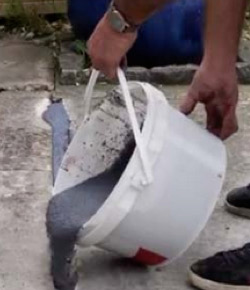 How do I Mix Epoxy Repair Mortars
All epoxy repair mortars come in tubs with ready measured amounts of resin aggregate and hardener. The hardener is tipped into the resin aggregate and (for ease) a mixer paddle is used to get a good, uniform mix. It takes about 4 – 6 minutes to mix a 20Kg tub of epoxy mortar.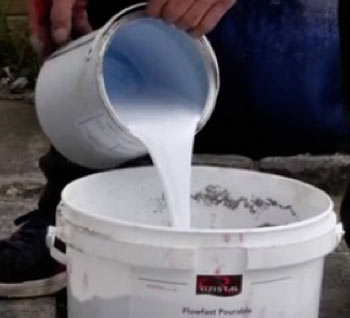 What Tools do I Need to Repair Cracks and Holes in Concrete
As well as the mixer paddle mentioned above, you will need:
A gauging or bucket trowel for putting the repair mortar into the crack or hole
A finishing trowel to smooth the surface of the repair mortar or concrete
Click on the images if you would like to buy or find out more about any of these tools
Once you have completed the above steps and you are happy with the repair, cover the area over with polythene (a bin liner will be suitable) for the stipulated amount of time to ensure that it cures correctly without any disturbance. Once cured, all epoxy mortars are as hard as nails and it will last you a lifetime
If you are repairing concrete cracks and joints in a rather high traffic area such as a walkway or path, then it may be a good idea to surround it with some cones or bollards to make sure that no one inadvertently stands on it and ruins the finish.
How do I Clean Everything up After Making my Concrete Repairs?
Resin based materials are usually hard to clean and the solvents used to clean them are pretty harsh on the hands. Rizistal however have delivered a solution which you will be able to see in all of the product reviews mentioned above. It is called Safer Solvent, and it is called that because it is!
Dip a rag into the safer solvent and clean your tools easly. The safer solvent can also be used to wipe your trowels down as you smooth over the repair mortars we have mentioned above. As they are all resin based, they tend to stick to the trowels which makes it hard to get the surface smooth.
We hope this project has helped you solve a problem that is experienced by thousands of home improvers every year.
Concrete is perishable, it will deteriorate very quickly when it is allowed to crack and the only method of repairing it properly is with epoxy repair mortars. We only recommend Rizistal mortars and concretes because we have worked with them for a couple of years but there are many others out there so please do go and have a look round.