The name "aggregate" is a bit of an umbrella term and is used to describe a fairly course grain-like substance that is used across the globe, mainly in the construction industry.
If you are new to the DIY world, you may be thinking; Isn't aggregate just stone? In a way yes, but from a construction perspective, the name aggregate is used to describe the various different types of stone and loose material such as gravel, crushed down stone (granite, limestone etc), slag, sand and M sand.
What is Aggregate?
As we have briefly touched on above, aggregate is the overall name given to particulate materials used in building and construction.
It's primary job is to act as a bulking agent for concrete, asphalt and similar substances, giving them not only mass (in some cases making up nearly 80% of a mix of concrete) but also providing strength and durability.
When aggregate is mixed with water and a binding agent (namely cement), it cures over a certain amout of time to produce a solid base or foundation for a great many different applications.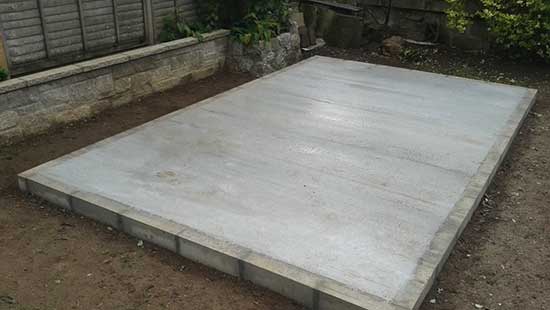 When it comes to producing the correct concrete mix for the particular job you are doing (more can be found on mixing cement in our project here), this is very much down to the type of aggregate that is used in the mix and the quantities of aggregate, cement and water that's used.
Aside from the amount of aggregate used in a concrete mix, it's quality is also a huge factor that ultimately determines how long the concrete itself lasts.
For the very best concrete mix, any aggregate that's used should be clean and free of any form of contaminent or chemicals, any unwanted fine material, clay or other organic matter and should certainly not contain any substance that is likely to react with the cement itself.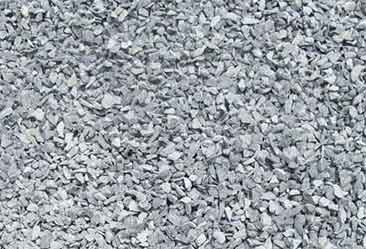 Aside from concrete applications, aggregate is also widely used for drainage due to the fact that when used to fill holes and drainage trenches, the irregular shape of the individual grains means that a great many channels are formed in the spaces between grains, allowing water to flow freely, but at the same time fill a given void with a fairly solid material that can be filled over, walked on etc.
French drains commonly use several different grades of aggregate and stone to create a very good drainage solution. More on this can be seen in our French Drains project here.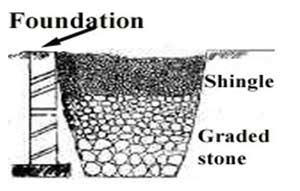 When it comes to sourcing aggregates, typically it is quarried out of the ground, mined from underground, dredged from river beds or where the required rock deposits are found (e.g. limestone, marble, granite etc).
Due to the vast costs involved in both extracting and transporting aggregates, most heavily populated areas are close to quarries or mines where the required aggregate needed for large scale construction can fairly easily and cost effectively be extracted.
If the required resources are not close by, then they need to be transported which can increase costs dramatically.
What are the Different Types of Aggregate and how are They Used?
Now that we know a little more about what aggregate actually is and where it comes from it's now time to look at the different types and where each type is commonly used.
Classifying Aggregate by Grain Size
Once the aggregate in it's raw form of rock has been extracted through quarrying or mining it then needs to be crushed down and graded into different sizes for different requirements and then any unwanted matter and particles removed.
Once crushed up and cleaned, it's then run over a series of different sieves where the different grains are seperated out depending on their size.
When it comes to differentiating the different types of aggregate this is primarily done on the basis of grain size and there are 2 main grain grading sizes:
Fine Aggregate: Grain sizes range from 0.15mm up to 5mm e.g. they easily pass through a sieve of 4.75mm but collect on a sieve of 0.15mm. A good example of a fine aggregate is sand (more can be found about the different types of sand here)
Course Aggregate: Grain sizes range from 5mm up to around 9.5mm e.g. they are trapped by a 5mm sieve. A good example of a course aggregate is gravel
Classifying aggregate by its grain size is in most cases the best method from a DIY perspective.
As the majority of DIY-based jobs such as mixing cement, mixing mortar, rendering, laying driveways, laying concrete slabs etc involve the use of aggregates defined by their size such as sand, ballast etc, this is a much easier and more accessible method of identifying aggregates.
In terms of what each type of aggregate should be used for:
Fine Aggregate: Fine aggregates are used for creating thinner concrete slabs and bases, mortar, plaster and general repairs. The smaller, finer particles help to fill any voids and through this produces a very smooth finish. Also finer aggregates improve the workability of a concrete mix

Fine aggregate to be used in thinner concrete slabs and bases

Course Aggregate: Course aggregates are mainly used to provide strength and load bearing capabilities, so are used extensively for concreting, forming foundations, creating roads and pavements, sub bases and also due to their size are ideal for drainage, but do make a concrete mix harder to work with

Course aggregate to be used in larger, more heavy duty concreting applications
Classifying Aggregate by Weight (or Density)
As we mentioned above, classifying aggregate by it's grain size is probably the most useful and common method from a general and domestic perspective, but when defining from a more professional, larger scale construction point of view a different classification scale is generally used:
Light Weight Aggregate: Made up of low density artificial and natural material to produce a very light weight concrete mix that's used to create light weight concrete blocks, fire proof covering and also some sound proofing applications. A good example of such an aggregate is Vermiculite

Vermiculite aggregate used for light weight concreting duties – Image courtesy of mikewye.co.uk

Standard Aggregate: The most commonly used types of aggregate that include sand and gravel. Generally used in making concrete mixes to provide both mass and strength

Standard aggregate includes general purpose sand and gravel

High-Density Aggregate: Used to create very dense and heavy weight concrete mixes that are used mainly for shielding against radiation or for pipeline ballast. Heavy weight natural aggregates such as Baryle, Hermatite, Iron Ore and Magnetite are good examples

Heavy duty aggregate should be used for shielding radiation or pipeline ballast
With the above points in mind, standard aggregates are fairly self-explanatory in that if you have done any form of concreting, plastering, rendering etc then you will have used sand, gravel or both.
When it comes to light weight and high density aggregates, these are a fair bit more specialist and as with all specialist items beit materials, products and skills, costs are considerably greater.
In summary, light weight aggregates are as they say, light weight and are ideal for use where any additional weight needs to be kept at a minimum. They are also much more porous.
Hight density or heavy weight aggregates are the desired choice where strength, durability and containment are the key requirements.
Classifying Aggregate by its Source or Origin
In some situations, aggregate is also classified by its origin or where it has been sourced from.
You may be thinking; why should I care where an aggregate is found, as long as it does the job, surely that's all that matters, right?
In some cases this may be true, but in others certainly not. To explain further, firstly lets look at the different sources:
Natural: As we have already touched on, natural aggregates are either quarried or mined from the ground or dredged from rivers or the sea bed e.g. from natural sources

Aggregate being quarried out of the ground – Image courtesy of aggbusiness.com

Processed/Manufactured: As the name suggests, this aggregate type is manufactured or man made. In mosts cases it's created by crushing up existing waste concrete to a desired size. It's mainly used for making light weight concretes or as a base layer for other materials to be put on top

Manufactured aggregate is created from crushing up waste concrete

Bye-Product: Again as the name suggests, this aggregate is formed from the waste produced by other processes. Examples of this are cinder from burning coal and slag sourced from blast furnaces

Bye-product aggregate is created from cinder and slag
Ultimately, natural aggregate is nearly always the best choice as it provides the most strength, durability and longevity to any concrete mix, but if costs are a consideration then manufactured or bye-product aggregates are cheaper.
On the other hand there are some downsides to non-natural aggregate in that it's more porous and may not be as dense which ultimately means that any concrete mix produced using either of these materials won't be as strong as a mix made using natural materials.
One other point to note concernes the chloride content of a concrete mix made using either bye-product or manufactured materials. The presence of high levels of chloride can weaken concrete and decrease its lifespan.
Also it can react with other materials present in the mix and may also react with and corrode steel.
Classifying Aggregate by its Shape
The final commonly used method of classifying aggregate is through the shape of it's grains or particles.
Again, as with classifying by origin, this may seem like a fairly odd way to distinguish the different types and on the whole pointless, but the shape of aggregate used in a concrete mix has a considerable bearing on the overal finish and how workable the mix is.
Aggregates are classified by shape in the following way:
Angular: Used mainly for high strength concrete mixes as they provide up to 20% more compressive strength due to an improved bond with other materials present. Appearance-wise particles have angular and defined edges and a fairly rough surface

Angular aggregate has defined edges and a rough surface

Rounded: Formed through errosion and wave action (typically sourced from beaches and rivers), all surfaces and edges are smooth and rounded. Due to their smooth shape, concrete mixes created using rounded aggregates are very workable and produce a smooth flat surface but as they do not interlock well together, do not produce a very strong mix

Rounded aggregate is formed through errosion and typically found near beaches and rivers

Partly Rounded or Irregular: Formed again through the action of waves and errosion but particles are not as rounded and smoothed as for fully rounded aggregate. Although more workable than angular, it's not quite as easy to use and fully rounded. In terms of strength, again concrete formed using it will be stronger than fully rounded but not strong as angular

Partly rounded or irregular aggregate is also formed through errosion

Elongated: Individual particles are longer than they are wider or deeper and due to this appear to be long and thin. This particle-type provides more surface area to a concrete mix

Elongated aggregate particles are generally longer than they are wider or deeper – Image courtesy of theconstructor.org

Flaky: Normally appear as fairly equal in terms of width and length but particles are very thin e.g. square or rectangular in terms of width and length but not very thick. Like the above, this type also adds surface area to a mix

Flaky aggregate particles are generally quite thin – Image courtesy of mtransport.com

Elongated and Flaky: A bit of a combination of the above, the length of a particle is greater than its width and also its width is greater than its thickness. Not suitable for forming a reliable concrete mix

Elongated and flaky aggregate particles are generally quite long but also thin – Image courtesy of pavementinteractive.org
You should now be much more familiar with the different types of aggregate and how each type should be used when creating a concrete mix.
As you can see, the type of aggregate you use in a given mix can dramatically effect the strength, longevity and durability of concrete so make sure that you use the correct aggregate for the particular job you are doing.