Sweeping a chimney is usually left to the professionals and these days as it is done with powerful vacuums and other top quality equipment. This equipment can be hired from Tool Hire shops and is very helpful to have as it will ensure that the mess and clean up is kept to a minimum.
The first questions to answer is why do you need to do it – We believe that if you understand the "why" you will be better placed to understand all the other questions such as the when and how to sweep a chimney.
It is perfectly possible to sweep a chimney yourself so let's find out how you sweep a chimney like the pro's.
Why Does a Chimney or Flue Need to Be Cleaned?
Burning any combustible materials will generate waste materials such as soot and smoke. This is even true of gas appliances who will also need to have their flue swept on occasion (consult the manual or a professional Chimney Sweep more information).
This collects on the inside of the flue or chimney and can reduce the air flow by partially blocking it, causing the fire to burn inefficiently.
Not only does this make it more inefficient to run but also increases the risk of carbon monoxide which is a deadly gas. (All homes should have smoke and carbon monoxide alarms, especially if you have a fire of any sort).
Alongside the smoke and soot that is generated, fuels like wood will create a substance called creosote when they burn. This can collect on the inside of your chimney or flue and, being combustible, it will increase the risk of a chimney fire.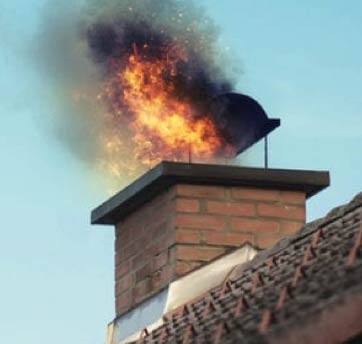 Even if a chimney has not been used for a long time it should be given a clean before use as they are very attractive places for birds and animals to nest.
Cobwebs, nests and other detritus can block up the chimney so that it cannot remove the waste gases from the fire or combustion chamber, so they do need to be removed.
Another overlooked reason for getting a chimney swept is, that in some cases, your insurance requires it.
If this is the case they will almost certainly need a certificate from a professional, accredited Chimney Sweep.
We would suggest if you are a landlord, having at least an annual certificate is a very good idea in this ever more litigious world.
See below for a list of organisations that provide certification for Sweeps that are typically "insurance approved".
We do not want to sound alarmist, but the consequences of not cleaning a chimney can be very serious.
The chimney is designed to remove the waste gases from any burning material so that they do not get into your home.
Any blockage will prevent this happening efficiently. Also remember that they get hot so you need to remove any combustible material that might collect in there, be it creosote or animal nests.
When to Sweep a Chimney and How Often?
This is a "how long is a piece of string?" question. There is no definitive answer as it will depend on the frequency of use, the type of material being burnt and the appliance and flue/chimney.
There is no issue with sweeping too often, so if you are concerned or don't know – sweep it!
These are occasions when you should sweep your chimney:
When you don't know when it was last swept: If you have just moved in and you don't know when the previous owners last swept it, or you have simply forgotten
When a fire has not been used for a long time: It is vital to remove any wildlife that might have taken up residence in your chimney
When blocking up a chimney or fire place: By blocking up a chimney or fire place you will by default be reducing the air flow through it. This means that damp can easily form, particularly as the soot is hydroscopic and will attract moisture from the air, "sucking" it into the wall, eventually causing damp chimney breasts
At any sign the fire or flue is not working as expected: Should there be smoke leakage,  the fire starts burning inefficiently or unusually cold then it is likely the chimney should be swept. It is wise to get a professional to check and sweep it in this situation
Frequently: When using any appliance or fire frequently the chimney needs to be swept regularly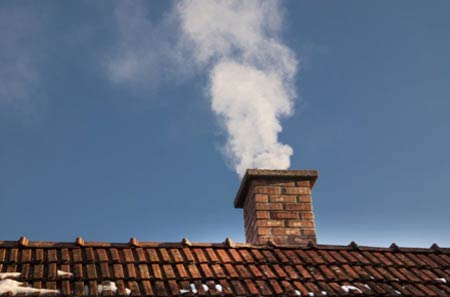 The National Association of Chimney Sweeps suggests the following sweeping frequencies as rough guidance:
Smokeless fuel: once a year (at least)
Wood: Quarterly (when in use)
Bituminous coal: Quarterly (when in use)
Gas: Once a year
Oil: Once a year
Always use the approved fuel for your appliance. See below for further chimney saving tips.
Next step is to get the equipment you will need if you are planning to do the sweeping yourself.
The Equipment Needed to Sweep a Chimney Yourself
This is the equipment that you will need if you are going to sweep the chimney or flue yourself:
Duct tape
Large dust sheet
Old bed sheet (with an approx 3cm square hole in the middle)
Torch
Chimney brush (of the correct size)
Set of universal rods (3/4 inch)
Mask and gloves
Vacuum – ideally with a High efficiency Particulate Air filter
We will explain more about how you will use each of these when we go through the process.
All you need to know for now is that the brush size should match the size of your flue or chimney. This should be just a little larger than that of the flue so that the stiff bristles with give the sides of the chimney a good brush when pulled up and down inside it. As a rule of thumb ½ inch (15mm) is adequate.
With all the right kit you are now ready to get on with the job!
How to Sweep a Chimney Yourself (using Rods)
There are reasons to get a trained professional to sweep your chimney, particularly if you have any kind of safety concern or you need an insurance certificate, however it is something that you can certainly do yourself.
There are two approaches to sweeping a chimney with rods; you can insert the rods at the bottom and push them up or you can do it the other way by pushing the rods down from the top.
Here we'll describe the "bottom to top" method as it is easier and shouldn't require clambering about on the roof.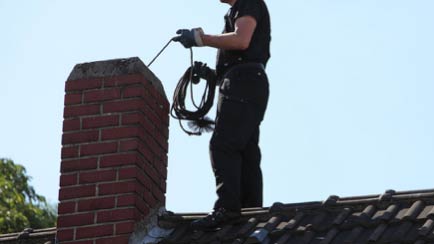 A word of warning here is to make sure you do not try to sweep the chimney for at least 12 hours after the fire has gone out. Soot can stay hot for a long while.
The steps for sweeping your own chimney:
Cover: Firstly cover everything in the room with dust sheets and turn your hoover on. Have the hose lying on the hearth
Inspect: You will have had a look to ensure that you have got the right size brush, but take a moment again to look for animal wastage or other blockages. Ensure that there has been no damage and try to get a feel for how much creosote and soot build up there is as this will indicate how much scrubbing is needed – use a poker to have a good scrape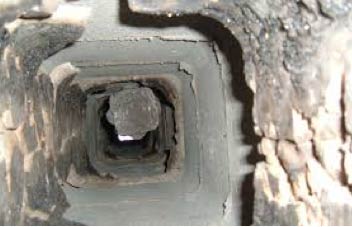 At this stage it might be necessary to cut your brush to the right size. It should be ½ inch (15mm) wider than the chimney.
You might need to remove the chimney cowl if there is one so that you can clean the full length. Clearly this will require accessing it from on the roof, so get professional assistance here if you are unsure about how to do this safely – we have some great advice about working from height and ladder safety here too.
Sheet up – Put your old bed sheet (or Cotton Twill Polythene Backed Dust Sheet if you don't have a spare sheet about) against the fireplace opening. Tape the top of the sheet to the fire surround – only the top at this stage as you will still need to get the brush in there!

Sheet up the fire place well before you start to sweep the chimney – Image courtesy of Level Chimney Stoves

Get Ready – Put the brush inside the fire opening and insert the first rod through the hole in the middle of your sheet. Connect the brush and leading rod. Get it ready to insert into the chimney
Tape Up – Now that you don't need to get into the fireplace and everything is ready, tape up the sheet to the fire surround. Do this well, make it as tight and secure as possible  – don't spare the tape! Any gaps and falling, sooty debris will get through
Rod  Up – Push the leading rod and brush up the chimney, connecting more rods as you go. Note: We have recommended you use lockfast rods but it is cheaper to get screw-type rods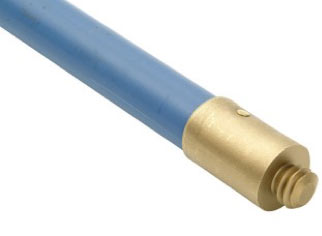 If you opt for screw rods, use a good quality ¾ inch drain, or chimney sweeping rod set and affix the brush tightly. The rods will screw together in a clockwise direction so, when turning the rods as you push the brush up the chimney, make sure you turn in a clockwise direction.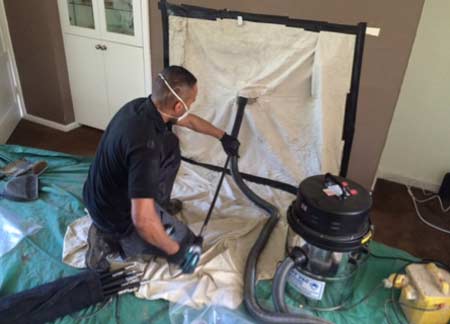 This will keep the joints on the rods tight. If you twist the rods in an anti-clockwise direction there is a good chance you will undo a joint and get the rods and brush stuck up the chimney.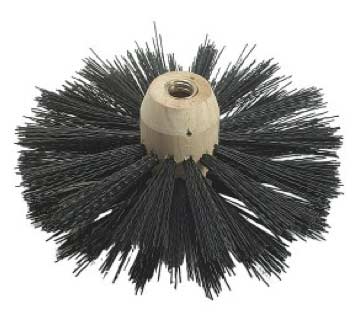 Using one rod with the brush on, push the brush up the flue. Twist slightly (in a clockwise direction) until you can only see 300mm of the rod.
Attach another rod and repeat. Do not attempt to push too hard. Just a little at a time will dislodge small areas of soot and this will be much easier to manage than a lorry load pouring down all at once!
The Top – Once the brush reaches the top you should feel it, but you can pop outside and check it. Many professional chimney sweeps will ask you to go outside and have a look to confirm that they have swept the full length

The brush should come out of the top of the pot – Image courtesy of Ashvale Sweeps

Rod down – Reversing the process above, pull the brush back down removing one length of rod at a time as you go. Remember to keep turning in the tightening direction if you have screw in rods
Settle, check and Clean up – Once the rods are back down and the brush is out, give it time to settle before taking down the sheet to check your chimney again. If it's still dirty, do it again until you are happy is it clean. There will be a pile of soot in the bottom of the fireplace which you can now sweep up/vacuum and throw away. Give the area a good clean up and remember to sweep up at the back of the fireplace where there are often ledges and lips where the soot can collect – get rid of this all now while you have the area protected. If you don't it is likely to dislodge later and fall out onto your lovely carpet
When happy, replace the cowl if you have removed it.
At this stage it is possible that a professional will use a smoke tablet or similar to check the integrity of the chimney and flue. They will want to ensure that the smoke rises properly and comes out of the right pot.
If this is the case then all signs are good that everything is as it should be and there is no leakage between the chimneys.
As a DIY sweeper you probably don't need to do this but certainly do keep an eye out for this when you do start to use the fire again. If there are any problems then you should contact a professional sweep.
Insurance Approved Sweep Associations
We have covered when you should use a professional chimney sweep in several places in this project, however here they are in summary.
You should use a professional Chimney Sweep:
If you need a certificate (typically at your insurance company's request)
For stoves and burners unless there are clear instructions how to sweep it yourself
If the chimney or flue is damaged in anyway
If the chimney or flue is blocked – they have the equipment to remove blockages
If you are unsure or it is not safe for your to continue
There are a number of associations for Chimney Sweeps. Ensure that the one that your Sweep is accredited by is recognised by your insurance company, although most insurers recognise any of the below organisations:
National Association of Chimney Sweeps
Guild of Master Chimney Sweeps
Association of Professional Independent Chimney Sweeps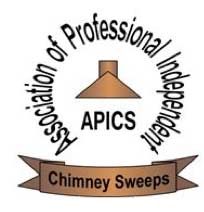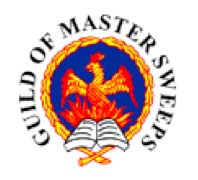 If you need to find a local chimney sweep in your area you can do so from here.
Chimney Saving Tips
There are a few things that you can do to reduce the amount of sweeping that you will have to do. These are good practice and will keep your appliances and chimneys in good working order for longer.
Remember to clean and service your appliance and any connection from the appliance to the flue also
Burn the right fuel for the given appliance
Burn hardwoods where possible as they burn hotter (and slower making them more efficient) as they don't give off as much soot and creosote. The jury is out about artificial logs
Watch out for signs that action is needed, such as slow burning or smoke in the room
It is perfectly possible to sweep a fire place yourself and hopefully you will have the confidence to do so now. Hopefully you will also know when it is beyond you and time to get a professional Chimney Sweep in to help you.