Insulation under ground floor slabs is a good way of meeting the increased requirements of parts L & F of the building regulations. These sections deal with, in one way or another, the values (called U values) which a home should be insulated to and the energy which is saved by implementing this insulation. This effectively means that if your home is insulated to a high level it has to work less hard to provide the energy to maintain the heat you need to live comfortably. Click through to our tool store for insulation.
One of the ways of saving this energy and keeping warmer is to allow less heat to be transmitted out of the floor and, at the same time, to allow less of the external cold in the ground to be transmitted into the house via a cold concrete floor slab.
The floor insulation can be placed under the slab or between the slab and the floor screed. There are arguments for, and against both, but if you are to use an underfloor heating method of some kind the insulation is often placed on top of the floor slab, under the screed. Take a look at our project on ground floor slabs to see the complete picture of ground floor slab construction and where to place the underslab insulation if the opinion of your architect, or your choice, is to place it below the concrete slab.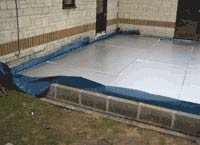 The target U value for a concrete ground floor slab is 0.22 and these days the insulation must be provided around the edge of the floor slab as well. This stops any thermal bridging across the walls leading to cold spots. A 50mm thick layer of proprietary floor slab insulation is usually enough to reach and maintain the target U value but this should be checked with an architect first. Insulation sheets should be laid tightly together with the joints staggered to avoid movement. The DPM (Damp Proof Membrane) is laid under the insulation on top of a soft blinding to ensure it is not punctured.
The underfloor insulation boards must be fully supported over their entire area with no voids and no projections. The silver foil covering acts as a vapour barrier or vapour control layer and also stops moisture from the freshly poured concrete slab penetrating the insulation.