Installing Floating Shelves
A floating shelf is a shelf that has no visible mounting or supports showing and looks as if it is "floating" on the wall.
First check the construction of the wall and look at our projects on fixing to masonry or fixing to plasterboard.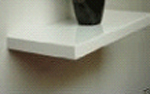 When you have a plasterboard wall, a much stronger fix can be obtained by fixing directly to the timber studs behind the boards - for further information on this click into the link.
Once you have determined your wall type and have acquired the correct fixings to be used you can progress to installing.
If you have a timber stud wall, mark out the location of the timber studs in the area you wish to locate your floating shelf. Remove the floating shelf bracket from the shelf and hold it in position on the wall. (Note: Remember to use your timber studs markings as a guide to get your strongest fixing points.) Mark on the wall using the pre drilled holes in the fixing brackets as a guide to where the pilot holes need to be drilled. You can level up the support brackets once you have one fixing in place by placing a small level on top of the bracket, then marking through the pre drilled holes when your support bracket is in a level position. This procedure can be repeated with masonry and dry lined walls it is just the fixing used that will change.
Once your bracket is fixed firmly in place you can then slip the shelf on to the support bracket. There are fixing screws located on the underside of the shelf that screw up into holes in the fixing bracket. These stop the shelf sliding off the support poles.
Always remember not to over load your floating shelf.
If a floating shelf is not what you want, you can visit our project on built in shelves.
As always with DIY projects that create dust, debris and have sharp components DIY Doctor recommends the use of gloves, dust masks and eye protection.