A brick barbecue is a great addition to a patio area. Easy to build and use, a brick barbecue means you don't have to find a large space to store your BBQ. It won't go rusty and fall apart, and it looks a lot more attractive.
Location
Firstly you need to decide where to build your barbecue. The one drawback of a brick BBQ is that you can't move it around, so think about the location carefully. You want to place it near enough to the house so that it's easy to fetch everything you need, but not so close that the smoke will blow into the house! It's nice to have your BBQ near to a seating area, so that the cook and the diners can converse, but make sure the heat from the coals isn't going to make your guests uncomfortable.
Base
Make sure you have a sturdy base for your BBQ – if you don't already have a suitable area of patio to build on, you'll need to lay a concrete base or some slabs. See our Building a Shed Base or Laying a Patio projects for help with this.
Materials
First, you need to buy a barbecue grill set. Sets are available which are designed to be set into a brick barbecue, with a tray for coals, and grills. Then you need bricks of course. Work out how many bricks you will need using the BBQ cooking tray as a guide. Count how many bricks you will need to go around three sides of the tray, and work out what height you want the barbecue to go up to – you want to be standing comfortably while cooking, not stooping down or reaching up. You might want to add on a couple of courses so that you can add on a warming rack higher up.

If you have space, then it's a good idea to add on a preparation area next to the barbecue. A paving slab makes a good table top, so you need to add on enough bricks to build up a base for this too.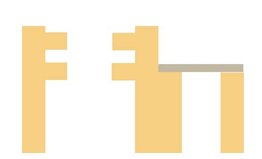 Building sand and cement are needed to make your mortar – see our Mortar Mixes project for help with this.
Metal brick ties will help to strengthen the join between the middle and back walls.
Tools
You will need a shovel for mixing the mortar, a trowel for laying the mortar, and a spirit level. A club hammer and bolster or wide cold chisel are useful for breaking bricks in half. An old piece of hosepipe is perfect for tidying mortar joints.
Building the brickwork
Lay out the first layer of bricks around the barbecue tray to ensure that you make it the correct size. If you are building a table on the side of your barbecue then you will need to arrange the bricks in a sideways E shape, so that the central wall supports both the barbecue and the table.
See our Laying Bricks project for some pointers before you start.
Once you have your first layer ready, move the bricks out of the way and check the level of the ground. Put down a layer of mortar following the shape of the bricks, compensating for any changes in level. Lay the first layer of bricks on the mortar, using the spirit level to ensure that the lines are straight and the bricks are all level with one another. Lay a metal brick tie over the join between the middle and back walls.
Build up your walls starting at the corners and filling in the gaps gradually. Stagger the joints in each course by half a brick so that the wall is strong and has the traditional brickwork pattern. Keep using the spirit level to ensure that your walls are level, straight and vertical. Use a length of wood to rest the spirit level on if it is not long enough to reach corner to corner.
Every few courses, stop to neaten up the mortar joints – remove any excess mortar, fill in any gaps with mortar, and run the hosepipe along each joint to give a neat, professional finish.
When you get to the seventh course (taking into account your height, you make want to change this), create a ledge for the coal tray by turning bricks sideways on in the left and middle walls. Add another standard course, then on the next course up turn bricks sideways again to form a ledge for the cooking grill. Repeat the standard course followed by another ledge, so that you have a choice of cooking heights. Add another ledge higher up if you wish to add a warming rack.
Grill racks and warming racks can also be created by buying, cutting to length and building in some short metal rods into the joints of the brickwork. This adds to the expense slightly but makes the brickwork a lot easier.
Decide what height you want your table area to be at, and stop laying that part of the wall at your chosen height – make sure this coincides with one of the ledges you built in so that the tabletop slab is supported on three sides. Lay the slab on with a layer of mortar to fix it into place.
Allow to dry for at least 48 hours before using the barbecue. Cover if rain is expected to stop the mortar from being washed out of the joints.