Building Regulations: Approved Document J - Heat Producing Appliances
J1/2/3 Heat producing appliances
Any boilers and/or fires burning oil, solid fuel or gas including incinerators, must be ventilated sufficiently to allow full combustion and exhaust. Chimneys and flues must meet safety regulations and fireplaces must resist the heat produced to keep the building safe.

Click on the image to download J
Click on the book in the image below for an easy summary of the building regulations. This book is a must for those involved with any type of structural alteration. Even removing a wall in your home can require building regulation approval and with all home information available in Home Information Packs selling your home can be difficult if you do not have legal approval, where necessary, for work done on your house.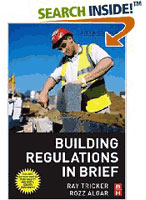 Please be sure to check on the Government Planning Portal website for updates to any Building Regulations before commencing work.