Fitting or fixing cupboard door handles and knobs is a really important part of finishing off a kitchen and the positioning of the handles and knobs can make a lot of difference to the final look of the kitchen. Its important to remember there are no rules for fitting handles and knob, in fact there are not even official guidelines. It really is one of those jobs where if it looks right - It is right.
When positioning the cupboard handle or knob we always suggest that base unit handles should go towards the top of the door while wall unit handles are fixed towards the bottom of the door. Knobs are usually fitted using the 2 thirds/1 third rule. On the left you can see that the knob is fitted one third down the door and if this were a base unit we would suggest that this is the height for a handle also.
This image shows the knob in the middle of the width of the drawer. If it were a door the knob or handles would be about 50mm in from the leading edge of the door as in the images below.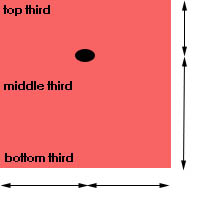 The Kitchen unit handle or knob should be held against the door to get an idea of the position before any drilling takes place. When you are happy mark the centre of one of the screw holes on the face of the door. Drill through the door or drawer using a 2mm drill bit first. This size drill bit will not split any timber. Next drill the hole again with the correct size drill bit for the screw. Drill half way in from both back and front to keep the hole neat and avoid any splits or paint chips which the handles may not cover up.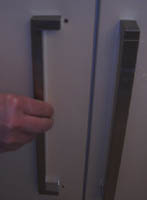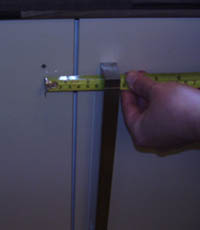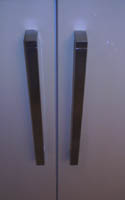 Screw the handle in loosely and then mark out for the other hole measuring accurately to make sure the top and bottom of the handle is equidistant from the edge of the cupboard door. Drill the second hole using the same, safe method.
Remember there are no rules and if you want to put handles on at an angle, its up to you. Just make sure you can reach them when the cupboards or drawers are open!
Our video section on fitting pulls and knobs has a couple of videos on easy doorknob hole resizing and how to replace a door knob that show how to do these straightforward jobs.