Paddling pools and above-ground pools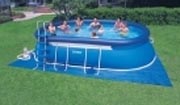 If you have children a garden is not complete without a paddling pool and trampoline. We have taken a good look round, and come up with what we think is some of the best value for money products in this enjoyable category. Larger family sized pools are a great way of keeping older kids busy during the long summer holidays too!.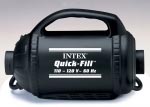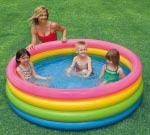 Paddling, and above ground pools can come with an inexpensive pool heater ( From only £90.00 ! ), the correct chemicals a to keep your water clean and small electric pumps to get the pool sides inflated in no time. Pools and packages of this nature are available from quite a few different places such as toy shops, DIY stores and even some high street stores.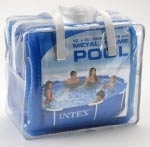 A superb solar pool cover will keep the heat in the pool overnight so the kids can jump straight back in after breakfast.
Trampolines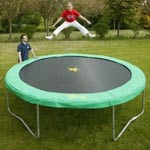 Kids love bouncing. Trampolines are so much fun and, at the same time, very good exercise. The aerobics involoved in bouncing about on a trampoline does exactly the same job on the heart as many "diagnosed" heart exercises including a skipping rope.....And we know which is more fun ! Almost every muscle in the body is used on a trampoline which gives you a fantastic work out with the added bonus of knowing that even 5 minutes a day can help dramatically with weight loss for the Mums and Dads. The kids muscles get stronger, they get fitter and all the time doing something that you will have a job getting them away from.....Its a win-win situation!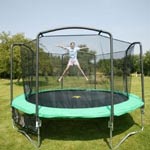 Safety is always in the mind of a reliable company and with this in mind there is a great range of safety surround nets for almost every trampoline, and dont forget to anchor it down too. You do not have to sit on the edge of your seat waiting for the little one to bounce on their head, just sit back and relax, watch them enjoy themselves, listen to the laughter and enjoy your gin and tonic.
To watch various films on gardening in general, go to our video section on "gardening basics".