Have you Thought About Shower Panels Rather Than Tiles in the Bathroom?
When people think of refurbishing the bathroom or fitting a shower their first stop is usually the wall tile showroom. A great alternative however; is to use decorative waterproof panels. Choosing shower panels instead of tiles makes installing a waterproof surface easier and faster for the competent DIYer. A shower panel is usually 2.4m high and 1m wide. This covers 2.4 sq m of your bathroom wall in about 30 minutes whereas the same area, especially with lots of cuts round pipes and units, can take all day.
What do Panelled Bathrooms Look Like?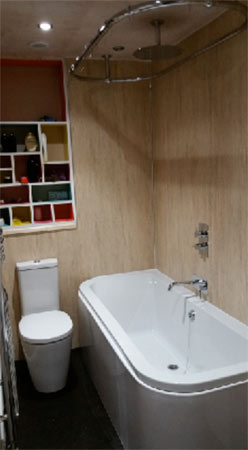 There are many types of shower panel on the market. Trade names include Aquapanel, Aquabord, Aquamura, Mermaid, Minerelle, Wetwall and so on. Our personal favourite is Aquabord, from a company called IPSL (Industrial Plastic Solutions Ltd) which has two incarnations. Both have tongue and grooved edges and, when fitted correctly, give virtually invisible, fully waterproof joints. They can be stuck straight onto existing, tiled walls
Aquabord hollow core is a lightweight PVC panel while Aquabord laminate panels have an insulated core which will make the bathroom warmer while reducing condensation.
What's the Cost Difference Between Shower Panels and Wall Tiles
There is no doubt for the DIYer, in pure financial terms, using shower panels in your bathroom is more expensive than tiling. Were you being paid on a time basis for fitting however, the cost of using panels rather than tiles would be far cheaper.
The additional expense of the materials is, in our opinion, very much worthwhile. Tiles can, and very often do, leak…..Jointing, or grouting the tiles is the last job. It's boring and time consuming and is rarely done properly as the joints do not get filled up properly in the rush to get it finished…The joints in tiles are the most vulnerable place, and when they leak it can go undetected for ages until a nasty brown stain appears on the ceiling…..Then the cost of tiling the bathroom really mounts up! Professional tilers spend as long grouting as they do tiling, it's that important.
Shower panels on the other hand, have no vulnerability in their joints. The tongue fits tightly into the groove and nothing gets through. That, together with good quality IPSL sealant ensures that you only spend your bathroom renovation money once!
Fitting Shower Panels
The easiest way to fit shower panels also gives you the best finish. It's so much easier to remove the hand basin and toilet before you fit the panels. That way you reduce the amount of cuts you need to make and as well as being so much neater, it is considerably more waterproof. The panels will overlap the bath and/or edge by 10mm, making that waterproof as well. See our full project on fitting shower panels to make a great job of your bathroom
Can I Fit Shower Panels Over my Tiled Walls?
Yes you can. Firstly clean down the tiles to remove all traces of soap, shampoo and greasy children's finger prints ! Then use the super grab adhesive supplied by IPSL to simply stick the panels to the wall….It really is as easy as that.
The panels are cut with a normal fine-toothed handsaw and holes for pipes etc are drilled with ordinary hole saw drill bits.
Is There Much Choice When Fitting Shower Panels?
There really is lots and lots of choice. IPSL have a massive range of panels from plain, one-colour panels, to funky patterned panels which would grace any modern bathroom. Why not click through to get a brochure and see the vast range yourself.
Support When Fitting Shower Panels
IPSL do not leave you to fit their panels on your own either. With great installation leaflets and video guides, the job gets even easier. The guides also cover the waterproof flooring they can provide together with many other types of internal claddings for your home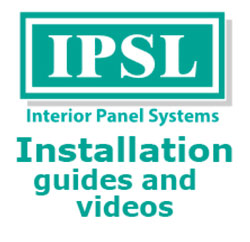 If you would like to find out more about shower panels and how to fit them, see our shower panels project here.