If you are building a new wall that comes off of an existing wall, such as an extension, tying the new wall into the existing brick or block work can be a tricky job.
Fortunately, there are several different methods to achieve this. Read on below to find out now.
Why do you Need to Tie Walls and Brickwork Together?
As with any wall or structure, it will only remain upright if it is sturdy and strong and built to the right specifications.
When it comes to construction, when 2 walls are built together such as in a cavity wall when you have inner and outer leaves, they are tied together using wall ties every few courses. This bonds both walls together so that they act as one single, strong and sturdy unit.
This is also the case when you need to build off of an existing wall e.g. as we have said above, for an extension or other similar purpose such as a retaining wall or the similar.
If the new wall was not tied to the existing one, the point at which they join would be a weak point and over time would crack and move as the mortar itself wouldn't be strong enough alone to hold the 2 structures together.
When they are properly tied together using one of the bonding methods stated below, they then become one unit, able to move and flex together.
So in essence, if you want any new structures to last where they butt up to an existing structure, ensure they are correctly tied together.
Methods for Tying Walls and Brickwork Together
There are 4 main methods of tying walls together, the traditional method of toothing out, and the 3 newer methods of using frame cramps, screw-in wall ties or a wall starter kit. Each has its own advantages and disadvantages.
Toothing Out
Toothing out is the traditional construction method for tying 2 walls together. It involves leaving half a brick every other course in the wall you are building and removing or leaving a half brick in the same course of the wall you are tying into.
The "teeth" of the wall you are building tie into the wall that you are butting up to.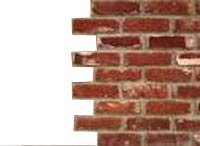 This keeps the integrity of the wall and also its strength, as the wall remains "in bond".
Another way of tying in, or bonding, is to use a method called block bonding.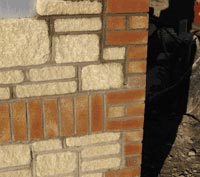 Block bonding is where a wall is laid out so that whole blocks are used all the way around a structure and back to the beginning, only using full blocks.
When used in this manner, what's known as a "running bond" is created over any doors and windows, maintaining full integrity.
Both of these methods will result in a very strong bond between both walls, however they are very time consuming and costly processes.
Wall Starter Kit
The wall starter system is a relatively new way of tying walls together but due to its ease of use, installation speed and much cheaper cost that the traditional toothing method, it has now pretty much become the standard method of tying walls together.
In an ideal situation you would still use the above method as this ensures structural rigidity but in some cases it is not possible. In situations such as these, the wall tie pack or wall starter system is the best solution.
The wall starter bar is simply bolted vertically upright to the existing wall and wall ties are slotted into the rack every time it is required to tie into the new wall. This is roughly every 225mm for bricks (every 3 courses or 9 inches) and blocks every 450mm.
It is essential that the rail is bolted to the wall in a totally plumb upright position to ensure any brickwork is also straight and level once it's tied in.
Once complete, the bond is pretty much as strong as the old toothing out method and it knocks days off the construction time.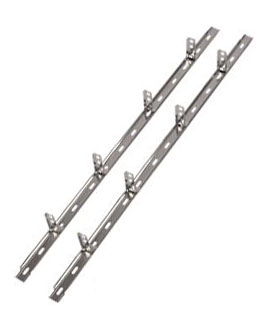 Frame Cramps
These are in a way very similar to the wall starter system mentioned above, but unlike this system there is no strip or channel that is first attached to the existing wall that the ties are slipped into, each tie is individually bolted to the existing wall when it is inserted.
One advantage that this system gives over traditional toothing is that the ties can be used on a range of different materials including concrete, steel and masonry surfaces.
To fix them in place you can simply use a suitable wall plug and screw for masonry, concrete bolts for concrete or self tapping screws for steel.
As with the wall started kit above, once inserted they produce a strong and lasting bond where new wall structures and built against existing ones.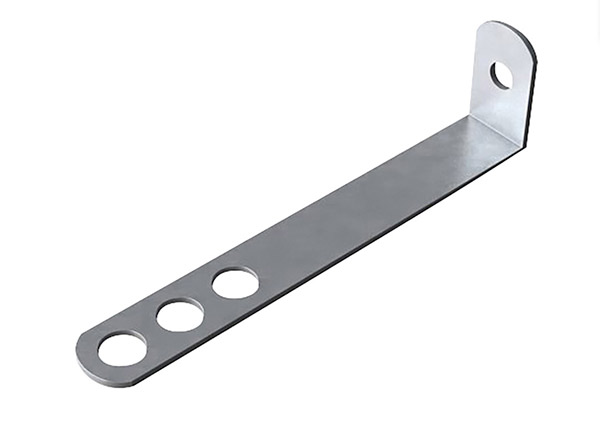 Screw-in Wall Starter Ties
The final method of tying walls together is to use another relatively new product called the screw-in wall tie.
As you may imagine from the name, these items simply screw into the existing wall at the point they are to be added to a course of the new wall being built.
A suitable sized hole is drilled in the mortar course of the existing structure and one of the nylon wall plugs suppled with the ties is inserted. The tie is then simply screwed into the wall plug and pushed down to the new wall.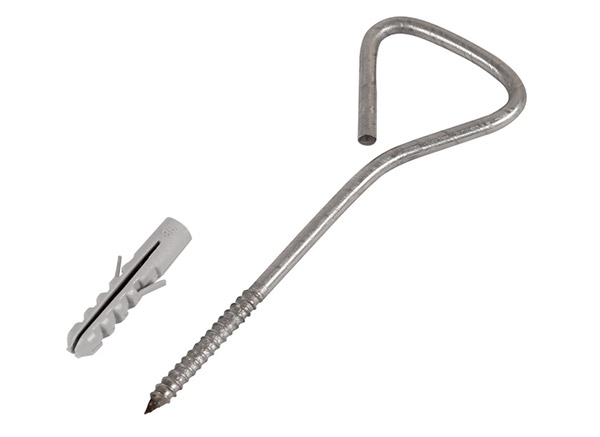 Tools and Products Needed for Tying Brick work and Block Work Together
If you are needing to tie a new wall or structure into an older existing one then you will need the following tools and product:
Suitable wall tie system – wall starter kit, frame cramps, screw-in ties
Suitable screws if fixing to masonry – 8 x 40mm
M6 concrete bolts or coach screws for concrete
Suitable self tapping screws for steelwork
Wall plugs
SDS drill or power drill
Drill/driver
Suitable drill bits 6 – 10mm
Spirit level
Pen/pencil
What to be Aware of When Tying Walls Together
Before you simply start building walls here, there and everywhere there are few points that you need to be aware of.
The first task to undertake is to check with your building inspector to see if a vertical damp proof course is required between walls, and whether or not any existing cavity in the walls of the existing construction, needs to be continued into the new construction.
When tying new extension walls to an existing building it is important that the cavity is maintained. This means cutting into the existing walls to continue the cavity around the building.
Maintaining the cavity will allow any cavity insulation to continue un-bridged and avoid cold spots in the wall and if there is no cavity insulation it will allow a free air flow around the cavity. The diagram below shows two furfix on the existing wall with the wall cut in between them to maintain the cavity.
Building regulations must be upheld at all times for your own, as well as any future owners, safety and assurance that any new and existing structures will maintain their structural integrity, damp resisting abilities and energy efficiency.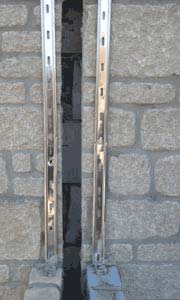 How to Tie Walls and Brickwork Together
For the purposes of this example we are going to work on the basis of using a wall starter kit to tie an new extension wall into an existing external wall.
We are also going to assume that you have spoken to your local Building Control office and know exactly what you have to do in terms of preserving any cavities and also inserting any vertical DPC's.
Step 1 – Level and Mark Starter Kit
The first job is to position the wall starter kit rail on the wall at the point where your new wall is to be constructed. Make sure that it sits at what will be the centre of the bricks or blocks being laid.
Once positioned, use your spirit level to perfectly level the starter bar on the wall and then use a suitable pen to mark fixing holes. At least 4 should be used for every 1.2m length.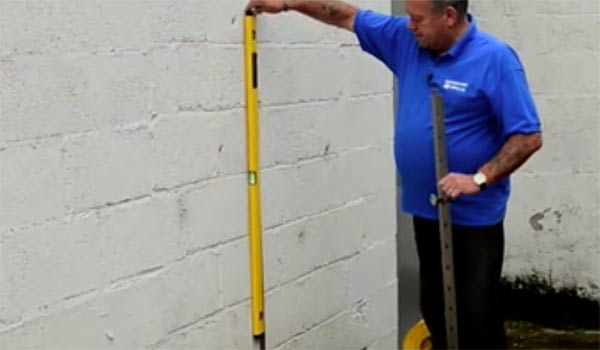 Step 2 – Drill out Fixing Holes
Once the fixing holes have been marked, put the rail to one side.
Take your power drill or drill/driver and insert a suitable sized dril bit for the fixings you have. Normally with this type of kit you get coach bolts and 10mm wall plugs, but these may vary.
Drill out each fixing hole and insert a wall plug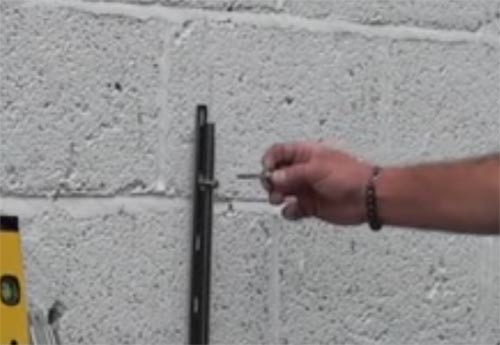 Step 3 – Fix Starter Kit in Place
Next, take the rail again and position it back on the wall over the fixing holes.
Take a coach screw or your chosen type of screw and one at a time, screw then into the rail through each hole, fixing it firmly in place.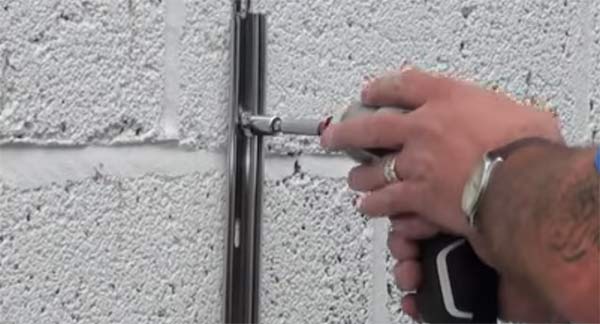 Step 4 – Construct Wall
One the rail is in place you can then start laying your bricks or blocks. For tip son how to do this, see our how to lay bricks and blocks project here.
As we have stated above, when laying bricks, they should be tied every 225mm (3 courses) and with blocks, every 450mm (2 courses). When you have hit this point, take one of the ties and slide it down into the rail and down to the wall.
When you slide the tie down to the wall, ensure that you tap the tie right down into the mortar bed so that when it cures it's fully engaged.
Repeat the process above for the remainder of your wall construction and once complete and cured, you should then have a sturdy long lasting wall.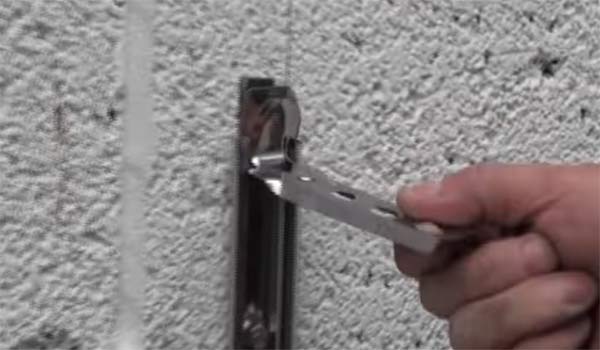 When constructing a new section of wall that runs off of an existing wall it is absolutely imperative that it is tied in correctly to ensure that it's sturdy and safe for anyone and everyone that inhabits the property.