Chopping out glass and putty from a window frame is one of the all time most hated jobs by tradesmen and DIY'ers alike but just as with every other job in the building trade it is a great deal easier with the correct tools. In the images below you will see a hacking knife, sometimes called a chopping knife and this is the tool invented for this awful job. You must wear safety goggles or glasses when you are using it as the bits of putty fly everywhere.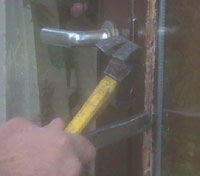 Using a hacking knife could not be simpler when you get used to it and glazers can remove really large sheets of glass without a single crack using one of these useful tools.
Start in one corner with the blade of the hacking knife held at 45 degrees to the putty surround. Tap on the flat edge of the knife until you see it cutting into the putty. The hacking knife is deliberately not razor sharp to prevent damage to the frame which always happens if you use a wood chisel. Keep tapping the putty down towards the frame and the chunks will ping off. You will soon get used to how hard you can hit it.
Use pincers or pliers to remove the glass retaining nails, or sprigs, from the frame if it is wooden and remember never to chop in towards the glass, always down towards the frame where the bed of the putty is sitting.
Using this tool does not make this awful job any more fun but it certainly makes it a lot quicker!