The rules changed back in April 2002. Since then you must have approval from the Building Control department of your local council to say that the replacement has been done in accordance with the building regulations. These regulations apply in England and Wales so this article mainly focuses on these regulations, but see the section below for the differences that apply in Scotland and Northern Ireland.
The fitting of all new and replacement windows must comply with the regulations. Replacement of the glass only is not covered by the regulations.
This is also the case if you are changing just a door and not the frame. Under the regulations this does not count as materially affecting the building under insulation requirements, so a door in most cases can be changed without seeking building regulations approval.
How to Comply with Replacement Window Regulations
There are two ways to comply with the regulations. Either way you will need to get a certificate to prove that you have complied.
Apply to your local council building control officer to get a certificate confirming that the installation has been completed within the regulations
Get a competent person that has been registered to self-certify (under competent persons scheme like FENSA) to provide a certificate once they have completed the installation
All windows, including roof-lights and roof windows, must meet the requirements in the regulations (particularly thermal performance) and they must be fitted so as to comply with all the relevant sections of the building regulations – see what these are below.
Doors are also covered if they have more than 50% glazing.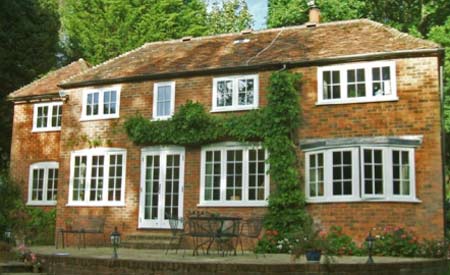 Why Must You Comply with Building Regulations for the Replacement of Windows?
Other than the obvious benefits in energy performance, safety and ventilation that a compliant replacement window will bring, there is also a big "stick" that is used to enforce up take.
When you come to sell your home, the buyer's surveyor will require to see evidence of any windows replaced after April 2002. Failure to provide this information will be noted by the purchaser's solicitor and could potentially cause problems completing your sale.
It should be possible to get a copy of the certificate from the building control department at your local council if yours has gone missing. You might get a replacement certificate from the FENSA approved installer if this is the way the windows were replaced. Either way, this will be time consuming or quite possibly they may no longer have the records – it is very important to keep these documents safely until the time comes when you might need them.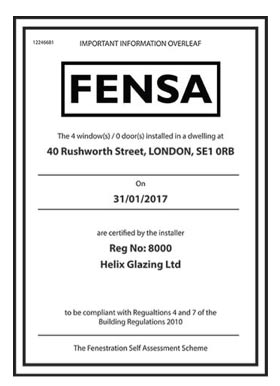 Important Note: As the homeowner, it is you that is ultimately responsible for ensuring that all work carried out in your home complies with the regulations and the correct certification is available.
DIY Window Fitting or Replacement and Building Regulations
You do not have to get someone else to fit your windows if you want to do it yourself but you have to carry out the work in accordance with the building regulations.
You must still contact your local council and tell them what you intend to do. You must supply dates for when you plan to do it and arrange for them to visit your home, potentialls during and after the installation to make sure the work is done in accordance with the various regulations that are involved.
There will be a fee for the service that they provide. Your local council will confirm what this will be before you complete your application.
It will vary from council to council, but you should contact them at least 48 hours before you plan to start work, but preferably much earlier than this.
Typically the Buildings Control Office or Surveyor will visit once, when the installation is complete to inspect, but it is up to them. When you make your application they will confirm exactly what the process will be and what you are required to do.
They often ask for you to retain the old windows for inspection during this visit, or to take pictures of the old windows, their configurations, opening lights (the parts that open) and the trickle ventilation. Assuming the visit is successful they will then issue the certificate that you need.
Make sure that you leave the manufacturer's labels on the windows for your Building Control visit. They will need to confirm the thermal performance and construction specs of the windows before they can issue your certificate and this is the easiest way to do it.
If you are using a window installer that is not able to self-certify, remember that the "job" is not complete until you have your certificate. If you are paying in stages, the receipt of the certificate is a perfect trigger for you to release your final payment – but agree this with your installer first!
Find a suitable installer to fit your windows here.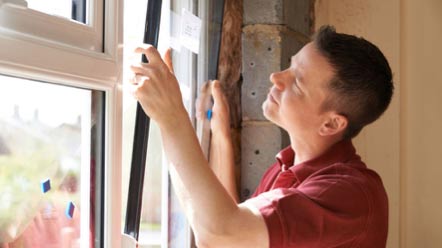 The Building Regulations Involved with Fitting and Replacing Windows
There are a number of different regulations that you will be required to comply with when fitting window and doors. These regulations include:
L1 Conservation of fuel and power. The window you use must attain the required U value. This can be achieved in a few ways but you may be asked to prove a) that the glass you use is of a recognised quality or make and b) the calculations to show how your U value is attained
N1 Glazing protection against Impact. There are many rules governing the height of windows and the type of glass used in them
Other regulations may also come into force when changing windows and doors. These may include:
All of the above regulations can be seen by clicking on the underlined links but the message here is clear. It is against the law to fit windows and doors which do not comply with the building regulations and are fitted in a way which cannot be approved by them.
It is very important to remember that if you home is listed or in a conservation area it will almost certainly need planning permission. In this case there might be exceptions or exemptions to certain aspects of the building regulations ensuring that the planning rules can be adhered to.
See below for a summary of the aspects of these sections of the Building Regulations that apply to replacement doors and windows. It's more of a "layman"s guide to the rules and what you practically have to do (without wading through the actual regulations).
What is FENSA?
FENSA stands for Fenestration Self Assessment Scheme and was set up by the Glass and Glazing Federation along with other organisations within the glazing industry to ensure that all glazing in the UK complies with current Building Regulations.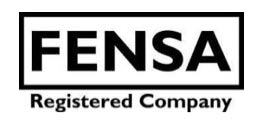 Using installation companies that have been registered under a Government approved "Competent Persons Scheme" takes a huge burden of work from the local authorities; there are in the region of 2 million replacement window installations every year. If a large proportion of these can be self certified, this significantly lightens the workload that local authority building control officer has to bare.
FENSA is the best known Government approved "Competent Persons Scheme" for fitting windows, which is why we focus on them, but there are others. Here are some other certification bodies which may be able to authorise people as competent:
BM Trada Certification Limited
the British Standards Institution
CERTASS Limited
Network VEKA Limited
It is unusual to have a self-certified window installer who is not approved by FENSA, however all scheme operators will operate in a similar way. They are approved by central government to run the scheme and they inspect installers work periodically to ensure that it is compliant and the relevant standards are enforced. The details of all self-certified installations that have been registered (and certified) by FENSA are notified to the relevant local authority.
If you are looking for a suitable window installer you can find one here.
Standards and Regulations that are Required for Replacement Windows and Doors
The ultimate authority on exactly what are the standards for fitting replacement windows can be found in the Building Regulations. Here is a summary of the main aspects that apply when fitting replacement windows:
Thermal Performance and Construction
Replacement windows and doors now have to meet the same standards as new windows:
Windows and roof windows and lights – U-value = 1.6 W/m2.K and WER Band C
Doors – U-value = 1.8 W/m2.K
U values are calculated for the whole unit, both glazing and frame.
The WER Band (Window Energy Rating) is provided by the manufacturer.
There can be exceptions where the widows cannot meet these standards such as when there is a need to maintain the original look of the building, particularly if there are planning restrictions. In these situations the U-value might be reduced or secondary glazing required.
Ensure that when you order your windows that they will meet the required standards.
Windows and doors will need to be draught proofed and insulated cavity closers need to be installed around the opening so that there cannot be any cold bridging.
Structural Considerations
If the window being replaced is a bay window or larger than the original opening, the building inspector will need to be satisfied that the replacement is structurally sound. This includes the support corner posts and the structural support over the opening. There are effectively three options
A (new) lintel needs to be installed to carry the weight. Find out how to insert a lintel here
The frame should be reinforced to carry the weight
In some cases, the timber frame of the window can carry the weight above the opening. This is typically only possible in older buildings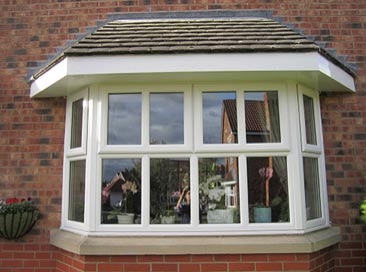 Breaking Glass
Where the glazing is lower and therefore suffers a higher risk of breakage, the glass should be laminated of toughened. This is so that it will not break and if it does it does so safely.
All glass within 800mm from the floor and any glazing within 1500m from the floor and 300mm from the edge of a door should meet this requirement.
Escape from Fire
It should be possible to escape through any windows on the ground and first floors in case of fire.
The opening should be between 800mm and 1100mm above the internal floor level, at least 0.33m2 and not less than 450mm wide or high. The window needs to be able to remain open without someone holding it while escape is being made. This is particularly important for top opening casement windows.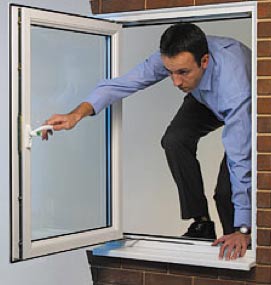 These regulations only apply to replacement windows, and not to existing, unchanged windows.
Ventilation
The ventilation in the room where the windows are being fitted needs to be maintained, rather than reduced. For example, if your old windows had trickle vents, the new ones should have vents of a similar size.
The opening area of the windows should not reduce in area either, and must conform to the guidelines described above allowing the escape from fire. The opening area should also not be less than 1/20th of the floor area of the room.
Kitchens and Bathrooms will typically require a fan, so if a window fan is removed with the old windows, this fan should be replaced.
Ventilation for Heating Appliances
Combustion heating appliances will need air to operate or may not work effectively or worse, they could produce dangerous carbon monoxide. Ventilation required for these appliances needs to be replaced in the new windows or with other ventilation such as air bricks.
It is sensible to get the appliance checked by a suitable installer to confirm that there is enough ventilation after your replacement windows have been fitted.
Disabled Access
When replacing doors you must not make the accessibility worse than the original door being replaced, particularly with regards to the threshold. The opening width of the door cannot be reduced either.
Falling Out
Where the window opening is less than 800mm above the internal floor or the outside drop is greater than 600mm, the opening needs to be restricted to stop children accidently falling out and hurting themselves.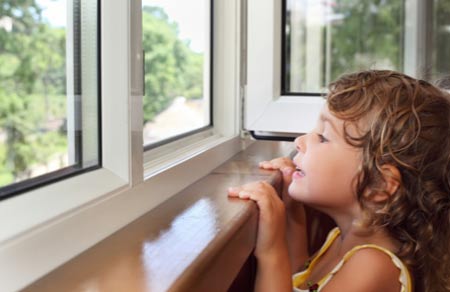 Consideration should be given to the other requirements; an override might be required to escape in case of fire, and the openable area considered for ventilation is the unrestricted openable area.
As the owner of your home is it ultimately your responsibility to ensure that your home complies with the regulations. There are times when there are exception to these regulations, particularly when there are planning restrictions, but your local planning office and building control will be able assist you.
Replacement Window Regulations in Scotland and Northern Ireland
We have been talking specifically about the regulations that apply in England and Wales, although it is fair to say that the spirit of these regulations hold in other parts of the United Kingdom.
Scotland has it's own building regulations. The required thermal performance of window is Scotland is higher than that of England and Wales.
For specific questions about the guidelines in these nations you should contact your local building control officer for conformation.