Isolation valves, sometimes called shut off or service valves are used to cut off the water supply to anything in the home that is permanently connected to the water supply. This includes taps to basins, baths and sinks, toilets, showers, washing machines, dishwashers, outside taps and water tanks. The most common type of isolation valve is called a Ballofix which is often abbreviated to Ballfix by plumbers.
When doing any work at home it is a great idea to add isolating valves whenever the opportunity arrives. Turning off the mains water just to change a tap is a real headache and can lead to airlocks when the water is tuned back on. Isolating, Ballofix or service valves are not difficult to fit and full instructions can be found in our project called repairing a burst pipe but instead of the slip on coupling a service valve should be used.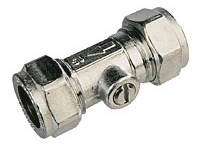 Service, or isolation valves come with either a screw to open and close them with, or a small lever. The screw is to make sure they cannot be turned on or off accidentally but it does require the use of a screwdriver so isolation valves fitted to appliances like washing machines and dishwashers tend to be supplied with a small lever to shut them off.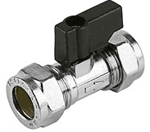 Service, isolation and Ballofix valves also come in right angled form which allows you to fit them to the top of a pipe running along, or up the wall so that the opening for hose connection is facing out into the room.
The simplest kind of isolation valve is a speed fit valve which simply pushes onto the pipe without the need for copper compression, or other plumbing fittings.
See our project on speed fit fittings for more information on this. It is also possible to buy flexible lengths of pipe, called flexible hoses, to connect taps to the hot and cold water supply which include an isolation valve in their length. This is an incredibly useful piece of equipment for the DIY enthusiast especially as it makes tap connection so easy. These flexible hose are also available in Speed fit.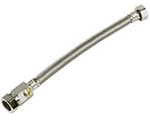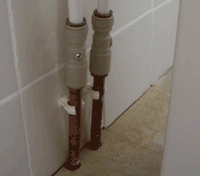 On the right you can see two speed fit service valves in use. These valves are going to the hot and cold supply of a bathroom basin and are hidden behind the pedestal. Note how the shut off screw is positioned facing to the side of the pedestal to allow easy access when required.