Warning: To complete electrical works you must comply with Electrical Regulations – Click here for more information.
Kitchen lighting is important. The way a kitchen is presented is very often a deciding factor in the sale and purchase of a property. Subtle kitchen unit lighting offers a great ambiance while providing a good light to work by. The project below shows how to set low voltage lights into the plinth of a set of kitchen units but this method can just as easily be used in covings and cornices in and on all types of unit. Using water-proof lighting it is even possible to set the lights into work tops.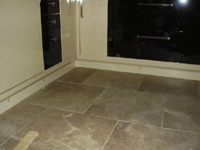 We suggest buying your unit lights in kit form. The kits ( See our tool boxes below) usually come with 9, 10 or 12 bulbs, or LEDs. They can be all one colour, many colours or even colours which change regularly. The transformer/control box is fixed to an accessible surface with cables clipped securely or even put in conduit or ducting which can be stuck down.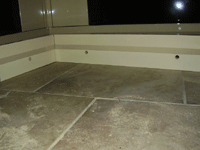 Work out the distance between bulbs in order to create a balanced display and drill the holes using a flat or auger timber drill bit. The correct diameter for the hole will be shown on the instructions for the lighting kit.
The lights are fixed to each other by simply plugging in the cable from one light into the next in the run. The cable from the last light does not have to return to the control box so you can stop your lights at any point.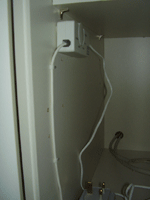 In this illustration the cables were left loose because the lights were in the plinth at the bottom of the units and all cables were out of reach. If you are putting lights in covings under units the cables will need to be placed in ducting or kept safe by clipping securely out of sight.